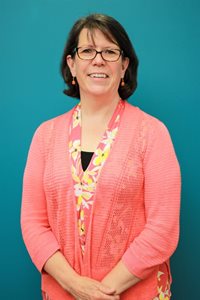 Mary Houston has had a meaningful relationship with the University of Washington Bothell since she returned to college in her 40s. Years before, Houston had started college, and then "life happened." Family and moving around the country postponed a four-year degree by a couple of decades. When she moved to the Seattle area, she had the opportunity to attend the University of Washington Bothell. But, not all of her previous college credits transferred.
"It was worth it," Houston said. "When I got my degree from the UW, it meant something."
Not only did it help her jump start a new career, it has also put her in the position to help others do the same in her role as director of service delivery at Workforce Snohomish.
Learning how to lead
One of the most influential faculty members in Houston's undergraduate program was Dr. Ron Krabill, professor, who encouraged her to take the University's impactful Washington, D.C., Human Rights Seminar. She returned from the trip knowing she wanted to work at a policy level.
Houston graduated from the School of Interdisciplinary Arts & Sciences with a degree in Society, Ethics & Human Behavior in 2008. It was a time of a national financial crisis when jobs were hard to find.
"I looked at where I wanted to go and saw the Master of Arts in Policy Studies clearly as the next step if I wanted to be moving up," Houston said. "At my age, I needed something to help fast-track me."
Two faculty members who influenced her thinking in graduate school were Dr. Bruce Kochis, a senior lecturer known for human rights leadership who retired in 2019, and Dr. Keith Nitta, associate professor. They taught her self-reflection and leadership, she said.
"You can be a leader who can sit in the passenger seat and train someone else to drive," Houston said. "You might be able to drive that car really well, but if you can sit in the passenger seat and train someone else, that person is going to bring things to the table you may not have brought."
Working for workers
Even before graduating in 2010, Houston started as an intern at Workforce Snohomish through the CEO, Sue Ambler, who is a UW Bothell alumna (M.Ed. '97) and had been an older student herself.
Workforce Snohomish, under the Snohomish County chief executive's office, operates WorkSource centers in Everett and Lynnwood to help unemployed people find work and to help businesses find workers. People who have lost their jobs can find a range of services: help with resumes and retraining, help applying for unemployment insurance and health insurance, help with transportation, and in some cases help with rent. Since the pandemic hit, the centers have been connecting the unemployed and employers virtually.
Houston's internship turned into a full-time job and now, as director of service delivery, she provides oversight to the WorkSource system that houses nearly 20 programs. They include working with state agencies, community colleges, Job Corps, Temporary Assistance to Needy Families, services for the blind and veterans services.
In one recent project funded by $4.5 million from the federal CARES Act, the center hired more than 450 people who had lost their income due to COVID-19. They worked on 90-day projects with a number of nonprofits. The organizations serve a variety of individuals, including those recovering from addiction or experiencing homelessness and food insecurity, as well as those who were formerly incarcerated. With that experience, some temporary hires are moving into full-time jobs.
"It's a great place," Houston said. "I'm able to have a lot of influence on program designs that are effective and enduring — and institute the change that we need to see, especially at a time we see racial strife."
Giving back
Houston currently oversees a staff of four. They include two other UW Bothell alumni: Assistant Director Ismaila Maidadi (Global Studies '12, MAPS '15) and Program Manager Heidi Schauble (Society, Ethics & Human Behavior '13, MAPS '15). Houston has taken on interns from the University and keeps that door open as a member of the UW Bothell Community Engagement Council.
"I know the caliber of students the university has. I've hired many of them and look forward to staying engaged," Houston said.
As the voice of workforce development on the council, she said she makes sure academia understands its relevance to what is needed. In addition to students from the UW, she welcomes students from a number of other institutions.
Houston said UW Bothell gave her confidence as an undergraduate, and graduate school helped her succeed in life with the ability to give back.
"I'm at the point in my life when I need to make sure I'm giving other people opportunities to grow and thrive," she said. "I couldn't feel more privileged than to be in this spot now."