The University of Washington Bothell is one of about only 100 institutions nationally accepted into the Inclusion, Diversity and Equity Alliance (IDEA) of the American Physical Society. Launched over the summer, the alliance is a support network for physics departments, laboratories and observatories that want to identify and enact strategies to transform the culture of physics.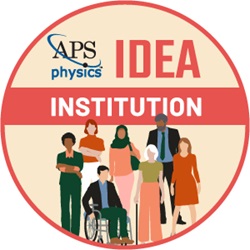 Assistant Professor Paola Rodríguez Hidalgo led the University's application, which had the support of the entire Physical Sciences Division in the School of STEM. "It's really the whole cohort of physics, the community of faculty," she said.
The American Physical Society sponsors conferences, publishes journals and leads initiatives. In their first few IDEA meetings, participants have formed cohorts, established shared leadership and started self-assessments. UW Bothell is in a group with about a half-dozen similar-sized institutions, Rodríguez Hidalgo said.
"All of us have been trying to do this at our own institutions and have been having failures and successes, but we have not been sharing them," she said.
Instead of "reinventing the wheel," the alliance is a way to share what works and to make more progress.
The culture of physics
The culture of physics, Rodríguez Hidalgo said, has been, "Only the best survive, and you are really smart. Either you have the capability from the cradle, or you're not going to make it."
In a field that has been white-male dominated for many years, it's easy for students who look different to lack a growth mindset, she said.
"When people aren't represented, they feel 'I'm not really good,' if they fail an exam. Or, 'this might not be for me,' and then they drop."
Students who feel they belong, however, are more likely to realize that everybody fails at some point. "Then you start up and try again," Rodríguez Hidalgo said. "Everybody can learn physics if you put the energy to it."
Breaking the notion
In addition to promoting faculty diversity, the IDEA initiative asks students who may not have seen themselves in physics to consider it as a major or minor.
"The idea is to break this notion that the sciences — physics especially — are only for white males," Rodríguez Hidalgo said.
That fits with UW Bothell's strategic plan to expand access and achieve excellence by strengthening diversity and equity. The Physical Sciences Division itself has three women in tenure-track assistant professor positions: Rodríguez Hidalgo, Joey Shapiro Key and Rachel Scherr.
The division's self-assessment of diversity through the IDEA initiative will guide the work going forward.
"I think it was started already. This is just another push to search for evidence-based initiatives that have worked and document how they were put into action," Rodríguez Hidalgo said. "It's never ending."