Welcome Week, the busy transition to the new academic year, has been re-imagined for the unusual circumstances imposed by the coronavirus pandemic.
New and returning students to the University of Washington Bothell can still learn about the campus and its resources, join clubs, begin activities and make friends as classes commence Sept. 30.
"Despite COVID, we're excited to kick off the school year, even in this virtual quarter we're going to have," said Carrie Newman, assistant director of orientation programs.
Many and varied events are planned for the 2020 Welcome Week that in fact runs for two weeks, Sept. 25 to Oct. 9. They include 52 live events that take place online at a specific time and seven on-demand events to fit into busy schedules, Newman said.
Getting together — at a distance
Convocation remains the leading event. As it's online this year at 11 a.m. Sunday, Sept. 27, the entire campus community is able to watch the ceremony that welcomes back returning students and launches the class of 2024.
About 1,540 first-year and transfer students and 160 new graduate students are arriving at UW Bothell. Along with returning students, that makes a total of about 5,800 UW Bothell Huskies.
Just about every event and program that was offered on campus during Welcome Week in the past will be available remotely this year. Students can find a listing for all events on the Welcome Week website or UW Bothell's online calendar. They are also encouraged to build their own schedules to avoid screen fatigue. It's not business as usual, but it is continuing the tradition, Newman said.
"I love Welcome Week because it's such an opportunity for students to customize what they want their school year to be like," Newman said. "It's still a time of excitement and energy because the start of the school year is exciting."
Everything still available
Some Welcome Week events are just for fun. Others help students make connections, build networks and begin the meaningful experiences that enhance college and lead to careers.
One highlight from Orientation & Transition Programs is Playfair — billed as "the ultimate icebreaker" — from 3:30 to 4:30 p.m. on Oct. 2.
The club and organization fair will be on Instagram, starting Oct. 5, with different postings from clubs for various cultures, interests, identity groups and professions.
In other events, students can learn about resources such as the Quantitative Skills Center and the Writing & Communication Center. The Career Center is also hosting several sessions to start students thinking about resumes and internships.
Let's connect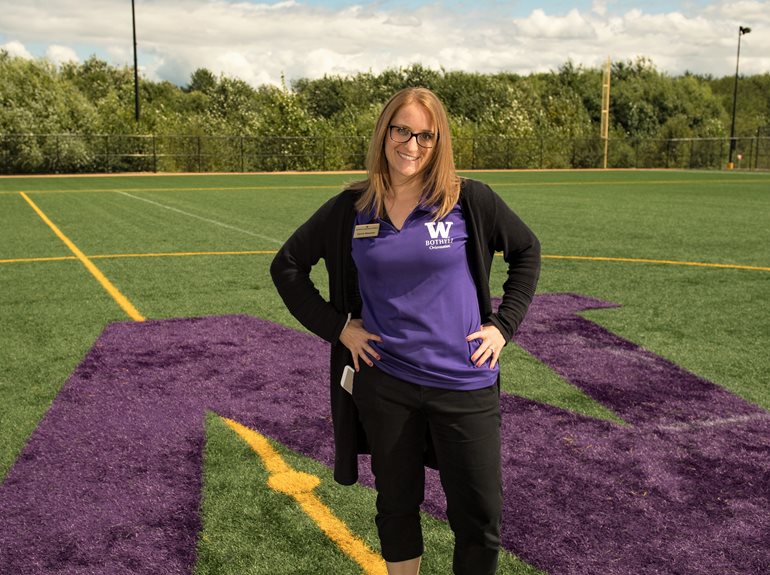 From Newman's own work with orientation since last spring, she knows students are excited to be Huskies. And while this autumn quarter might not operate in the same fashion as in years past, she said, the same UW Bothell faculty and staff are here and ready to offer support.
"UW Bothell is still a family, and we want to welcome everyone back into that family for this school year, too," she said. "Students have to try in a different way to be connected. It's not hard. You just have to log on. We're all here. We all want to connect with you.
"Let's get to know each other. Let's get energized about the school year. Be a part of it."