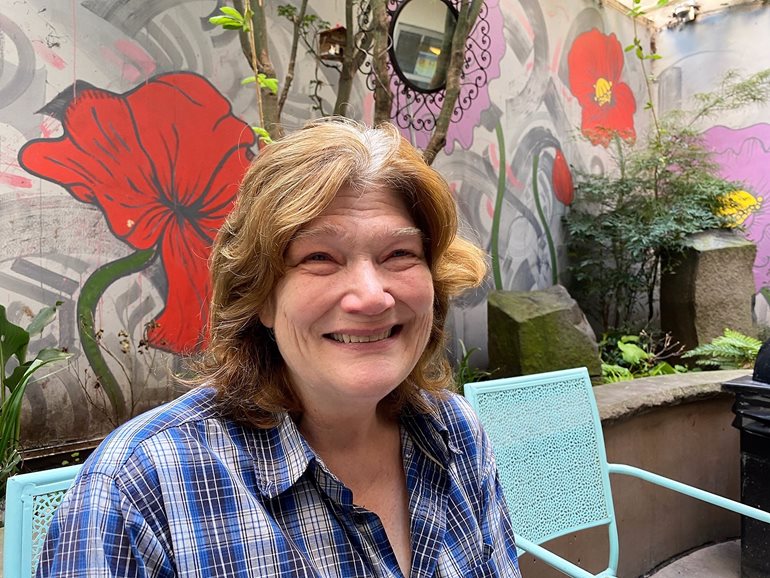 By Maria Lamarca Anderson
Kaye Ann Chancey has been living at the YWCA Angeline's Day Center for Women in Seattle's Belltown neighborhood since February. She's 64 years old, and it is her first time experiencing homelessness and the stigma associated with it.
When students from the University of Washington Bothell's Bachelor of Science in Nursing program came to the center in June, she said, "they made me feel good.
"The students did everything with us," she said. "They sat among us, not at a head table. They listened to us. We were part of them. They were one of us.
"They gave me something to look forward to every week," Chancey said.
Walking their talk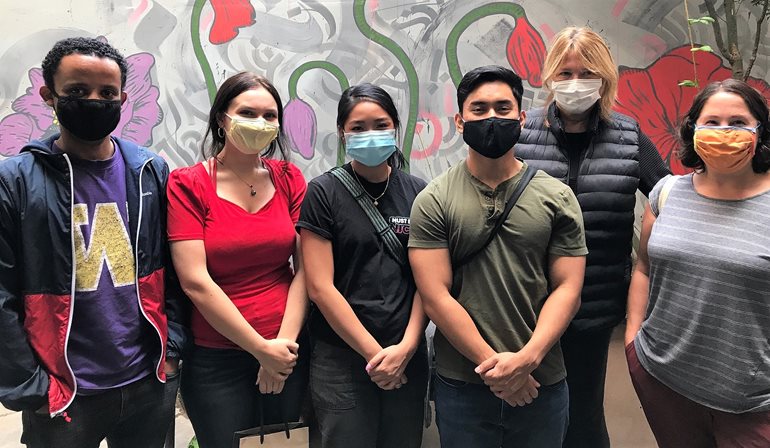 The UW Bothell students were mostly nurses finishing their BSN degree this summer in the RN-to-BSN program with the course, Population-based Health in Community Practice.
Maureen West, a senior lecturer in the School of Nursing & Health Studies, taught this quarter's section with the topic, Program Planning and Implementation to Promote Community Health. The course partners with various agencies where students learn health promotion, disease prevention and social justice work through hands-on service. It's often the final course in the RN-to-BSN program, which offers nurses a full- or part-time schedule over four or nine quarters. Students meet one day a week or once every two weeks in a hybrid option.
West's class has partnered with Angeline's for nine years and will be back in the fall to again work with its residents. The final in-person meeting of the summer course was Aug. 11 at Angeline's. Ordinarily, the shelter provides access daily to meals, laundry, showers and connections to other services for up to 175 women experiencing homelessness. Operations have been curtailed to a fraction of that during the coronavirus pandemic, said Lilliann Hansell, Angeline's program manager.
Even during the pandemic, the students — Denae Davis, Eli Dimmitt, Jenny Le, Gerard Pascual, Katerina Popach and Eyoel Mekonnen — met in person at the shelter every Tuesday. They engaged in arts and crafts, gave manicures, helped prepare and serve food, offered information about the coronavirus and assessed the women's needs. "Because we can't have volunteers in the center right now, having the students here one day a week broke up the monotony and provided relief to staff," said Hansell.
"The continuity of caring by the students helped me a lot," said Chancey, who has struggled with alcohol addiction. "We would talk about something one week, and the next week they would bring it up or have a solution if one was needed. It showed that they were listening to us. They did what they said they were going to do.
"That doesn't always happen when you're on the street," she said.
Treatment and prevention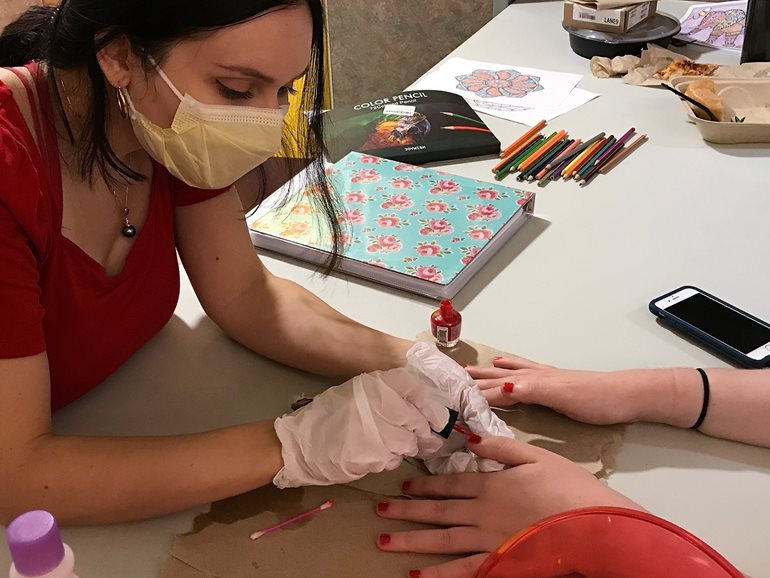 The students presented their work in an Aug. 18 teleconference with more than 50 participants. The students reported many of the women have psychological or emotional problems. Physical disabilities and drug or alcohol dependence may be issues. Some are fleeing domestic violence. Transportation and photo identification are often problems.
"Most of us don't realize the barriers posed by not having photo ID," said West. "Accessing critical services, Supplemental Security Income and primary care is nearly impossible without it."
During the presentation, West told students, "Thank you for engaging in person with this community. Your ability to connect with the residents brought a sense of safety, healing and empowerment to their lives."
Being immersed where patients are can also help students better understand the full continuum of care. "Case managers usually handle care after the patient has been treated," said Le. "Working with the clients at Angeline's and knowing about its services and operations gives me another tool as I treat my patients."
West pointed out that looking through the lens of trauma-informed care is key to public health and a compassionate way of connecting with patients. This practice shifts away from seeing what is wrong with a person to seeing what has happened to them.
"Looking at a patient holistically, knowing what's available to them when they leave my care, has helped me a lot," said Pascual. "Also finding out what brought them to the hospital. Is it the first time, or is it a repeat occurrence?
"I've learned to not just treat what I see," Pascual said. "I want to treat what is happening to prevent it from happening again."
Spreading kindness
Sung Park was living in California as the country was going into lockdown due to the coronavirus pandemic. Health problems forced her from her job, and she made her way to Seattle where she'd lived 20 years before. "I had no idea that housing costs were as high here as they are there, maybe even higher."
One month ago, she was referred to Angeline's, and the students were instrumental in mitigating Park's transition to being homeless.
Through sessions on relieving stress and how to coexist with a diverse group of people with a wide variety of issues, she was able to manage her day-to-day experience. "They smiled all the time and were super, super sweet," Park said. "They would come to my table and ask me how I was doing and would have an actual conversation with me.
"They made me feel valued and respected," Park said.
These kinds of personal connections can be critical to success, said West. "As nurses we bring our expertise in health care to these women. At the same time, the residents bring expertise on their lives," she said.
"Together, we share our collective power and help them with their transitions."
Homeless, not helpless
Current events over this summer only added to the RN-to-BSN students' real-time learning opportunities.
At Angeline's, Davis heard many stories about how the pandemic is making it harder to access resources and find permanent housing. One resident, for example, told her she'd just turned 65 and was eligible for some services at lower costs, in her case a bus pass. She hasn't been able to get her reduced-cost pass, however, because the office was closed and she instead had to access the internet, print out the form and mail it with a copy of her identification.
It could take up to three weeks to get her pass. "In the meantime, she's trying to get a job in Renton," said Davis. "She needs that bus pass now."
Conversations about racial injustice became part of the course after the death of George Floyd, she said.
"Racial injustice associated with health care disparity has been highlighted this quarter," Davis said. "But this experience has also provided me with a lot of hope that change can happen."
One of the most important things this summer taught her, said Davis, who will next be entering the Master's in Nursing program in the fall, is that "we need to have conversations about the cause of why people are homeless instead of making them feel like they're not good people."
Nurses are a lifeline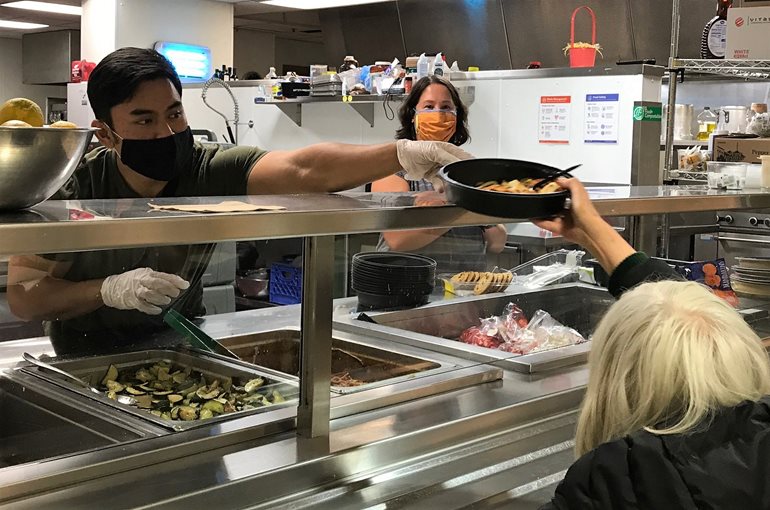 Jason Hester, meals program manager at Angeline's, considers the partnership with UW Bothell faculty and students critical to the organization's work.
"They are bringing life to the women here by looking them in the eye and not being afraid to hold their hand," he said. "But beyond that, the impact of the students going out in the community and advocating for these women who are often overlooked is immeasurable."
On a more personal note, Chancey added that the patience and empathy she received from the students has affected how she interacts with her fellow residents.
"They treated everyone — the residents and staff — with love, respect and kindness," she said. "We're all different, and we all have our own struggles. But that doesn't mean we have to yell or be mean to one another.
"So many things came out of the students spending time with us," she said. "I'm so grateful for the things I learned from them."