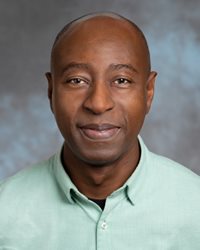 Metro Transit is more than the big buses everyone sees running their routes on the streets of Seattle and King County, said Ernest Kandilige (Global Studies '06), who is deputy director of King County Metro's Mobility Division.
The division also works to provide a reliable, fast and equitable mobility network for people who can't ride the fixed-route buses for one reason or another. These alternatives include ride-sharing and vanpools for commuters as well as Access paratransit services, as required by the Americans with Disabilities Act.
Learning to lean in
Kandilige started working for Metro this year and already has begun thinking about possible internships for UW Bothell students and the agency's participation in job fairs on campus. He initiated such connections when he previously worked in human resources for Genie, the lift equipment manufacturer headquartered in Redmond, Washington, and for Terex, which owns the Genie brand.
Helping students find practical experience that expands their opportunities is why Kandilige remains involved with UW Bothell's School of Interdisciplinary Arts & Sciences Advisory Board. He is a founding member.
It was as a student in IAS where Kandilige learned about the lean principles of management productivity from Steven Collins, now an associate professor in the School of STEM. That led Kandilige to become a human resource specialist in efficiency.
"I apply that in my work and also teach that to other leaders," he said.
Now an operations leader with a staff of 280 employees, Kandilige's responsibilities include leading teams in marketing innovation, service development, contracted services and customer communications.
Pandemics change everything
Before the coronavirus hit, ridership on some of Metro's mobility services was around 87% of capacity. Since the pandemic, ridership is down nearly as much, he said.
Recognizing the needs of transit-dependent riders, the Mobility Division is still rolling, with adjustments such as rigorous cleaning and physical distancing to protect the health and safety of operators and riders.
"We are planning for a rebound. It may take a while, but we will be ready to serve our community when the time is right," said Kandilige. "Our most immediate concern is the safety of our riders and getting them back to using public transportation."
Longer term, a robust public transportation system is important for larger goals for the environment and sustainability. "We hope as a region we recover quickly," he said.
As people become comfortable resuming routine or elective medical visits, Kandilige foresees that the tailored ridership of the Mobility Division will speed ahead of general bus ridership. "We see an opportunity to serve that target group," he said.
Responsibility to serve
Likewise, Kandilige is committed to supporting UW Bothell and its mission of providing access to educational excellence. He believes more university graduates will follow his example and strengthen the community by reinvesting in the institution.
"That is the call for all of us who have benefitted from UW Bothell — to be able to give back."