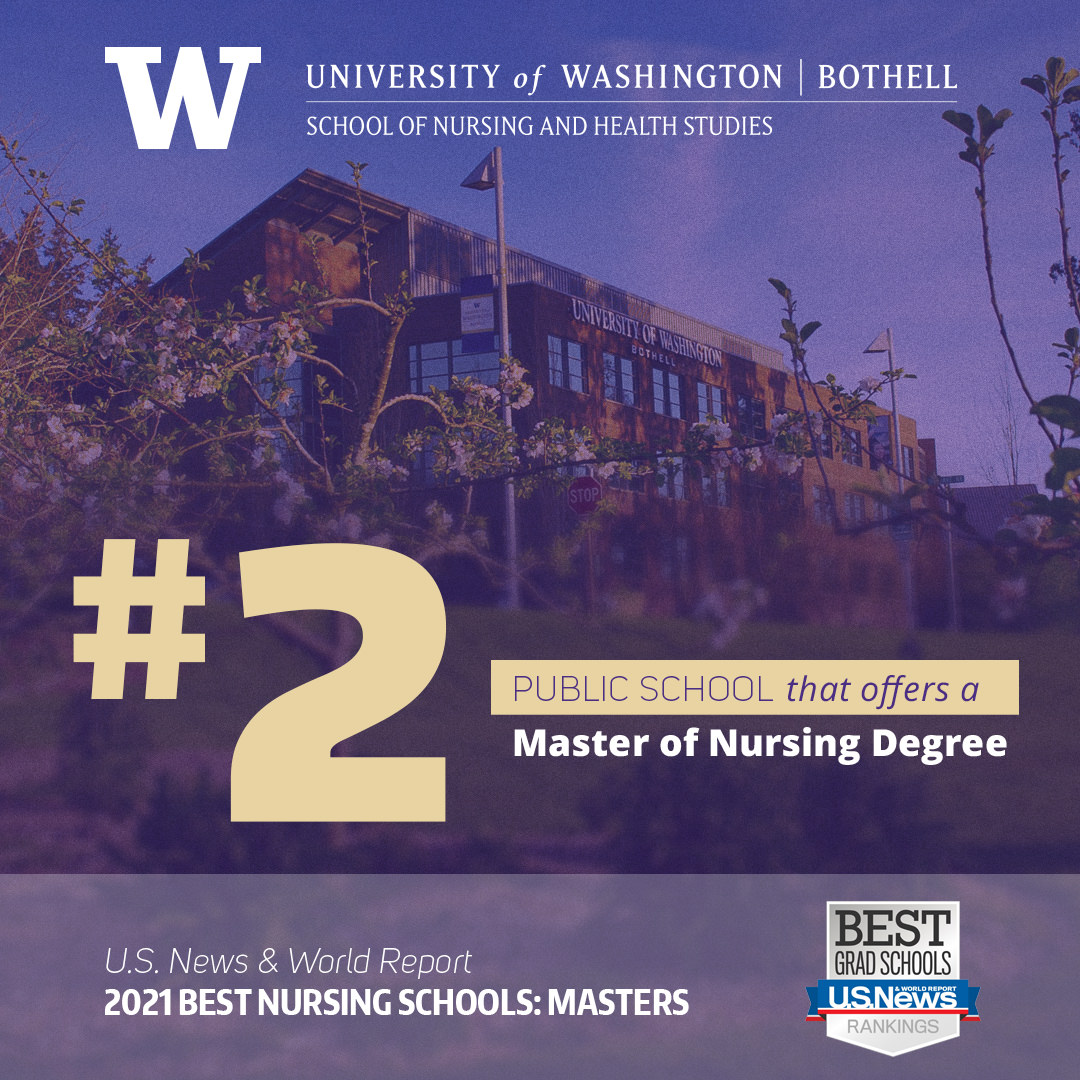 The University of Washington Bothell's Master of Nursing program can take pride in the continuing national recognition for UW's nursing degrees.
In its 2021 Best Nursing Schools: Masters, U.S. News & World Report ranks the UW No. 2 among public schools that offer a master's degree and is tied for No. 6 in the nation on the list that also includes private schools.
The doctor of nursing practice was ranked No. 1, and the medicine, pharmacy and public affairs programs also on the UW campus in Seattle were listed high in the U.S. News & World Report rankings released March 17.
UW President Ana Mari Cauce said the rankings are a recognition of the quality and impact of UW professional programs. "More than at any time before, it is clear how much our society depends on highly trained and skilled researchers, health care professionals and experts across a vast array of disciplines to address and solve the serious challenges our world faces."
Shari Dworkin, dean of UW Bothell's School of Nursing & Health Studies, noted this year's No. 2 ranking improved on last year's No. 4.
"To consistently rank high recognizes the continuing impact our nursing graduates have as leaders, educators and policy makers," Dworkin said. "In addition, our program features a strong and innovative collaboration with the School of Business at UW Bothell. This synergistic partnership offers nurse administrators a unique way to excel in their organizations by providing them with essential financial, leadership and business skills."
The MN ranking is based on data from all three UW campuses. The School of Nursing in Seattle doesn't offer a master's, so the magazine also looked at indicators of excellence in the MN programs at UW Bothell's School of Nursing & Health Studies and UW Tacoma's School of Nursing & Healthcare Leadership.
UW Bothell launched its MN program in 1992. An administrative-leadership track was added in 2016.