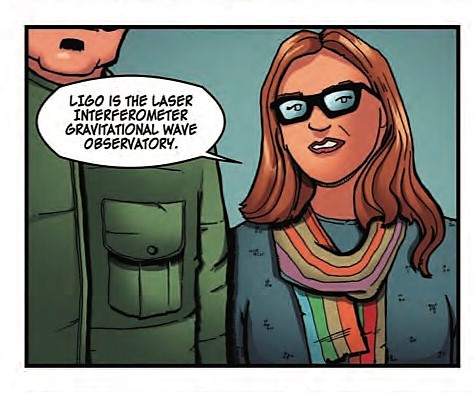 By N.L. Sweeney
First popularized in the United States in the 1930s, comics have a long history of engaging the public. Whether in the daily funnies, in a superhero story or in a political cartoon, this mixed medium provides entertainment for young and old alike.
All fun aside, comics have also been used since their early days as a form of educational outreach.
Joey Shapiro Key, assistant professor in the School of STEM at the University of Washington Bothell, is following in this tradition by collaborating on a comic book about physics.
Sharing the research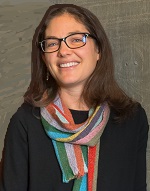 "Spectra: Super Special" is the unofficial 11th publication in a 10-book series written by Rebecca Thompson (herself a physicist) and published by the American Physics Society. The artists for this issue are Scott Arnold and Roel Torres.
Sporting the UW Bothell logo, this particular edition features Key's research with the Laser Interferometer Gravitational-Wave Observatory. LIGO, one of the largest and most ambitious projects funded by the National Science Foundation, engages more than 1,000 scientists to detect gravitational waves using lasers.
LIGO has installations in both Livingston, Louisiana, and Hanford, Washington. In 2015, the scientists used the LIGO facilities and laser technology to identify the convergence of two black holes, which matched predictions of Einstein's general relativity.
Key's hope with the new comic book is to expand the audience for the important work happening through LIGO.
"Artists have ways to communicate that many scientists don't," said Key. "That's why collaborations like this are so important."
Assembling the team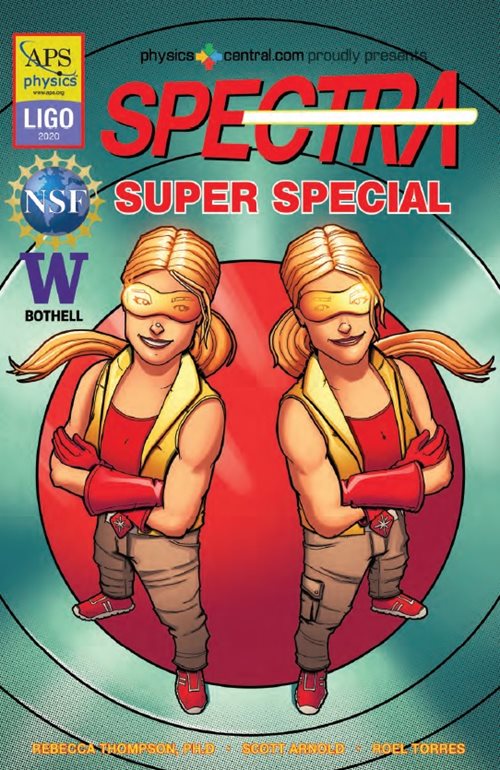 In addition to her research and teaching at UW Bothell, Key serves as a data analyst for LIGO, for which she received a $400,000 National Science Foundation CAREER award this year. At LIGO, she leads research into methods of analysis. Currently, she and her team are working on identifying and analyzing data they want to use to measure supernovae, which are stellar explosions. (Yes, the explosions play a role in the comic book).
It was through this work that she met Thompson at an American Physics Society event. Thompson was doing outreach for the APS, through which the "Spectra" comics series originally came to be. Finishing at 10 books, the series tells the story of a high school student who discovers she has the ability to become, create and control lasers.
"It seemed like a very natural collaboration," said Key. "I told her, 'You have a comic about a laser superhero, and we have a tool that uses laser technology for astronomical measurements. We should work together.'"
To help fund the comic, Key received a grant from the UW Royalty Research Fund, which reinvests money gained from inventions. With these funds, Key was able to pay the comic book's creative team and print copies of the finished product to share.
Friendly global outreach
This is the first time LIGO has been featured in a comic book, Key believes.
Normally, LIGO staff publish research papers and profiles of scientists, and host or attend a variety of science events. They also on occasion participate in artistic projects, including a blackhole sound installation, a multimedia theater event and the "ABCs of LIGO," a picture book of terms related to LIGO research.
All these efforts help increase scientific literacy and excitement about future discoveries. "But it's easy for us scientists to get caught in our own bubbles," said Key. "With a project like LIGO, outreach is a necessity. That's why the 'Spectra' collaboration is so important."
With the earliest data collected in 2002, LIGO is a multi-generational project, and Key is hopeful the LIGO edition of "Spectra" will help expand interest in the ongoing work.
"We have to find ways to train our successors and excite them the same way we were when we first started our work here," she said. "We can't do it alone."
If you're looking for a copy of the "Spectra" comic, a limited number of free print copies will be available in UW Bothell's gravitational wave astronomy discovery space (Discovery Hall 256). You can also look at the digital version PDF on the Physics Central website.