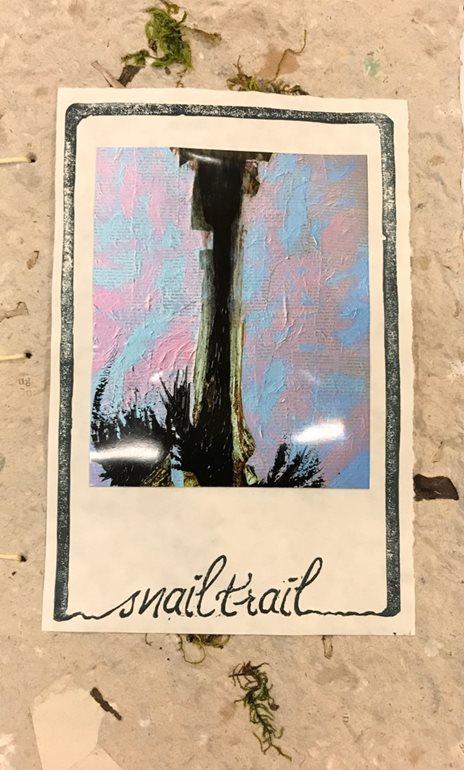 By N.L. Sweeney
In autumn 2019, three alumnae from the University of Washington Bothell created a small press and published a new journal to address the environment and climate change. Titled Snail Trail, the 60-page journal represents a significant achievement for Woogee Bae, Aya Bram BonnLuders and Amy Jones, all spring 2019 graduates of the Master of Fine Arts in Creative Writing & Poetics program.
Exploring environmental issues ranging from deforestation to footpath erosion, the journal is a collection of original poems, artwork and essays. Snail Trail, however, is anything but bleak. Despite its subject matter, the press, according to its mission statement, reaches "for something more conscious and hopeful."
"The journal is founded on a principle of hopefulness in the face of climate change and ecological destruction," said Amaranth Borsuk, an associate professor in the School of Interdisciplinary Arts & Sciences who served as one of the project's faculty mentors. "Even as it asks us to consider the trails we each leave behind, the journal creates space for resilience and for micro-movements that can sustain us in difficult times."
Bringing together the editorial board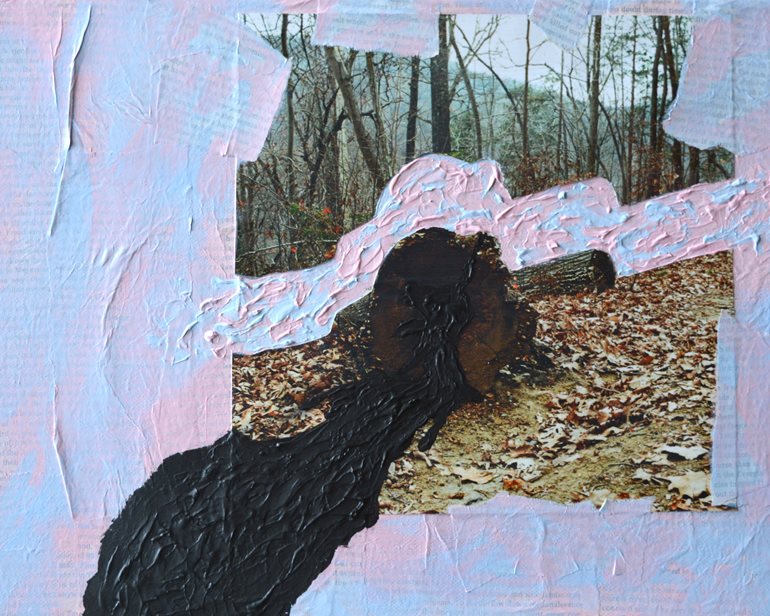 It was in January 2019 during their second year as graduate students that Bae, BonnLuders and Jones officially came together as an editorial board. But for Bae, the idea of starting a press formed long before that. She happened upon a copy of "Snail Poems" by Eric Sneathen back in spring 2017, and in it she found the inspiration that would later become the project she proposed to BonnLuders and Jones.
With the guidance of Borsuk and Thea Quiray Tagle, a lecturer in the School of IAS who served as a second mentor for the project, the students evolved specific editorial and production roles. Bae managed submissions, timelines, proofreading, publicity and outreach. BonnLuders was the designer, responsible for layout and visuals. As production manager, Jones managed the budget and assumed the responsibility of making sure that the materials used are as eco-friendly as possible, taking the lead on papermaking and journal binding.
They each had their own roles — and they all helped during the submission review and crafting processes "so that one person wasn't completely overwhelmed," said Bae.
The final product features contributions from Eric Sneathen as well as Ching-In Chen, assistant professor in the School of IAS; Joyelle McSweeney, whose work was included in The &NOW Awards 2: The Best Innovative Writing; Allison Morton (Creative Writing & Poetics '19); Katelyn Oppegard (Creative Writing & Poetics '19); and Dao Strom, a Seattle poet who spoke at UW Bothell's 2019 MFA Spring Festival.
Merging theory and craft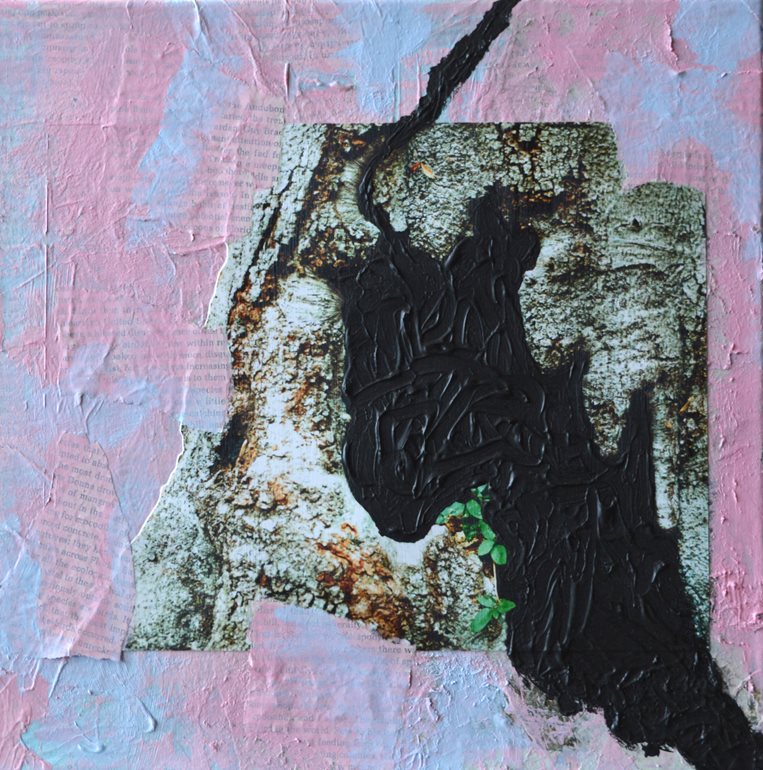 After deciding which works would be included in the inaugural issue, Bae, BonnLuders and Jones began production.
At all stages of the process, Snail Trail embodied the press's commitment to sustainability. With a maximum print run of 75 journals, each issue was handcrafted upon order.
"We made the paper for the cover out of recycled newspaper, scrap paper and plant matter found in Amy's backyard," said Bae. "Looking forward, we want to think critically about where the paper is coming from, how it's made and whether we can reuse it in some way."
Not only did the project represent the realization of a desire years in the making, it also fulfilled the students' curricular requirements in the MFA program.
"The second year of the MFA in Creative Writing & Poetics is structured to allow students to focus on their thesis work and begin thinking about how they will find community when they graduate," said Borsuk. "I am really happy with the way the second-year curriculum can flexibly accommodate the interests of our students."
This flexibility allowed Bae, BonnLuders and Jones to tailor their studies with Borsuk and Tagle to Snail Trail. "The research Amaranth had us doing emphasized community and mutuality. On top of that, we studied the history of bookbinding, small press ecology and the concept of treating a book as object," said Bae. "With Thea, the books we read covered everything from impact, harm, excess, waste and toxins to care, reusability and companionship.
"They had us thinking about what responsibility means within an environment or community, what accountability means and how these are both practiced."
Creating a path and message
For Jones, it was not just the labor itself that gave the project value, but also how it represented the editorial team's values. From the works featured to the material used to make the journal, Snail Trail reflected the students' desire to create a path for their environmental message — a path that they hope to blaze for others.
"The journal is small," said Bae, "but I firmly believe that what we do in small communities can ripple out, that language shifts our thinking and that we can provide a resource for those who wish to follow in our trail."
The team of editors, soon to be joined by Oppegard, looks forward to exploring ecopoetry and materiality in their press in the future. Volume 2 of Snail Trail is scheduled to be published in April 2020 and will be available on the Snail Trail website.