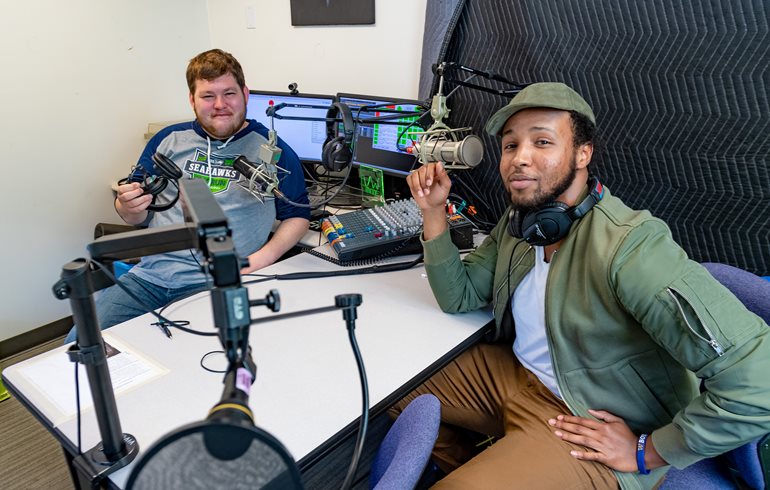 By Douglas Esser
UWave Radio, the University of Washington Bothell station, may need another name. Radio hardly describes all the media, programming and community building that takes place through the student-run station in Husky Hall.
Video, social media, podcasts and targeted audiences are taking UWave beyond a single format, said Amoshaun Toft, the faculty adviser and an assistant professor in the School of Interdisciplinary Arts & Sciences (IAS).
"Our students are learning the cutting edge of where digital broadcasting is going. It's multimedia. It's live and archived, and it's engaging specific communities because that's how media works," Toft said. "It is an academic and career trajectory, a creative outlet and expression space."
Discovery format
With the slogan "your voice, your vibe," UWave students share their opinions, attitudes and favorite music daily. The audio storytelling is an opportunity for listeners to discover ideas and people that are perhaps outside their usual interest areas.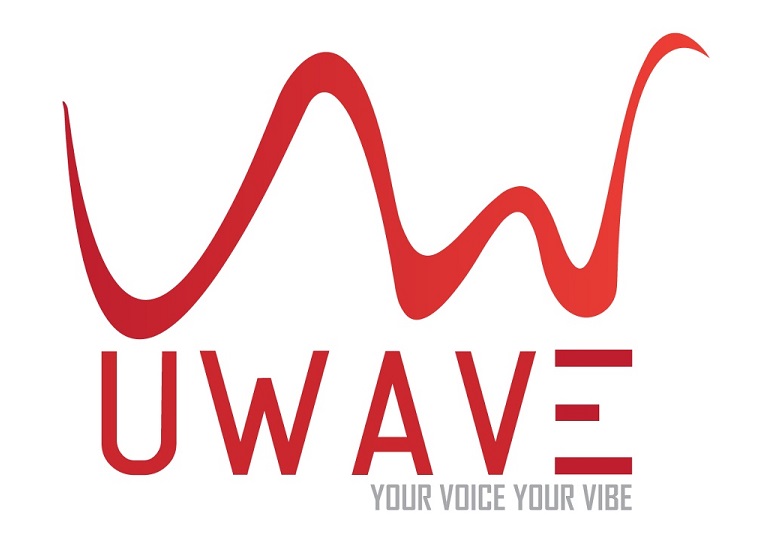 UWave began as an effort to establish a student-owned, low-power FM station, which was unsuccessful. It then started streaming over the internet in 2012. Listeners simply click on the link on its website or on its Facebook or Instagram accounts.
"We need to be smart about where we're reaching listeners, but it's still sound. All the same tools still apply," Toft said. "It just may not be coming through your FM dial.
"People are listening more than ever — it's just that they're listening in different technology and platform formats," he said.
Toft has been teaching in the Media & Communications Studies program since 2009 and uses some of his multimedia storytelling courses to connect students to UWave Radio.
Amplifying voices
Station manager Brannan Widdis (Media & Communications Studies '20) is interested in "the way people connect to each other through talking" and would like to move into a career in radio or related media. He was the promotions director last year.
This year, Widdis plans to put archived shows on the UWave website and to start producing prerecorded podcasts.
"We have a really great environment here at UWave Radio," Widdis said. "Anyone who is part of it is very open and accepting. We're just here to have a good time, do some radio and be creative."
Studio engineer Mo Abdullahi (Global Studies '20), who has a background in technology, is responsible for equipment as well as training new hosts to produce shows.
With plans for law school eventually, Abdullahi says he sees UWave Radio as an outlet for his creativity. He plans to launch his own lunch hour show Tuesdays and Thursdays called the Lunch Break. It will feature news about campus events and student interviews.
"I've met a lot of international students from places I should have known more about. I'd have them speak about what they want to speak about," Abdullahi said. "This is an accepting environment, a diverse environment. We respect all voices, and we want them to amplify theirs."
Students in charge
UWave is managed by Student Engagement & Activities. Brenda Đào, staff program manager, supervises the two paid positions — manager and engineer. She also provides advice on institutional policies and oversees budgets. The student activities fee funds operations, and the student technology fee pays for equipment.
Students maintain editorial control of the content. Any student with an idea for music, talk or information programming can apply to host a show. No experience is necessary. They learn to use the equipment on the job.
Dozens of volunteers produce shows and carry out business, promotions and technology functions. The hands-on experience can lead to jobs in broadcasting, journalism, the arts or social advocacy, Đào said.
"It's a fun, experimental sandbox where students are in charge, and they can take leadership positions and feel responsibility for this entity that they are creating," said Toft.
Tatum Wollum and Alex Farmer, both majors in Media & Communications Studies who graduated in 2019, created the Coffee & Country show, for example.
The show was designed "to bring a little yeehaw into your life" and featured music and interviews with up-and-coming country artists. Last summer, the hosts received press passes to cover the Watershed Festival at The Gorge and posted video clips from the event on Facebook and other social media.
Angelica Mendoza, a 2019 IAS graduate who received the Chancellor's Medal, created the "Tremenda Diosa" (Tremendous Goddess) show. Her mix of music and talk celebrated women of color and shared information to help other first-generation or marginalized students.
"I've had people tell me their lives have changed, because they hear themselves," Mendoza said.