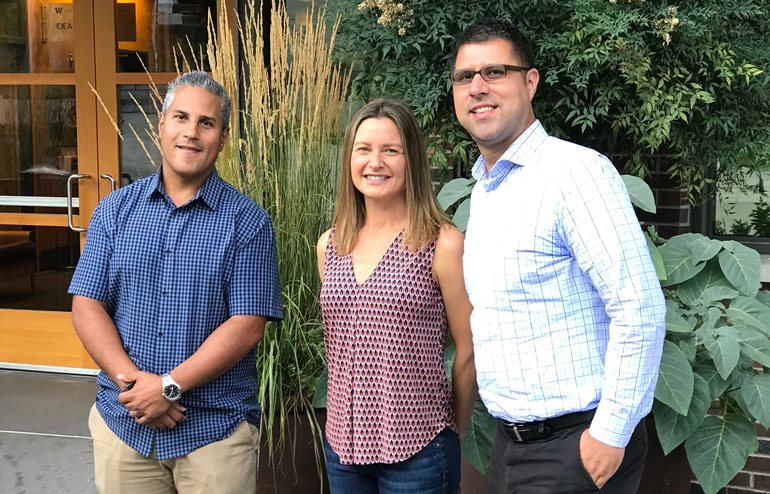 By Douglas Esser
Two years ago this summer Javier Carrasquero completed his degree at the University of Washington Bothell with a capstone course in the School of Interdisciplinary Arts & Sciences (IAS) taught by Jennifer Atkinson.
This summer Carrasquero returned to Atkinson's capstone course as a mentor.
While in college, it's sometimes difficult for students to imagine what comes next and how. It's helpful to hear from people who have been there and done that. It's nice to have a mentor chat.
Looking back and ahead
Mentor Chats are quarterly events with IAS alumni designed to help students explore a range of professions. The chats fit nicely with the portfolio capstone course, BIS 499, which has career development as one its the aims. Along with Atkinson, a senior lecturer, faculty who often host chats include both Rebecca Price, professor, and Kristin Gustafson, senior lecturer.
The chats, which began in 2014, are arranged by Lisa Olason, alumni and community relations manager for IAS. They also are open to students outside of IAS who may be looking for career guidance and networking.
Two alumni spoke at the Aug. 7 chat hosted by Atkinson. They shared their personal stories and provided practical advice in response to questions about resumes and interviews.
Javier Carrasquero: Global Studies '17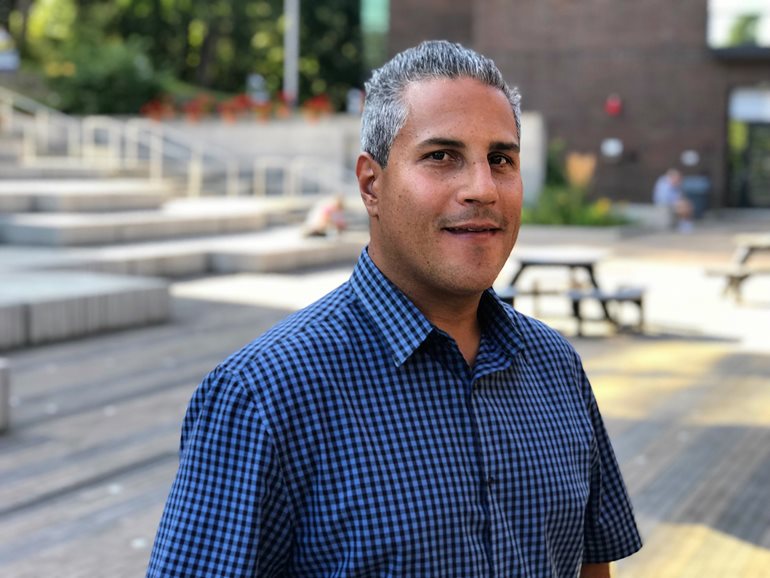 Javier Carrasquero
UW Bothell
When he came from Venezuela in 2001, Carrasquero said he didn't speak English. He attended Cascadia College when in his 20s and returned to college at UW Bothell when he was in his 30s, working full time at Premera Blue Cross and with a wife and young children at home.
Now working for Boeing at the Everett Delivery Center where widebody planes are handed over to airlines, Carrasquero is a "lean" practitioner who works to find ways to make the process more efficient.
Carrasquero told the students he didn't know much about the aerospace industry before he went to work at Boeing. What he did know was how to analyze a problem and put people together to solve it.
He learned that at UW Bothell.
"Critical thinking is foundational to the work I do every day," he said. "I couldn't get my work done if it wasn't for collaboration. Communication is something that I developed at UW Bothell."
Carrasquero, who also spoke at a Mentor Chat in April, said some IAS students worry they lack technical skills. Don't worry, he said. People can be trained for specific tasks on a job. Businesses are looking for employees who make good decisions.
Jaime Fajardo: Society, Ethics & Human Behavior '12
A first-generation college student, Fajardo grew up in eastern Washington and went first to Spokane Community College. He returned to college at UW Bothell as a 26-year-old, who worked full time.
"UW Bothell felt like home for me," said Fajardo, who recalled the Washington, D.C., Human Rights Seminar as one particularly memorable experience.
After getting a degree from UW Bothell, Fajardo received a master's in Social Work in 2016 from the UW in Seattle. He has worked 10 years in juvenile justice, including time at the Echo Glen detention center run by the state in North Bend. He now is the program supervisor for Snohomish County's juvenile court in Everett.
Along with critical thinking and problem-solving, Fajardo said UW Bothell raised his emotional intelligence — the ability to handle relationships, work in teams and navigate the system.
Paying back, paying attention
Carrasquero said he enjoys the Mentor Chats not only as a way to give back to the university but also as a way to learn from students and to think about what he's done.
"Sometimes we're too busy to reflect on what we're doing. To me, this is an opportunity," Carrasquero.
Students who are about to graduate also welcomed their opportunity to look ahead and ask for some career advice.
"It's helpful just to learn about the transition to the workplace," said Eduardo Sanchez, a Law, Economics & Public Policy major. He has talked with an immigration lawyer about working as a Spanish translator and eventually plans to go to law school.
"It's nice to have someone to look to for how to approach where you want to be," said Warisha Soomro, an Interactive Media Design major who was recognized as one of the 2018 Husky 100 — students who make the most of their UW experience.
Practical advice from professionals
Fajardo said he's had some great mentors, so his goal is to give back. Some of the tips he offered to students, along with Carrasquero, in response to questions:
It's really about networking, starting with your professors who can write letters of recommendation.
Don't be ashamed to include jobs such as food server on a resume. Front-line customer service is valuable experience.
Don't be discouraged by shut doors and unreturned emails. Move on.
Know your value. You're also interviewing them.
Let others know what you want. Put it out there.