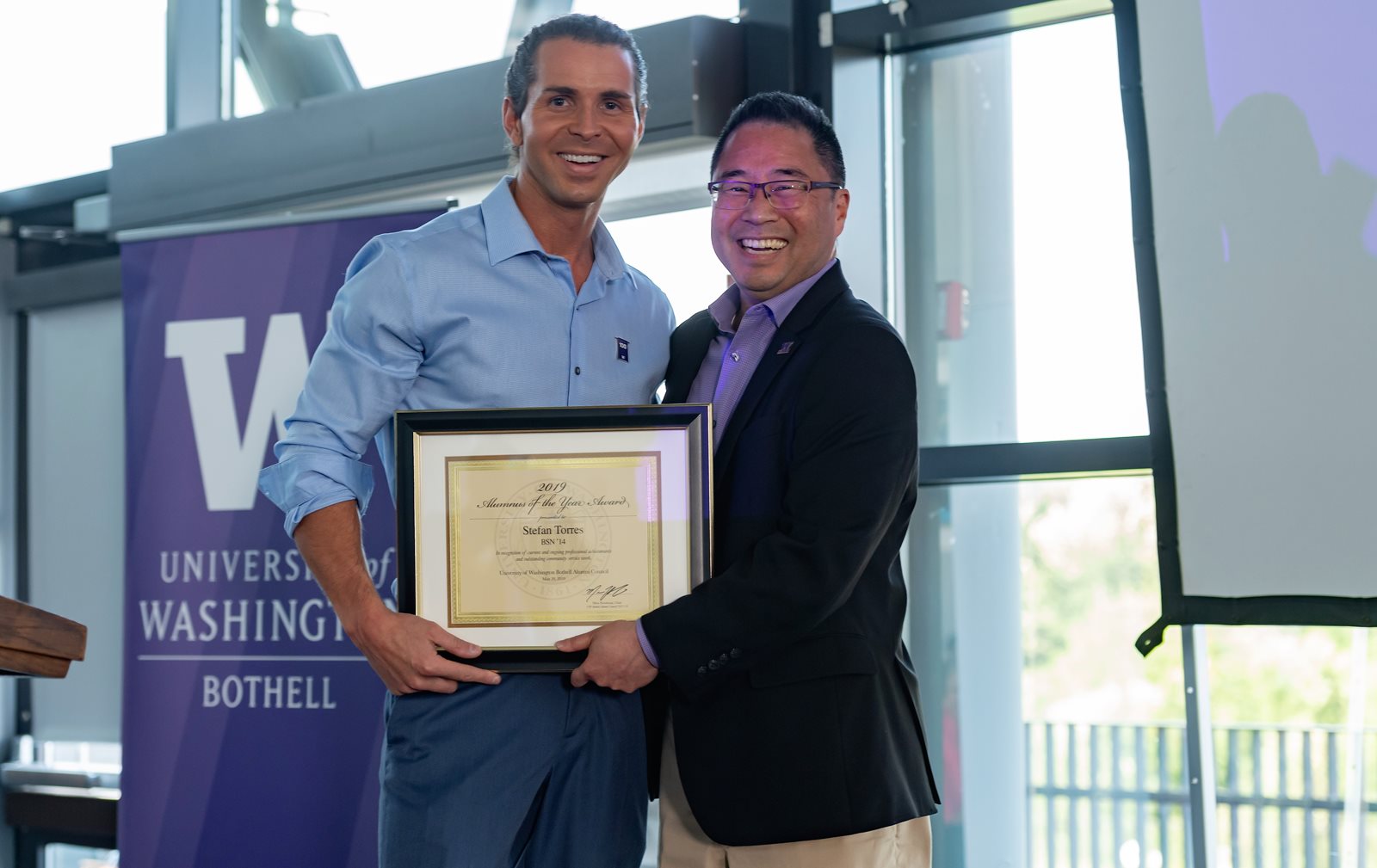 Stefan Torres (Nursing & Health Studies '14), who is gaining fame and influence with his Nurse Stefan videos on social media, is the recipient of the University of Washington Bothell Alumni Council's first Alumni of the Year Award.
"We want to recognize Stefan and his innovative work that is impacting lives," said Curtis Takahashi, the council's awards and recognition chair. "We developed the Alumni of the Year Award to recognize individuals who have exemplified the core values of UW Bothell — transformational education, engaged scholarship and inclusive culture — within the past year.
"By establishing this award, we also hope to hear more stories of how our alumni are changing the world," Takahashi said, noting that the award is distinct from the ongoing UW Bothell Distinguished Alumni of the Year Award, which recognizes lifetime achievement.
Promoting healthy communities
In 2018, Torres won the It Takes a Nurse Video Challenge, a national competition hosted by the Robert Wood Johnson Foundation. And, he was recognized as one of the UW School of Nursing's centennial 100 influencers.
Torres became an RN in 2012 and received his Bachelor of Science in Nursing two years later UW Bothell. He works part time at the Swedish Medical Center – Edmonds Campus, attending surgery patients as they come out of anesthesia. The rest of his time Torres devotes to his other passion — creating and producing videos that promote nursing and provide health information to the public in clickable clips.
"I'm trying to reach people and their families to raise awareness and provide support," he said.
Torres has a fast, amusing style, like a stand-up comedian, as he tackles topics as serious as breast cancer.
"I've been told I do a fine job at making an engaging and entertaining video, while keeping it educational and tasteful at the same time. If keeping people engaged enough to watch me walk through a step-by-step self-exam calls for me strapping on a pair of fake silicone breasts, you'd better believe I'll be strapping on a pair of fake silicone breasts," Torres said. "This type of information saves lives, and it's in my nature to do whatever I can in order to most efficiently and effectively do just that."
Learning to advocate
Torres said his time at UW Bothell was an enlightening experience. "Beyond the invaluable skill sets particular to each course," he said, "I learned more about my values, my goals and my overall self than I have in any other training."
In particular, Torres said critical thinking skills are applicable in multiple ways every day.
"We should not just accept the decisions of the leaders, institutions, government or even seemingly well-developed research studies as fact," he said. "Heck, as much as I research and try to keep my videos as close to factual as possible, I still encourage each and every person to advocate for themselves and their families by doing some research on their own.
"That's part of the critical thinking I was fortunate enough to learn during my program at UW Bothell," Torres said. "That allows me to provide the information I provide and advocate for people by encouraging them to advocate for themselves."
Honored by the award, Torres said, "My bet is there are far more deserving alumni out there than myself, but having been chosen by the Alumni Council, they can feel confident their selection efforts will reach far. I look forward to carrying the award with me throughout our journey."
Nurse Stefan is on Facebook: https://www.facebook.com/NurseStefan
and people can message him at https://m.me/NurseStefan?ref=w5183201
People can subscribe to his YouTube channel: https://www.youtube.com/NurseStefanHowToDoLife?sub_confirmation=1
or follow him on Instagram: http://www.instagram.com/nurse.stefan or @nurse.stefan
A Nurses Week video in May has had more the 280,000 views: https://www.facebook.com/NurseStefan/videos/2322429388026245