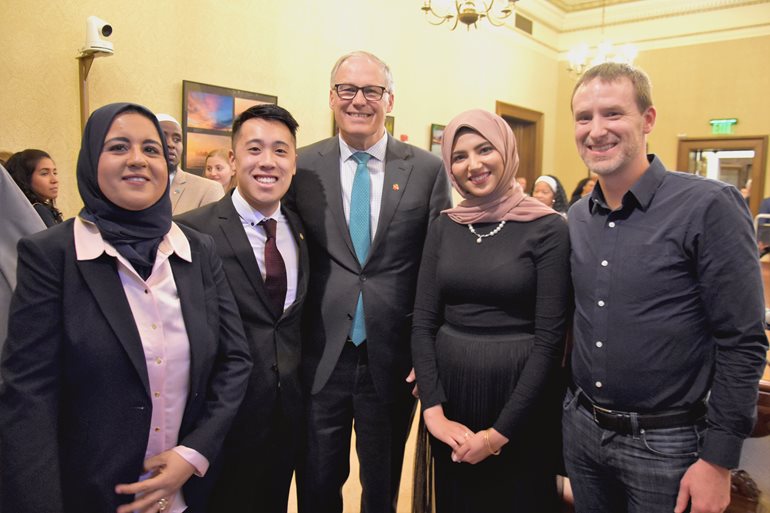 College students observing Ramadan and fasting during the day can now wait until night to take exams. A new law in Washington requires faculty to accommodate students when faith and studies conflict. Faculty will reschedule tests that would be a hardship due to any religious practices and holidays.
The law, signed April 29, 2019, by Gov. Jay Inslee, grew out of a biology class at the University of Washington Bothell, taught by Bryan White, a lecturer in the School of Science, Technology, Engineering & Mathematics.
Food and focus
White noticed that a student who had done well on the first three exams did much worse on the final. She mentioned she had been fasting for Ramadan, the month when Muslims do not eat during daylight hours. The next year, 2017, White and engineering faculty member Rania Hussein offered exam options at night after their Muslim students could eat and so perform at the level of their usual abilities.
Hussein, now a lecturer in Electrical & Computer Engineering at the UW Seattle campus, played an essential role in raising awareness of the initiative, White said.
This year's Ramadan, May 6 to June 4, falls in spring quarter, which ends June 14. As the new law takes effect July 1, 2019, faculty are considering various accommodation measures and working on official protocols for the future, said Wayne Au, interim dean of Diversity & Equity and campus diversity officer.
How kindness becomes law
News coverage of the night exams at UW Bothell sparked two UW students in Seattle to carry the issue forward. Byron Dondoyano Jr. and Mennah El-Gammal pushed a measure through student government, the ASUW, and then through the Washington Legislature.
They lobbied Sen. Bob Hasegawa, who sponsored SB 5166, the bill that became law. The students organized a coalition that grew to include the Jewish Federation, Council for American-Islamic Relations, the Anti-Defamation League and Faith Action Network.
Under the law, postsecondary institutions are required to accommodate students in rescheduling tests and making up absences due to religious observances. Schools also must post the accommodation policy on their websites and reference it in the syllabus. Students requiring an accommodation must notify the faculty member in writing within two weeks of the beginning of the class.
Simple action, phenomenal outcome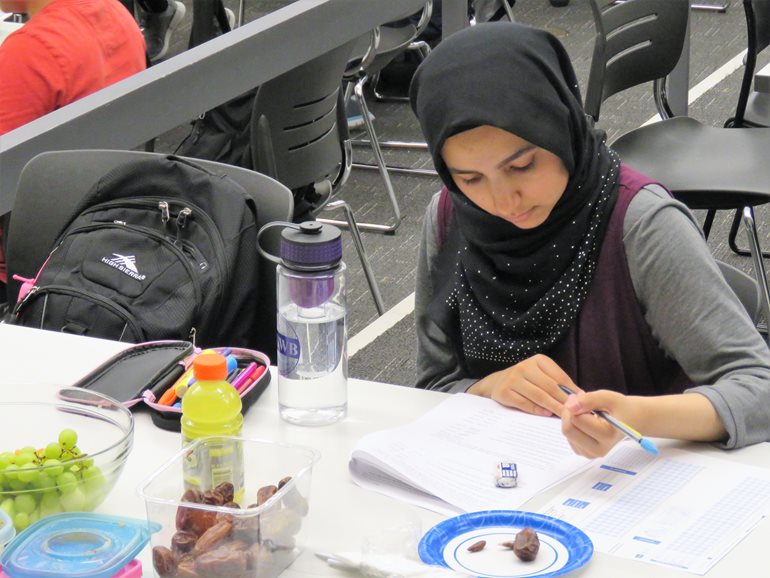 Muslim students had not complained nor asked for the night exams, UW Bothell faculty said. The campus instituted a religious accommodations policy during Ramadan in 2018. That experience shows the practice is a sustainable policy to help all students succeed, White said.
"I did what I thought was a simple action to benefit all students in my classroom. It was passionate students that responded to this action, advocated for their beliefs and made this law into a reality," White said.
Byron Dondoyano Jr., not religious
Dondoyano, a junior majoring in Law Societies & Justice, is not religious. He chose to observe Ramadan in May 2017 to experience something with his Muslim peers. He had no food or water from morning until dark, including during finals.
Inspired by White, Dondoyano researched existing requirements for religious accommodation. He discovered scheduling also was a problem for Jewish students with Saturday finals and Orthodox Christians observing Christmas in January.
"So, while religious accommodations did not affect me, I knew I needed to use my platform to advocate for change," he said.
He partnered with Mennah, the director of the ASUW's Middle Eastern Student Commission. They had no policy experience starting out and didn't expect to take it to Olympia.
Beyond scheduling, the new law lets students of all faiths know they are accepted in Washington, Dondoyano said. "By creating more transparency and communication about religious accommodations on the website and in syllabi, we are creating a more inclusive environment, similar to the effects that the American Disabilities Act had on culture and policy in America."
Mennah El-Gammal, recognizing identity
El-Gammal, a senior in Political Science, said she grew up believing that, as a Muslim, her identity would never be recognized and integrated into the fabric of American society. She felt a silent pressure on practicing students to not alienate themselves by asking for religious accommodations. But, fasting is an important religious lesson, she said.
"The abstaining from our most basic human desires teaches spiritual consciousness and encourages us to recognize the privilege of being able to eat while many others cannot, which promotes a lifestyle of patience and charitable giving," El-Gammal said.
Many professors are culturally sensitive, but the new law makes it uniform throughout the state El-Gammal said.
"So if just one student can benefit, if it makes just one student's life a bit easier so that they don't feel like they need to choose between being a good practitioner of their faith and a good student, then that's all I could ever hope for," she said.
Keiana Hadjireza, inspired by role model
Keiana Hadjireza was a student in an engineering class taught by Hussein. "I personally was not observing Ramadan, but I am friends with students who were. I could see the effect fasting had on them which made attending class difficult, let alone taking an exam," she said.
The accommodation Hussein made in 2017 was groundbreaking, said Hadjireza, who graduated that year in Electrical Engineering and now works for Boeing. Hussein was her role model.
"Not only is she bright and able to teach effectively, but she is compassionate and caring of her pupils. I was incredibly lucky to have her as a professor because I could tell she truly enjoyed seeing her students' brains click and gain new understandings of engineering concepts," Hadjireza said. "When she told us about the night exams, it only solidified that she is a very special woman helping to make big changes for the community."
Indira Ongarbaeva, listened to and supported
Indira Ongarbaeva, a pre-med student who graduated with a degree in Psychology in 2017, was in White's biology class and mentioned Ramadan to him during office hours. He asked if it would be helpful for students observing Ramadan to take the final exam after sunset. She acknowledged it would.
"It is extremely difficult to function cognitively and physically without water or food. Therefore, the rescheduling option will allow Muslim students to perform their skills and knowledge normally, as they would on any other given day," said Ongarbaeva.
As a Muslim, Ongarbaeva said it is important to have academic support.
"I would like to highlight that this law is not only about being able to take exams at alternative times, but it also means that even with current political climate in regards to Muslims, immigrants and other minority groups, it is tremendously important for us Muslims to realize that we are being listened to, acknowledged and supported," Ongarbaeva said.
Zoha Awan, nicely surprised
Zoha Awan is a pre-med student, majoring in Biology and Health Studies, who plans to graduate in 2020. She has been observing Ramadan since she was a child.
"We just get closer to our god," she said.
When White emailed everyone in her biology class in 2017 asking if they wanted extra exam time, the students were surprised.
"We weren't expecting the professor to reach out," she said. "It was really an amazing gesture as a professor to show they know we're stressed out as students."
It helps to be able to take an exam after breaking a fast, she said. "You feel a lot better because that is how the human body works."