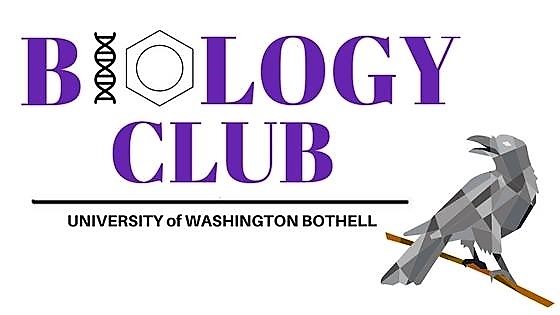 By Douglas Esser
Research is a necessary part of the curriculum for Biology majors at the University of Washington Bothell where the faculty partner with undergraduate students to carry out research projects. There's a biological analogy for this kind of relationship called mutualism — an ecological interaction that benefits both organisms. The campus Biology Club is putting mutualism in motion with speed networking between students and faculty.
"We wanted a casual event where students could connect without feeling intimidated," said Cathleen Jasman, secretary of the club that organized a Feb. 28 get-together in the Activities and Recreation Center.
Similar to a speed-dating format, a faculty member held a seat at each of 10 tables as students dropped in for five-minute, no-commitment, get-acquainted chats. They then moved on to the next table. Students who discovered a mutual research interest could follow up with faculty via email.
Connections made easy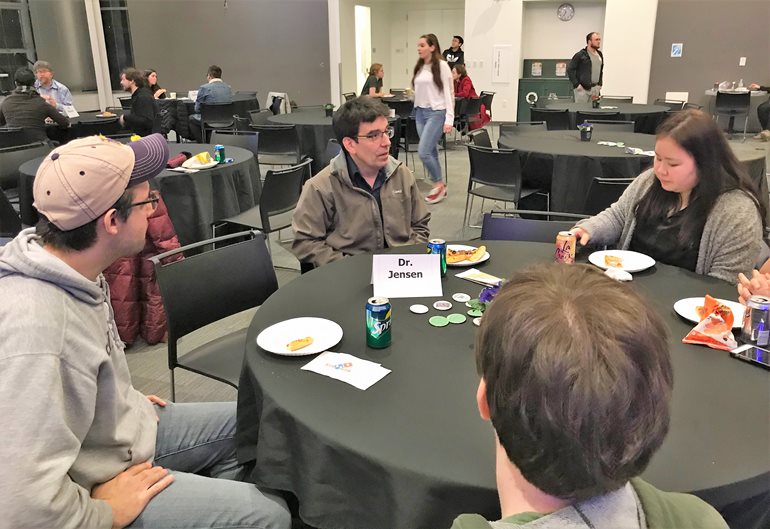 Speed networking is an easy way to approach faculty outside their classrooms or offices in the School of Science, Technology, Engineering & Mathematics' Division of Biological Sciences. It's also an opportunity for the faculty to introduce their research, said Jeff Jensen, a senior lecturer.
"I'm excited about fish. A lot of people are excited about other things," he said. "Students get the chance to talk with people excited about a whole broad range of things. It's only a little time, so if it's not their cup of tea, they'll have their pizza and move on."
In addition, because many Biology majors are on a path toward medical careers, networking shows them other possible tracks, Jensen said. "I always encourage people to get more field experience and realize there are other kinds of careers."
Researchers in the making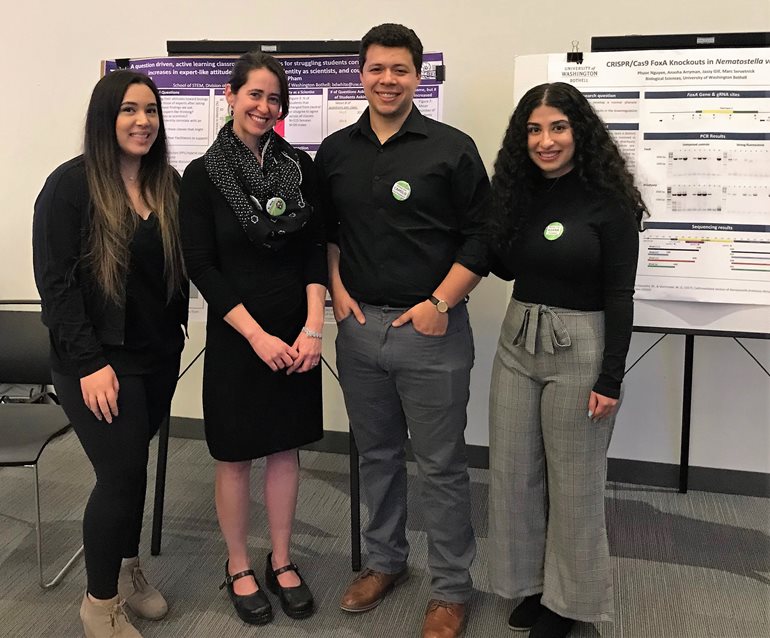 The networking event was open to any student, regardless of their year or major. More than 30 enjoyed the opportunity to meet a possible mentor over pizza. This was the second annual speed event, hosted by Biology Club officers: Kiana Imani, president; Camilo Acosta-Garcia, vice president; and Jasman, the secretary.
Imani is currently conducting molecular biology research with Thelma Madzima, assistant professor, who studies plant response to environmental stress. Acosta-Garcia has researched spiders and beetles with Cynthia Chang, an assistant professor who studies the ecology at Mount St. Helens, and with Michele Price, a lecturer who studies insects. Jasman applies computational biology with Jesse Zaneveld, assistant professor, who researches coral species.
Finding research mentors
The event also included a panel discussion with five faculty members who talked about their research, answered questions and offered tips on the etiquette of forming a research relationship. They included:
don't spam faculty members with a nonspecific request for research;
do your homework and find research for which you have an interest;
send an initial email asking for a preliminary, information meeting;
ask a lab instructor to introduce you to a researcher;
show some enthusiasm, and;
be respectfully persistent.
The panelists also advised students not to forget summer research opportunities at UW Bothell and other campuses known as a Research Experience for Undergraduates (REU). These experiences frequently lead to more research projects and mentoring relationships.
The faculty commitment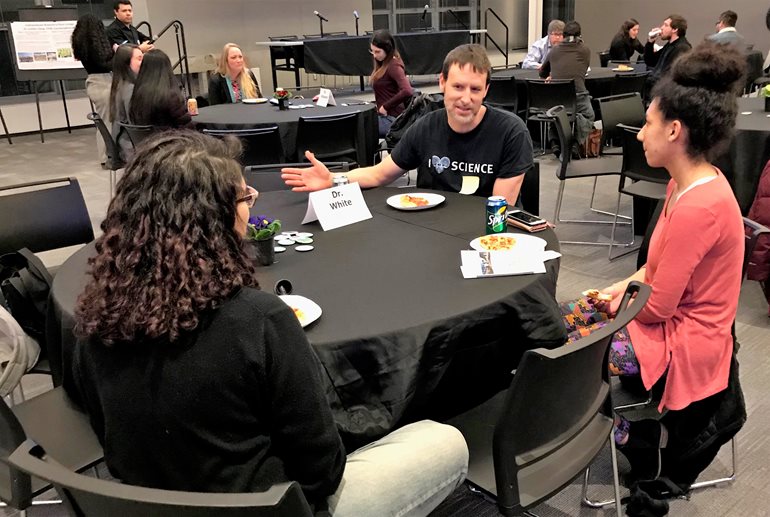 In addition to Jensen, the panelists included Kristina Hillesland, associate professor, evolutionary biology and microbiology; Bryan White, senior lecturer, science education; Alaron Lewis, lecturer, cell and molecular biology; and Heather Galindo, lecturer, marine ecology.
The panelists took their tables and were joined by five more faculty members for the networking. In addition to Madzima and Price, they included Salwa Al-Noori, lecturer, multidisciplinary science education; Marc Servetnick, professor and chair of Biological Sciences Division, embryonic development and evolution; and Douglas Wacker, assistant professor, crow communication.
More student initiative
Price, the faculty adviser to the Biology Club, said the idea for speed networking came from the students — a testament to their engagement and hunger for knowledge.
Price advises biology students to look for more than the required research credits and not wait until their senior year to start. "I've had students who do one quarter of research with me, and when they're done, they say, 'I wish I could do more. I have so many more questions I want to explore.'"