By Douglas Esser
In an emergency, if your household is asked to evacuate, what would you do with your pets?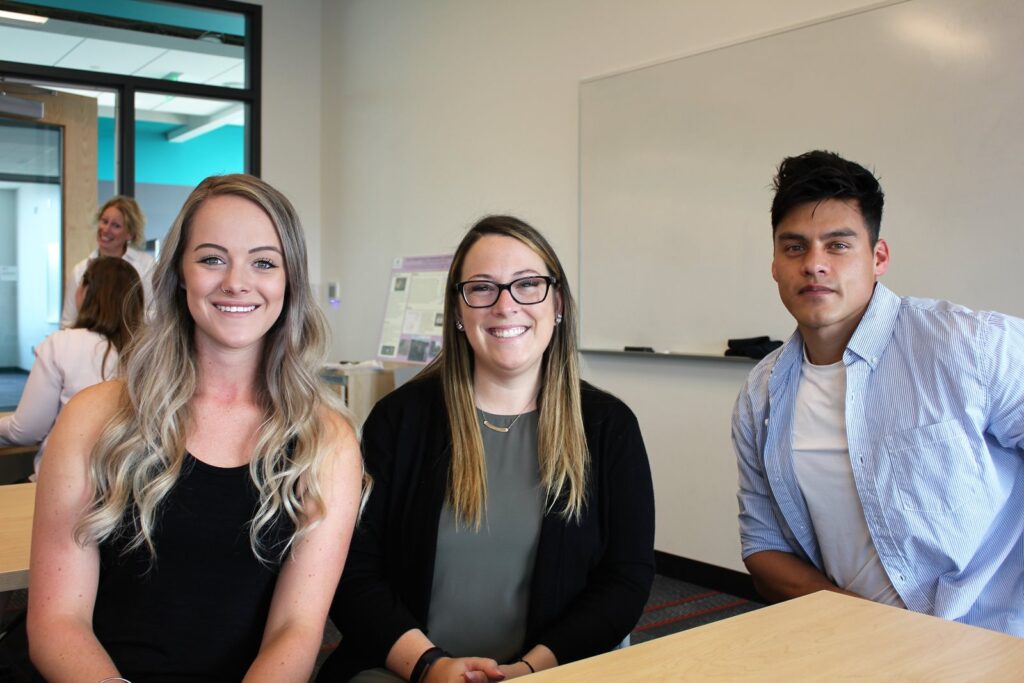 That's one of the questions Bothell residents are being asked in a survey conducted by University of Washington Bothell nursing students in a community health class. The survey found that practically no one would evacuate without their pets, said the instructor, Karen Bowman. It demonstrated that emergency officials need to consider pets as they plan for the "big one" earthquake or flooding, windstorms, snowstorms or extended power outages. Photo: From left: Rene Vonpressentin, Alli Laurine, Edward Middleton
The survey was started over summer quarter by 14 students in Bowman's course, Population-Based Health in Community Practice. All of the students are registered nurses (RNs) who are completing their Bachelor of Science in Nursing (BSN) degree in the School of Nursing & Health Studies. On some of the hottest days of the summer, they donned yellow vests and ID badges to knock on doors. They covered six of 17 zones designated by the city of Bothell's Emergency Preparedness Department for the city's 40,000 residents.
Subsequent classes will continue the surveying in the remaining zones, said Bowman, a lecturer. The students presented initial findings Aug. 14 at a poster session at Everett Community College, one of the off-site locations for the RN to BSN program. The audience included Jennifer Warmke, Bothell's emergency preparedness manager, and Carly Joerger, an intern with the city and a master's student from the UW Evans School of Public Policy and Governance. Joerger added some questions to the survey about human health services to help the city council in setting priorities for grants. Photo: From left: Karen Bowman, Carly Joerger, Jennifer Warmke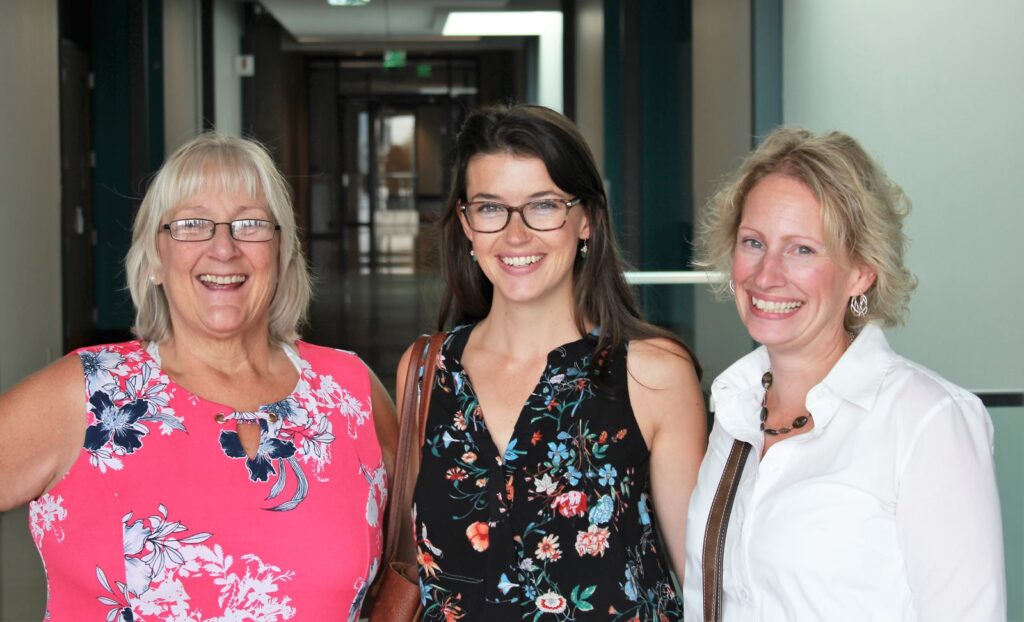 Three of the nurses, who work at Providence Hospital in Everett, said surveying gave them a new experience and a different perspective on nursing. It was hot. Many residents weren't home or didn't want to talk. But, it was valuable to prompt people about disaster preparedness and for nurses to think beyond bedside skills, they said.
"There are so many avenues you can take once you become a nurse. This project was important to show there are other options," said Alli Laurine, an oncology nurse.
Renee Vonpressentin was surprised to learn some residents are prepared for a disaster — aware of their environment and escape routes with supplies stocked in a backpack — but the class showed her the importance of communication.
"What it comes down to is learning how to communicate with different types of people," said Vonpressentin, a kidney dialysis nurse.
"The rejections were tough," said Edward Middleton, a thoracic-vascular nurse. Some residents dismissed them like salespeople or thought they looked suspicious. Still, it was good to talk with people outside of the patient situation, he said.
There was no answer at 263 homes, and 78 residents declined the 25-question survey. The students finished with 64 responses. The survey was a modified version of the Community Assessment for Public Health Emergency Response devised by the Centers for Disease Control and Prevention. To get a random sample, students called at every seventh home in a specified zone. The goal is a baseline of accurate information that officials can use in an emergency, rather than relying on anecdotes or isolated incidents.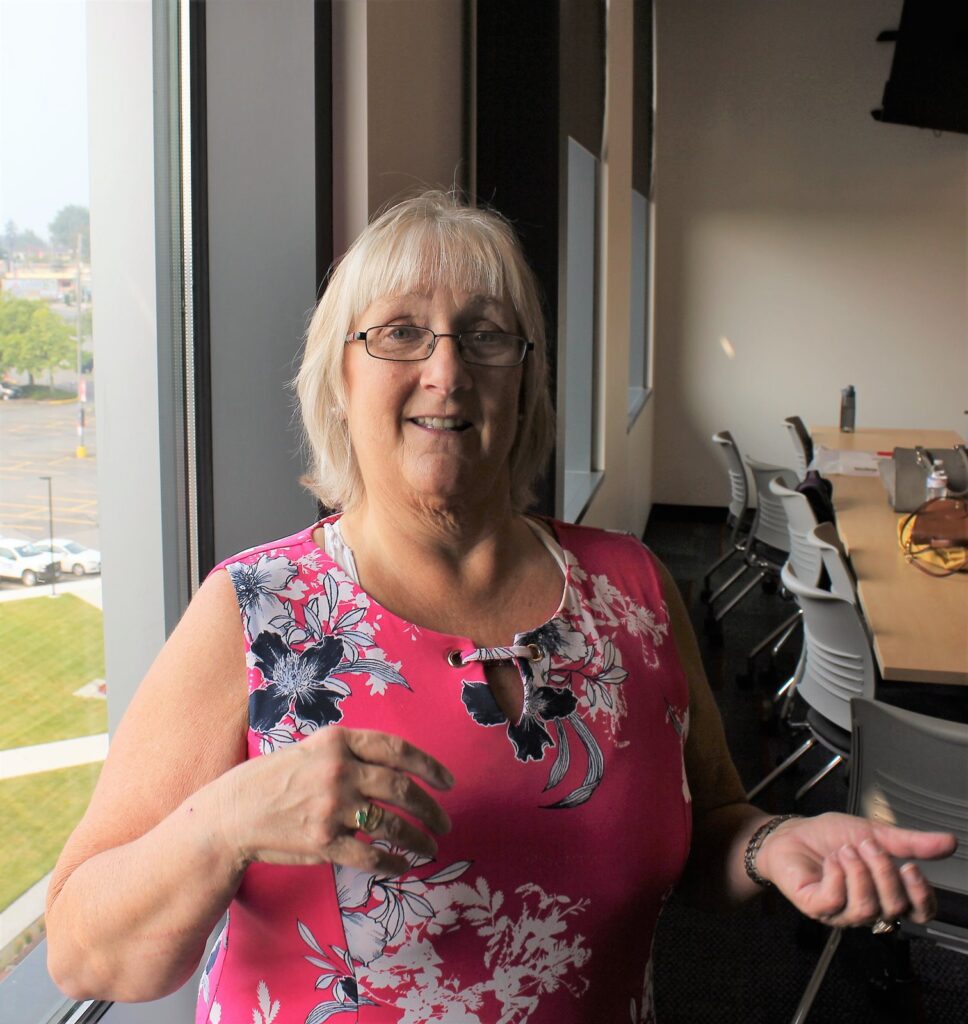 "Any time we can get more preparedness information is great. These students have been awesome. It's such a wonderful partnership," said Warmke.
In a previous class working with Warmke, Bowman's students documented Bothell's resilience to a fire in July 2016 that destroyed downtown businesses.
"It's hard to understand that knocking on doors and filling out surveys is actually work for nurses who are usually hanging an IV, doing CPR and keeping people alive," Bowman said. "The students are realizing they can do more than hospital nursing.
"Community health is an upstream practice," Bowman said. "If we did better intervention and work with the community members to learn about better foods, exercise and stress management, they wouldn't end up in the hospital."