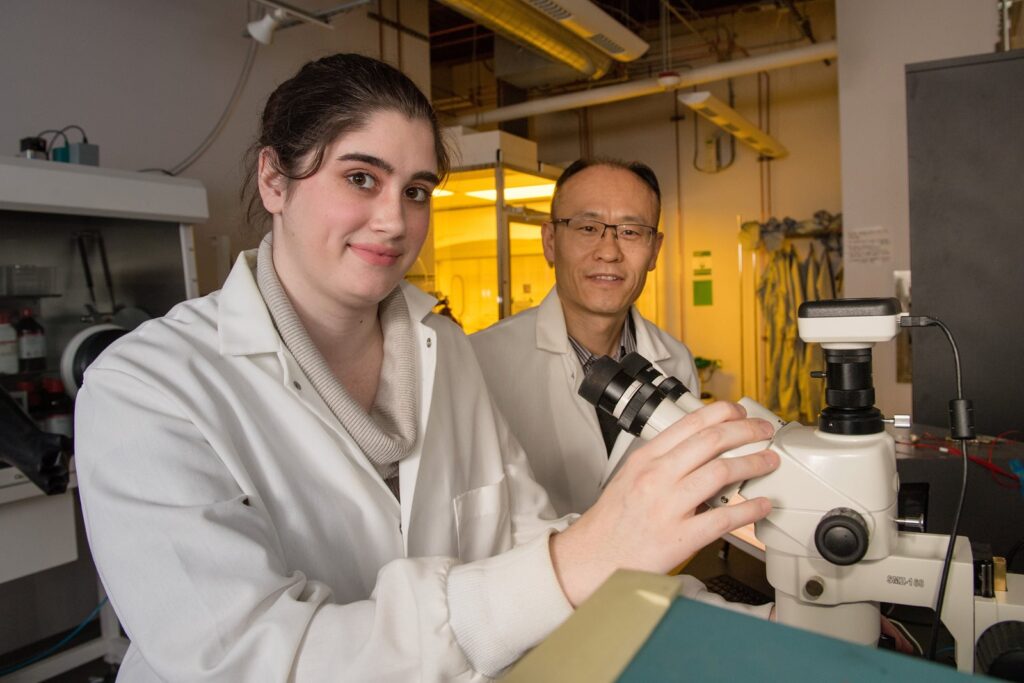 By Douglas Esser
Promising biotechnology arises from the intersection of electrical engineering and chemistry. Imagine a flexible sensor the size of a quarter that could monitor glucose from a diabetic's sweat, instead of a painful prick of blood.
That research has been underway at the University of Washington Bothell, led by an assistant professor in the School of Science, Technology, Engineering & Mathematics, Seungkeun Choi. Choi needed a research assistant with a special combination of skills.
Choi found that combination in Anna Kirchan, a student double majoring in electrical engineering and chemistry.
"It's a perfect match, and she was very self-motivated," Choi said of Kirchan who has worked with him since the spring of 2016.
Kirchan's work is now supported with a Mary Gates scholarship, a choice Choi is happy to see because she serves as a role model for female students in research.
"Without having the Mary Gates, I wouldn't have been able to continue the research," Kirchan said.
Choi aims to develop tiny, highly sensitive organic electrochemical transistors that can sense small changes in a chemical or biological substance. Kirchan demonstrated a prototype at the International Conference on Solid-State Sensors, Actuators and Microsystems last summer in Taiwan. Currently, Kirchan is investigating how the sensitivity could be improved by a micron-scale heating element. This is the work supported by the scholarship.
It's like shrinking a lab full of analytical equipment onto a tiny chip, said Choi, who says another possible use, in addition to glucose monitoring, might be chips that could test cancer drugs in minutes.
"We can grow the cells on top of the transistor, and when you inject the drugs it responds with a small signal," said Choi who looks for more assistants to continue the research.
Kirchan graduates this summer after five years of work to complete two challenging degrees. She hopes to find research-related work at a company in the Seattle area. Before assisting Choi she thought she might go into the field of power generation.
"I didn't know organic chemistry and electrical engineering intersected at all. It was really cool to see the two fields I'm interested in being put together in a way I hadn't thought of before. I think it would be interesting to go into the organic electronics field, especially because it's a growing area now," Kirchan said.
"It's been the most fun I've had at Bothell — being able to do research — because it's really what I want to do with my degrees," said Kirchan who also is considering graduate school in the future.
The competitive Mary Gates Research Scholarships go to University of Washington undergraduates to enhance faculty-guided research. The $5,000 scholarship, disbursed in $2,500 installments over two quarters, enables students to focus more time and attention on their projects. Students present their work in the spring at the annual Undergraduate Research Symposium.

Bill and Melinda Gates endowed the scholarships in 1995 in memory of his mother, Mary Maxwell Gates, who served as a UW regent 1975-1993. The endowment takes applications twice a year, once in the fall and once in the winter, and announces recipients in winter and spring.