Students on orientation tour consider the higher education path ahead.
By Douglas Esser
Rosemary Simmons, a psychologist in student counseling for almost 30 years, said she's seeing more pressure today on incoming students to be successful because of a general emphasis in society on excellence. And, researchers have found, the transition to college can be especially stressful for students who have historically struggled or who may be the first in their families to attend college.
In response, Simmons, who directs the UW Bothell Counseling Center, and others across campus are integrating social psychology concepts of "social belonging" and a "growth mindset" into activities across campus.
Social belonging is the idea that students who feel they belong on campus are more connected and more productive, said Simmons. A sense of belonging is one of the biggest predictors for students to graduate, according to research from the Stanford-based College Transition Collaborative. CTC's research also indicates that early intervention can enhance that feeling.
The CTC has developed a short, easy-to-access activity called the Social-Belonging for College Students program. UW Bothell and the UW campuses in Seattle and Tacoma are among about 30 colleges nationwide participating in this year's program launch. At UW Bothell, first-year students were encouraged to participate during orientation this summer as they took a look around campus and considered their path into higher education.
As part of the program, students go online to read a story about students just like themselves overcoming a negative experience. Students then write a reflection on that story or write about their own transition experiences, such as something in high school. The activity ends with a short survey, said Terry Hill, director of orientation programs.
Students who recall the activity during moments of struggle may avoid a downward spiral of doubt and self-criticism, said Simmons. "That's the little twist it can potentially provide," she said.
Hill said the program also builds on practices such as hiring upper-level students as orientation leaders to share their stories of perseverance. Photo: Orientation students see the lay of the land.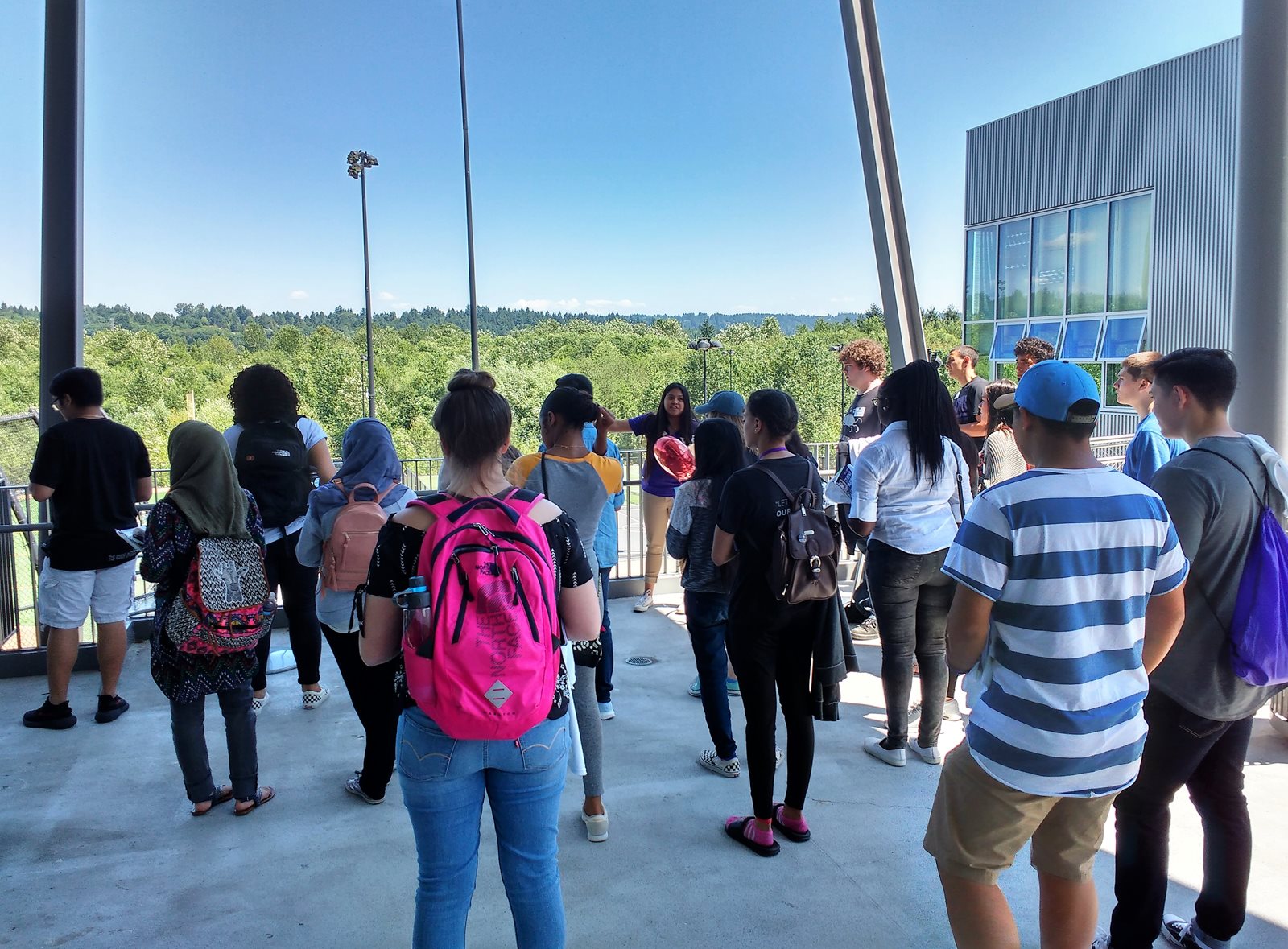 Growth mindset is a related concept that follows the research of Stanford psychology Professor Carol Dweck. A growth mindset frames learning as a process of effort and strategy. Again, it helps give students an attitude of persistence through adversity.
Social belonging, growth mindset and resiliency also are addressed by first-year advisers and the Student Success Center's annual Mythbusters session, Simmons said. Several faculty members are already using these approaches in class, and this fall a campus initiative will involve faculty and staff in learning circles to share strategies based on the concepts, Simmons reported.
"We want to integrate this on multiple levels so hopefully something will fit for students that will speak to them personally," Simmons said.
The goal is to give students the confidence to persevere through problems, stay in college and graduate.
Nationally, the retention rate – students who return for year two – at four-year colleges was 81 percent in 2014, according to the National Center for Education Statistics. And, only about 59 percent of students who began seeking a bachelor's degree in fall 2009 completed that degree within six years, according to the NCEC.
Comparable numbers for the UW Bothell, even considering that 49 percent of students are first generation, are a retention rate of 86 percent in 2014 and a six-year graduation rate of 77 percent. But as strong as their numbers are comparatively, UW Bothell is working to support every student's successful path through college.
All students struggle with some aspects of college, Simmons said, but students who feel they belong also stay engaged, step up and take advantage of opportunities.