Architect's illustration of what a Beardslee Commons might look like. (Courtesy Mahlum Architects Inc.)
This fall the Bothell City Council, Cascadia College Trustees and the University of Washington Regents are expected to take final action on the master plan that will guide what the campus shared by UW Bothell and Cascadia College will look like in 20 years.
The plan was developed through a comprehensive process that began more than a year ago. It included meetings that gave campus and community members the opportunity to comment on buildings, housing, transportation, parking, the environment and public services.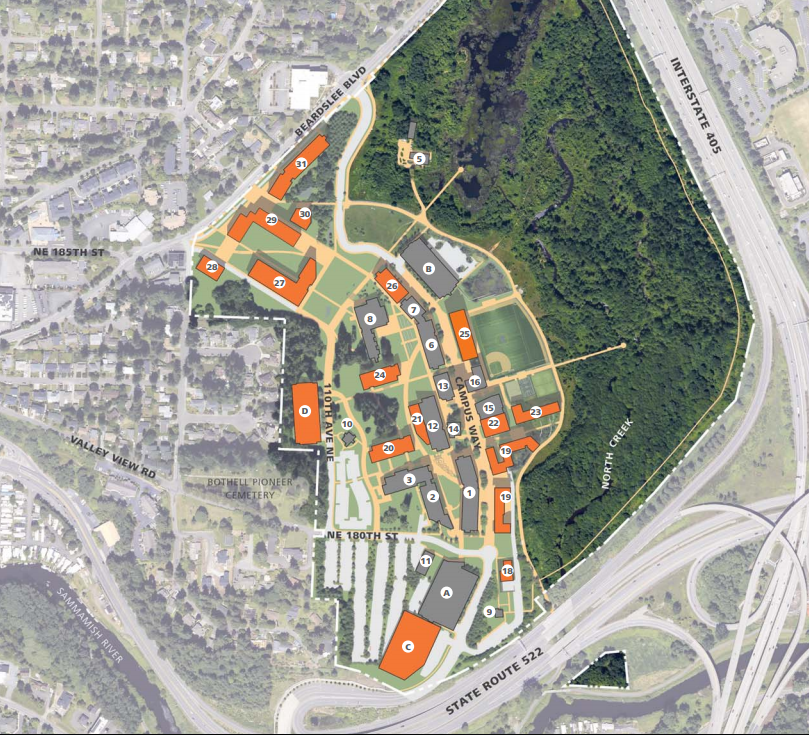 UW Bothell and Cascadia worked together on the vision for the 135-acre campus, which is approximately 70 acres of developable area and 60 acres of preserved wetlands. Long-range map, above. (Courtesy of Mahlum Architects Inc.)
Here are some draft highlights:
• The number of students – more than 7,800 in the fall of 2016 – would grow to the 10,000 fulltime equivalent (FTE) students as originally envisioned by the Legislature (6,000 at UW Bothell and 4,000 at Cascadia College).

• The long-term vision calls for doubling academic and housing space from 850,000 gross square feet (GSF) to 1.8 million GSF. This would allow the campus to reach 150 GSF per FTE, up from the current 94 GSF per FTE.

• Housing of nearly 300 apartment beds could grow to between 600 and 1,200 beds on campus in a mix of traditional and apartment housing.

• Administrative offices housed in leased space off campus would be accommodated back on campus.

• Near-term development (within seven years) would increase the density of the campus core. Growth would extend northward over time toward Beardslee Boulevard to create a new front door to campus and to strengthen connections with downtown Bothell. Total development would be distributed across campus, mixed with open space, in six areas.

• The Husky Village site would be redeveloped into Beardslee Commons, the new front door to the campus with mixed retail, housing and academic functions with transit oriented development along Beardslee Boulevard.

• Pending academic buildings Cascadia CC4 and UW Bothell 4 depend on legislative funding.

• No development is permitted in the wetlands.

• The number of parking stalls could increase from the current 2,500 to 4,200 total stalls.
Further information on the campus master planning process is available online.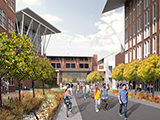 Architect's illustration of Campus Way as possible pedestrian-only walkway. (Courtesy of Mahlum Architects Inc.)