By Douglas Esser
A University of Washington Bothell class that produced a video as a final project and a statement against Islamophobia saw it go viral on Facebook. "Shoulder to Shoulder" was posted Wednesday on the School of Interdisciplinary Arts & Sciences page and by Friday it had more than 100,000 views.
It was recorded Dec. 8 on the campus' plaza in the mannequin challenge style, where people remain frozen in action and the camera moves through them.
Scenes of Muslims being hit with a bottle, kicked or splashed with coffee are accompanied by audio from newscasts of 9/11 and hate crimes. Other scenes show a Trump political rally, and the video closes with a group of Muslims praying "shoulder to shoulder" as they are surrounded by a protective circle of UW Bothell and Cascadia College students, faculty and staff.

The video uses all 43 students in "Arts In Context: Contemporary Muslim Artists," a course taught by Anida Yoeu Ali, a full-time faculty member and artist-in-residence in the School of IAS. She teaches classes that cross American and ethnic studies, interdisciplinary arts and global studies, as well as culture, literature and arts.
About a third of the students in the class are visibly Muslim, Ali says. For many of the non-Muslim students it was the first time they had engaged with Muslims.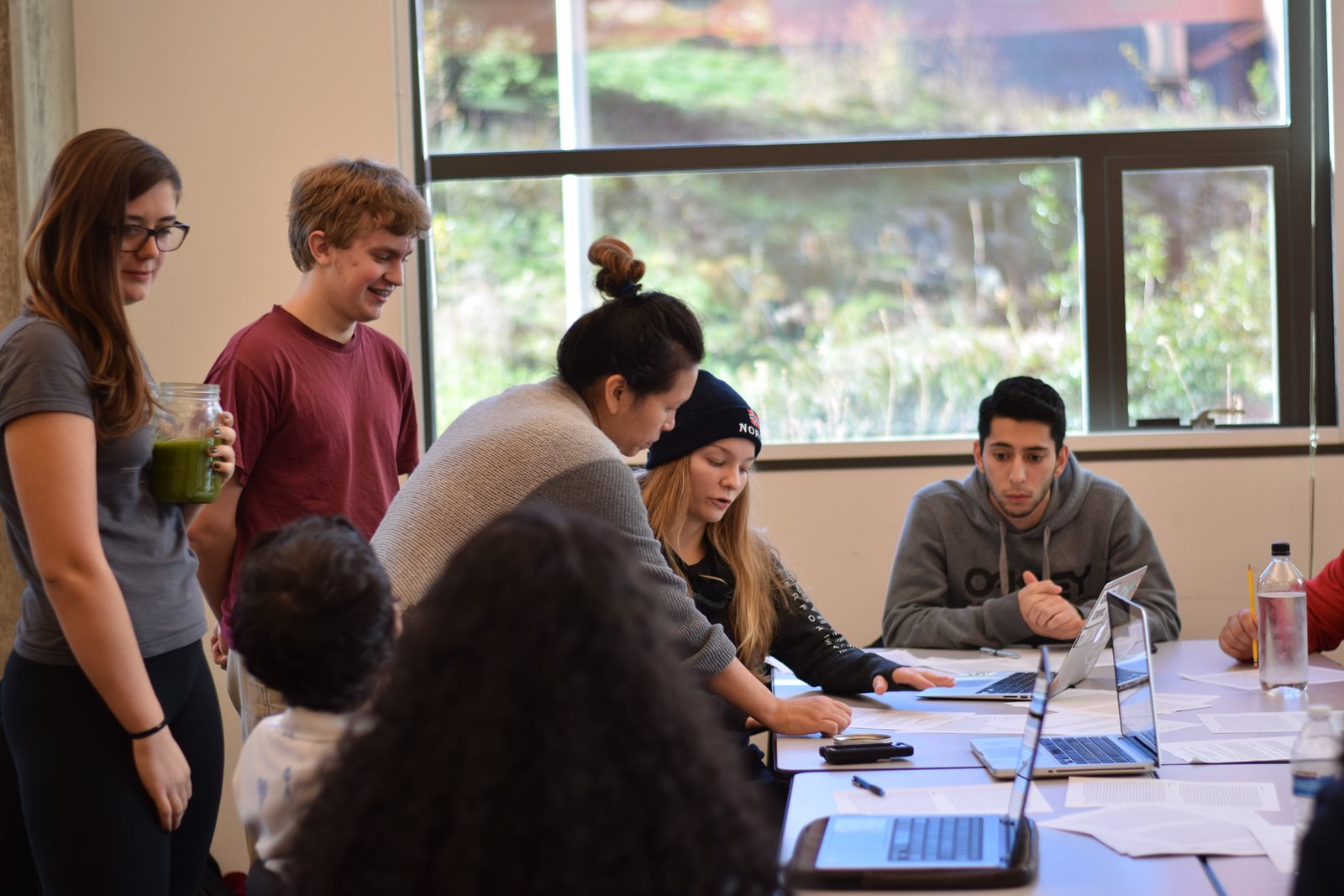 The class looked at the works of Muslim artists and ways in which the identity has been distorted through such ideas as orientalism – the lens through which the West views the East. Ali grades on creative risk-taking, originality and effort.

"This class is about stepping outside your comfort zone," she says.

Ali says she had a sense the class was special and challenged them with a final GGP – giant, group project. Everybody committed. They chose the mannequin challenge, the issue of Islamophobia and organized themselves into a production company: audio/video, props, costume and marketing. They pulled it all off in about two weeks.

"I am just so moved by their hard work, commitment and the unity of the class. The students did a stellar job," Ali says. "I am moved to almost tears."

Ali says three students had major parts in the project: Evan White, videographer and editor, and core leaders Doha Ashmawi, a Muslim, and Derek Burkett, an Army veteran.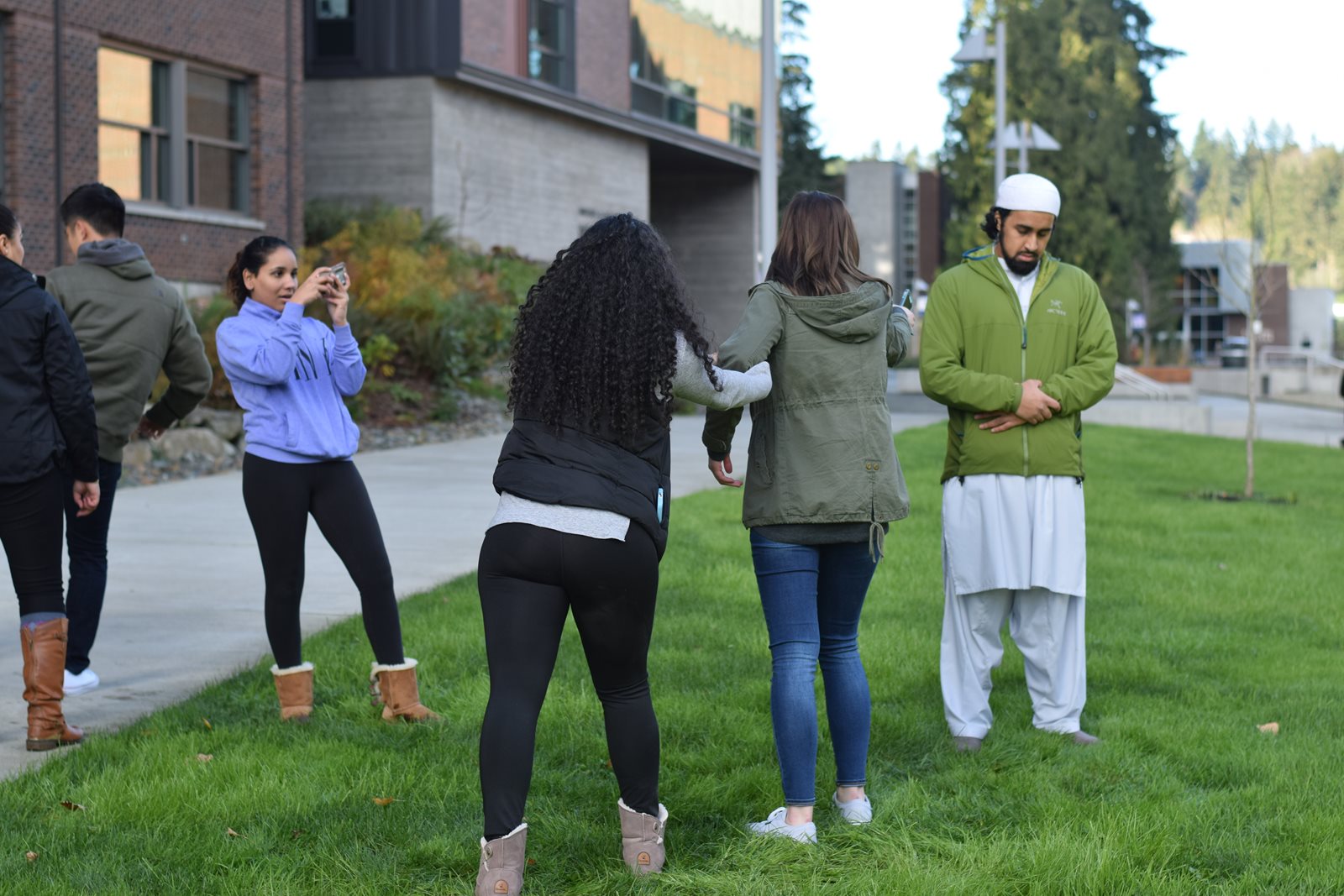 White, who transferred from Texas A&M University and graduates next spring in media and communications studies, says he thought he had signed up for an art history class where a professor would show slides and lecture. As a Christian, he says he had no idea what to expect. It really opened his eyes, he says.

"Honestly, it was my favorite experience at UW Bothell so far," White says. "It was totally different and exceeded my expectations."

After students decided on the project, he says, "We were looking at each other like 'Oh my goodness, are we going to do this?'"

White says a class of racially and culturally diverse students unified and came together through making the video

"We thought we made something really cool," White says. "For me personally, it was an awesome experience."

Ashmawi is a Running Start junior from Bellevue College who plans to major in law, economics and public policy and expects to graduate in 2018. She says the class meant a great deal to her personally.

A turning point was the presidential election that brought feelings of fear, anxiety and nationwide hate incidents. The class, regardless of political affiliation, race or religion, felt the need to stand "shoulder to shoulder and stand up against hate," she says.

In the video Ashmawi is holding a sign that says, "I'm scared," although she personally hasn't experienced any hateful incidents on campus. To the contrary, she bonded with her classmates.

"It was great to feel part of the community the class had through the quarter," she says. "I felt very empowered which was very ironic because I was holding the sign saying 'I'm scared.'"

Burkett also didn't know what to expect from the course, but it turned out to be "my favorite college course I have taken to date." A transfer student from American Military University, Burkett is declaring an accounting major and plans to graduate in 2019. In the opening scene, he's holding a newspaper.

In his almost five years as an explosive ordnance disposal technician, Burkett did his share of time overseas.

"Given the nature of my position, it is fair to say that I had developed a negative feeling towards people of Middle-Eastern descent. This course greatly helped to alleviate those feelings to some extent," Burkett says. "As simple as it may be, this shows how strong we can be as a campus in fighting the flood of hatred that has been lingering in our nation for decades."

The class (BISCLA 383) is offered again this winter quarter.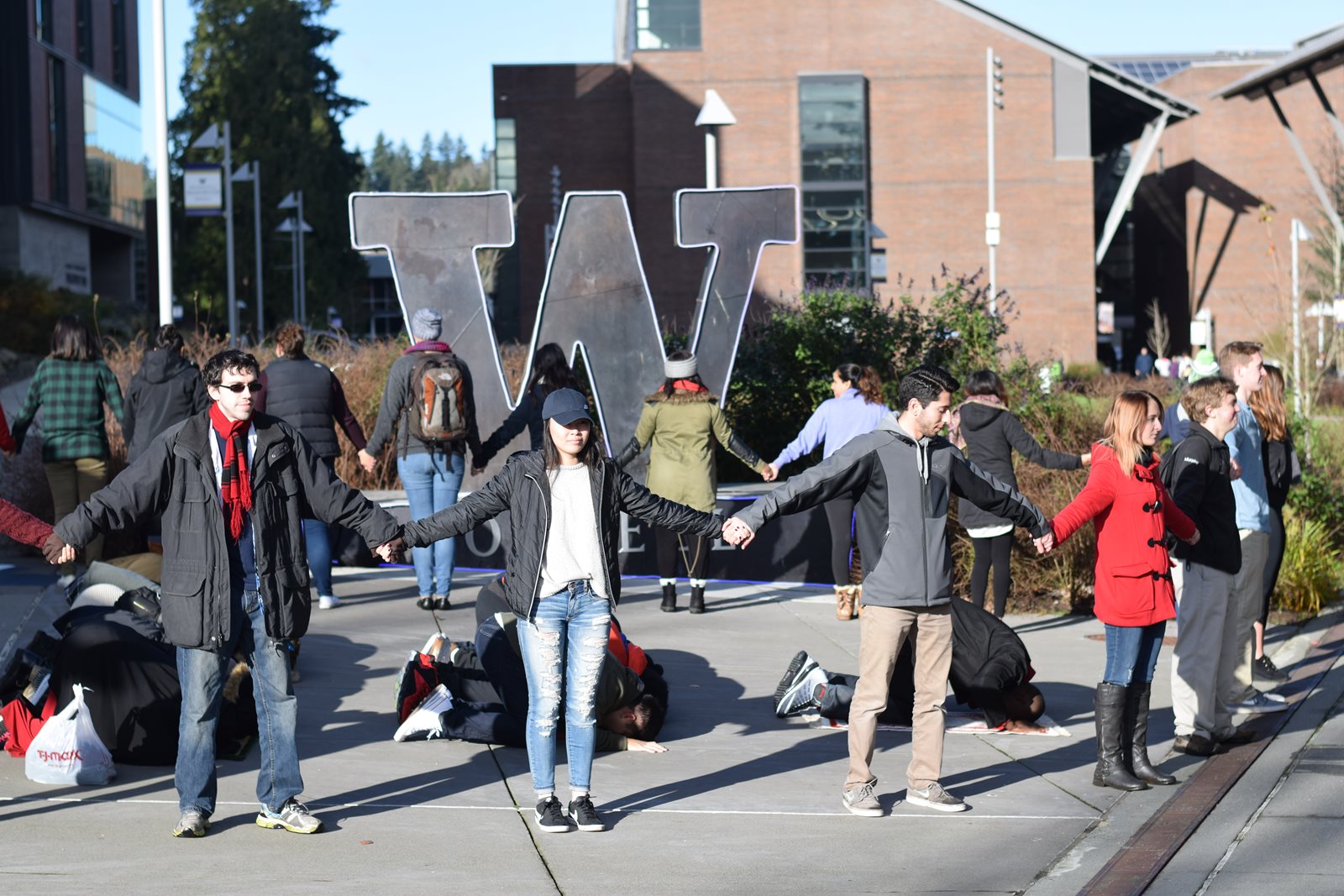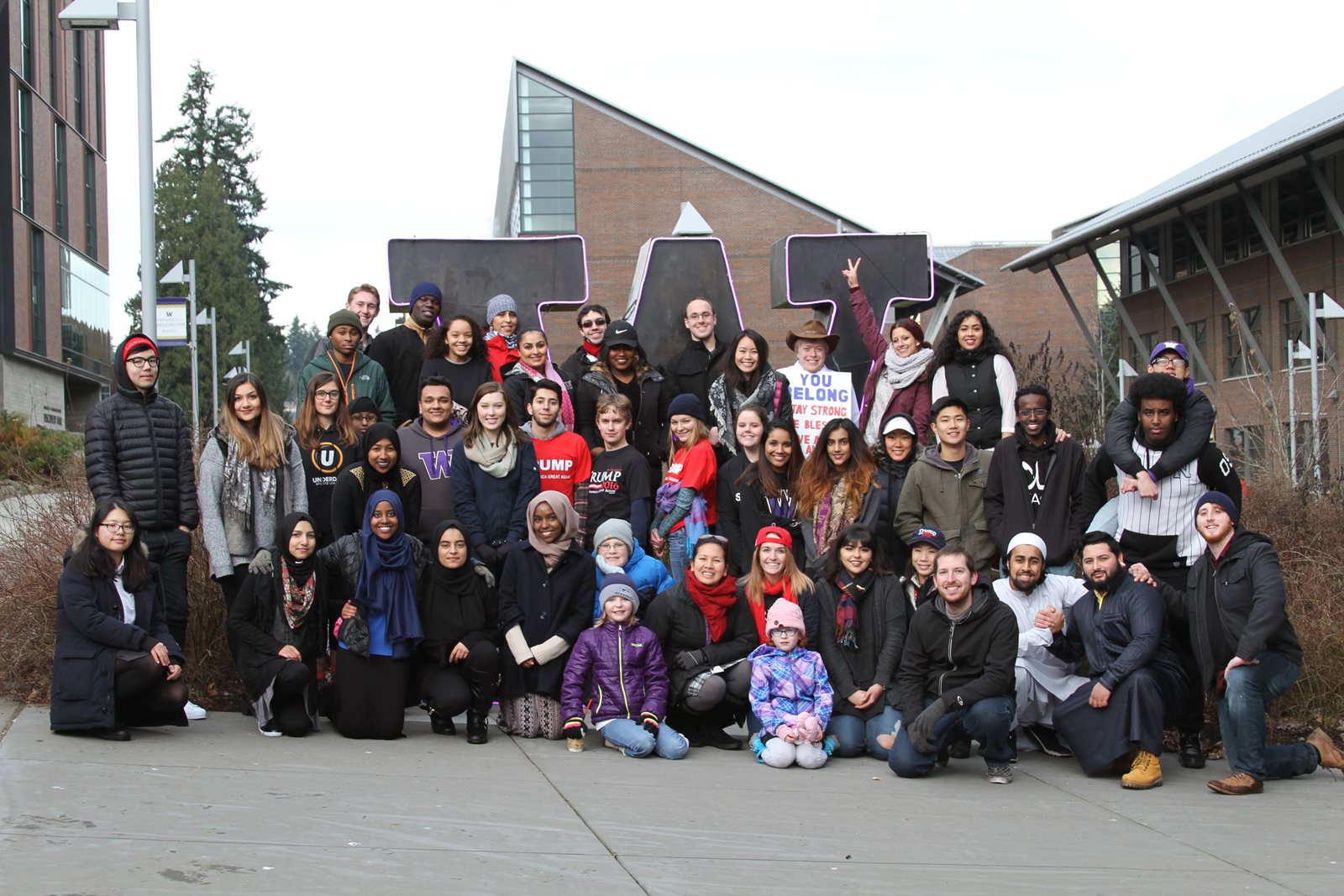 (photos of students collaborating and rehearsing courtesy of Ivan Chung)
#MannequinChallenge #HumanityOverHate #HuskiesStandStrong