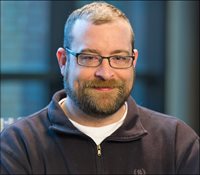 By Jama Abdirahman
Transitioning back into civilian life is difficult enough for many veterans, but it can be especially hard for veterans also adjusting to college. UW Bothell's Office of Veterans Services has resources in place to help veterans navigate barriers and make a smoother transition.

Photo: Omar Gonzalez, Army veteran and president of the Student Veterans Association

The University has developed a well-rounded approach to serving those who have served our country. Vets receive individualized attention before they begin classes and even after graduation. Veterans Services provides advice on benefits such as tuition breaks and work study opportunities. As one might expect, the desire to serve doesn't fade when the uniform comes off.

A veteran transition course is offered each quarter and taught by veterans, says Rosa Lundborg, manager of Veterans Services and Disability Resources. Chancellor Wolf Yeigh, a Navy veteran jumped in and taught the course upon his arrival to the campus. It is now co-taught by Director of Diversity and Army veteran Terryl Ross along with Navy veteran and UW Seattle student, Emma Kirby. Photo: Emma Kirby

Kirby is the new VetCorps Navigator representative, a position funded by Americorps. She will help other veterans and their family members navigate Washington's higher education and training programs.

"We have a strong and active student veterans group that works tirelessly to create a culture on campus that recognizes, supports and honors our veterans," said Lundborg.

Army veteran Omar Gonzalez is the incoming president of the Student Veterans Association (SVA). He says before he graduates with dual degrees in gender, women and sexuality studies and American and ethnic studies, he plans to create more visibility for his fellow veterans on campus.

UW Bothell and the SVA have created programs and traditions that honor veterans. In 2013, a veterans archway was installed on the northeast side of campus to welcome veterans to higher education. Challenge coins are awarded to each graduating veteran every quarter.

Photo: Former VetCorps navigator and Navy veteran Benjamin Studley wears veteran stole at commencement.

In 2014, UW Bothell veterans designed and received approval for the first veteran stoles to be worn at any UW commencement. The stoles are available to graduating veterans on all three UW campuses and are worn with pride.

While the Career Center helps students throughout their time at UW Bothell, it is also committed to helping with another transition that can be more difficult for veterans – entering the workforce after graduation.

Together the University of Washington Bothell and Veterans Services provide guidance, information, and resources on campus to ensure success for veterans transitioning back to civilian life.

"I've been very fortunate to have very influential role models in my life; professors and peers that have been able to help reshape my way of thinking," said Gonzalez.