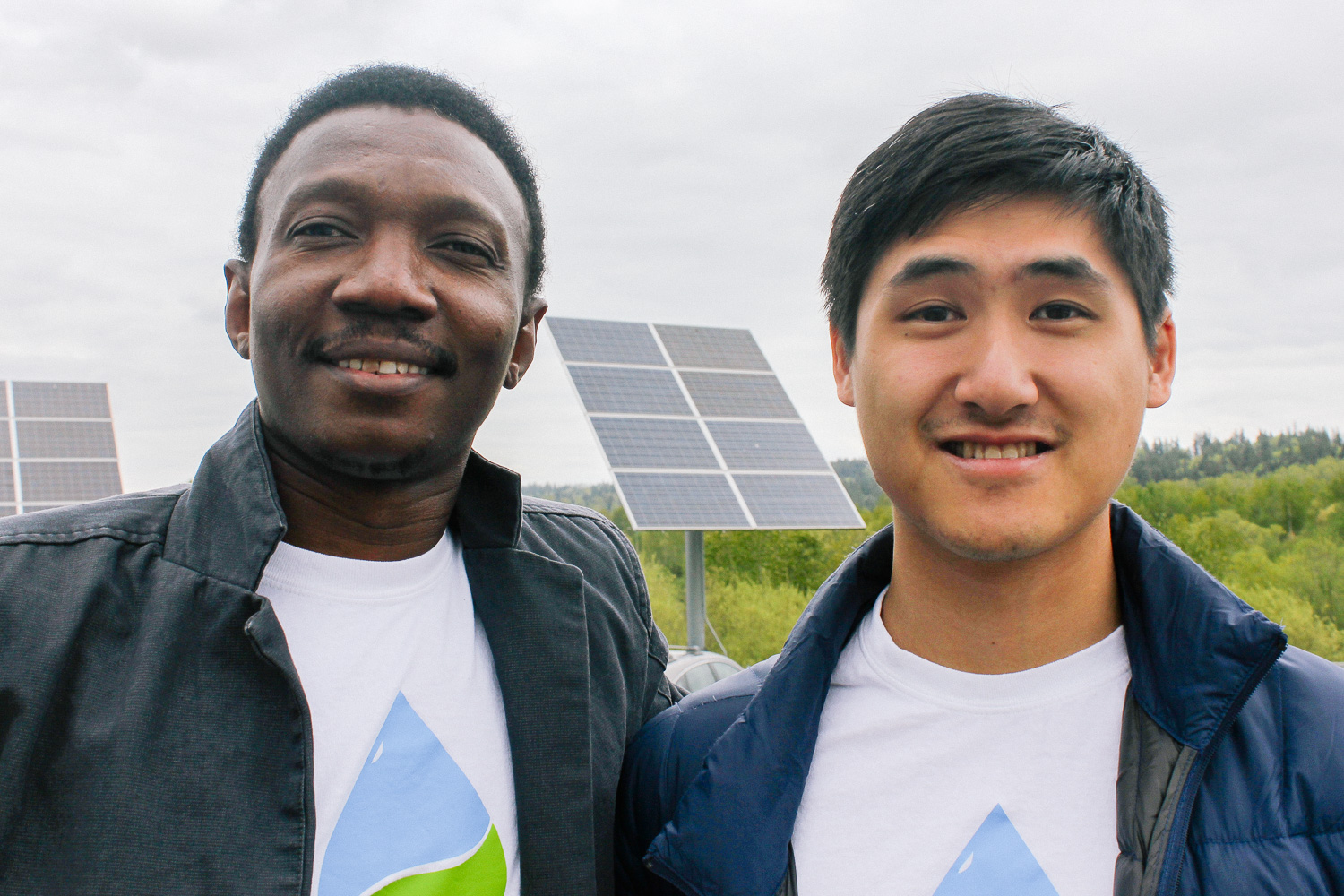 Two University of Washington Bothell students are part of a team vying for support in the University of Washington Business Plan Competition.

Adam Zhu, right, and Bruno Ouattara and four students from the Seattle campus are the brains behind Aquapel. It's a self-cleaning system for solar panels. The technology manipulates water droplets on a panel's surface to carry off dirt, minimizing water usage and labor costs.

Because dusty solar panels don't generate as much electricity as they should, keeping them clean is important. The potential for a self-cleaning system is huge.

Zhu, a pre-electrical engineering major aiming to graduate in 2018, and Ouattara, a mechanical engineering student graduating this spring, met while working on a prosthetic hand project at UW Bothell.

They joined up with the other team members: Di Sun, a second-year doctorate student in electrical engineering from China; Mariko Howard, a third-year Japanese major from Seattle; Jenny Wang, a 2016 graduate in political science; and David Zerby, a master's in business administration student from Seattle, graduating this June.

They've already found success. They won a $1,000 judges' award in a similar UW competition, the Alaska Airline Innovation Challenge.

Zhu, who lives in Seattle, came to the United States as a 4-year-old with his family from China. Ouattara, who lives in Mountlake Terrace, immigrated in 2011 from Burkina Faso in West Africa. Both say they like the project-based learning they found at UW Bothell.

Zhu worked with Sun to find an application for an existing technology patented by the University of Washington to coat solar panels. The coating creates micro-sized patterns on the hydrophobic or water-repellant surface, guiding the movement of water droplets to carry surface contaminants away.

"When the water (or rain) is sprayed on the panel it washes dust and dirt and cleans the panel down," Ouattara said.

But water alone is not sufficient. The panel has to be vibrated to direct the water along a back-and-forth path, as if flowing through grooves.

"The vibration is our component," Ouattara said. It requires installing a motor below the panel
Zhu intends to form a company and grow the Aquapel technology. He's already had contact with an out-of-state solar panel company.

The Aquapel prototype was built at Bothell. Zhu and Oauttara say Makerspace and the capstone engineering laboratory provided resources and helped them refine skills and expand their network.

Aquapel is one of 36 student startups from six universities in Washington competing in the 19th annual Business Plan Competition at the Buerk Center for Entrepreneurship at the Foster School of Business. The field was narrowed from 93 teams that submitted initial entries.

They will present their ideas to more than 275 judges at the investment round of the competition on April 27 at the Student Union Building (HUB). Winners will advance to the sweet 16 round on May 26. This year a total of $85,000 will be awarded in various categories including retail innovation, best health care idea and Internet of Things.