Perseverance. Hustle. Drive.
These are the three words that University of Washington Bothell alumna Shanell Brown '23 uses to describe herself. And given that at the age of 27 she has already accomplished so much, the description fits her to a T.
Brown has an associate degree in Pre-Nursing from Pierce College, a bachelor's degree in Nursing from Seattle University and a Master of Nursing from UW Bothell's School of Nursing & Health Studies. In addition to multiple degrees, Brown has had multiple professional jobs: nurse consultant for the Washington State Department of Health; clinical implementation specialist for Ariadne Labs, a joint center for health systems innovation at Brigham and Women's Hospital and the Harvard T.H. Chan School of Public Health; and founder of a nonprofit organization.
"Looking back over my life," Brown said, "I have done a lot already — but I know I am going to do even more."
A privilege to do and give
Brown's commendable drive is fueled by a desire to give back. "Growing up, I never had to worry about having food or a place to sleep. I was raised in a two-parent household and was very privileged in a lot of ways. Working in health care, I have realized that a lot of folks don't have what I had, and I just feel it is my duty to pay my blessings forward," she said.
"I come from a family that is big on giving, so I just don't feel comfortable doing the bare minimum, clocking in and out. I want to do more, and that's kind of how it all started."
Early in her career, Brown noticed the disparities in access and outcomes in women's reproductive health, especially for those from traditionally underserved racial and ethnic communities. Data from the Center for Reproductive Rights suggests this goes beyond individual-level risks. It also includes social and structural factors such as fewer neighborhood health services, less insurance coverage, and decreased access to educational and economic attainment. Practitioner-level factors such as racial bias and stereotyping also come into play, as well.
In the midst of her graduate studies at UW Bothell, Brown became an advocate for reproductive justice and so decided to found Shades of Divinity, a nonprofit organization whose mission is to "promote reproductive justice and equity in Washington state by uplifting BIPOC families."
For others in turn
As a student, Brown received a variety of scholarships that funded her master's degree. Now, to serve others in turn, Shades of Divinity has a scholarship program for BIPOC students pursuing careers in health care.
"Nursing school is already hard enough without having to stress about how you are going to pay for it," Brown said. "I know what it feels like to be a student and to struggle to find money to pay for simple things such as gas and groceries. I created the scholarship to hopefully alleviate some of that burden and stress for others."
The scholarship is a low-barrier opportunity, with the application asking only for proof of enrollment and a short essay of 500 words. "As a student, it can be hard applying for scholarships while trying to go to school," she said. "It can quickly become another full-time job — and that's exactly what I want to avoid."
Each year, scholarships will be awarded to up to 10 students. They are funded by donations from one of Brown's partners, Mighty Mugs Coffee, a small, local, woman-owned business founded in 2010. "The donations allowed us to award our very first recipients and kick off our scholarship program," Brown said.
While she hopes some of the recipients follow her footsteps to UW Bothell, the scholarship is open to students studying at any college, technical school or university.
I know what it feels like to be a student and to struggle to find money to pay for simple things such as gas and groceries. I created the scholarship to hopefully alleviate some of that burden and stress for others.

Shanell Brown, Master of Nursing '23
The bigger picture
In addition to providing scholarships, Shades of Divinity will soon open a community pantry where BIPOC families can get baby items, clothing, birthing kits and more, all free of charge.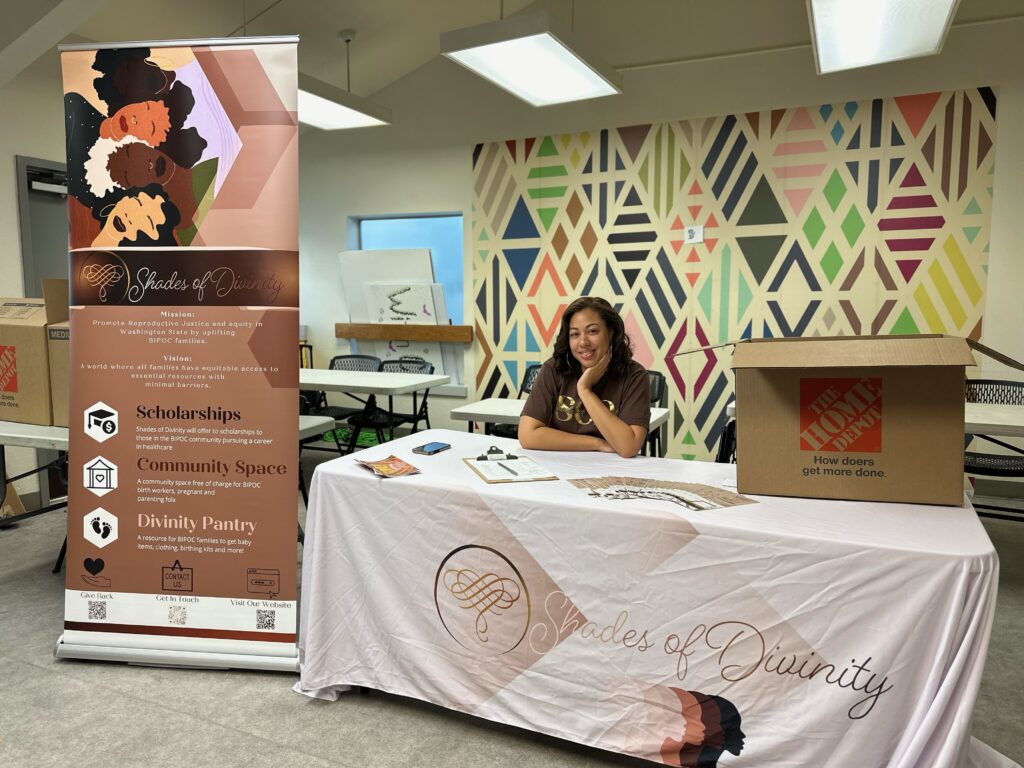 In the meantime, Brown supports nationwide events such as Black Breastfeeding Week and Indigenous Milk Medicine Week in August, both of which uplift the diversity of breastfeeding experiences among specific cultures. The nonprofit hosted a raffle to win one of four lactation kits. To encourage awareness of breastfeeding techniques, the raffle asked entrants simply to submit a short response about what breastfeeding meant to them.
Brown funded the prizes, which she purchased from a Black-owned business. "I think it's important to make sacrifices for the things that you are passionate about," she said. "For me, it's not about the money, it's about the bigger picture: ensuring everyone has the right to a healthy life."
Shades of Divinity also provides a community space in Pierce County for BIPOC birth workers as well as pregnant and parenting people. "It can be used for a variety of different programs including doula training, lactation groups and small gatherings, without any rental or leasing fees," Brown said.
More like McLemore
Looking to the future, Brown wants to become an even greater force in the maternal child health field.
"My mentor, Dr. Monica McLemore, interim associate dean for Diversity, Equity and Inclusion of the UW's School of Nursing, is amazing. She has a great heart, and when she speaks, everyone listens," Brown said. "I want to be like that. I want to show folks why we need reproductive justice and more nonprofits like Shades of Divinity, not just in Washington state, but in the in the world.
"I know there may be some people who are like, well, it's not my community so I don't really need to care about it. But when we're improving health care for one community, we are improving it for everyone — I hope to be a leader in that space."