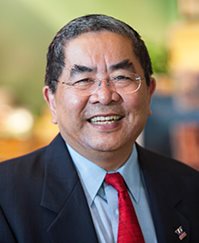 "If you don't know where you're going, any road will get you there." ~ Lewis Carroll
I was born in Oakland, California's Chinatown and initially grew up in a multigenerational household with 13 people living in a two-bedroom duplex. In early childhood, my Chinese-American parents moved us 15 miles north to an all-white working-class town where they ran a small grocery store.
We lived above the store, and from the time we could walk and count money, my siblings and I worked in the store. That responsibility convinced us that studying and going to college was our only route out.
I knew where I was headed, but I didn't yet know where I was going. I didn't begin my academic journey knowing I would earn a doctorate. In fact, my high school counselor thought that I would be lucky to graduate from high school and that my future was in my parents' store. It was a surprise to many that I was admitted to the University of California, Los Angeles, in 1966.
I was fortunate to attend university during a time of struggle for social change. I became a student activist fighting for ethnic studies and increased enrollment of students of color. After completing my bachelor, master and doctorate degrees at UCLA, I joined the faculty there before becoming the founding chair of the Asian American Studies Department at California State University, Northridge; dean of the Bellarmine College of Liberal Arts at Loyola Marymount University; dean of the College and Academic Vice President of Occidental College; and interim president at Occidental before finishing my professional career as chancellor at UW Bothell.
As a professor, teaching and mentoring students offered lifetime rewards and fulfillment. Exploring my own research was also really exciting to me. So I'm often asked why I decided to take on faculty leadership roles, as doing so meant I would be sacrificing my own research and teaching.
For me, it was a matter of how I could affect the greatest change for underrepresented and first-generation students, faculty and staff. Serving on, and, better yet, chairing faculty committees and pursuing greater administrative responsibilities provided opportunities to influence the decisions being made on behalf of the institution and allowed me to make change from within.
I knew where I was going, and I could see the road that would get me there. Greater access to universities with a more inclusive curriculum, welcoming spaces, more diverse faculty and staff, and access to the levers of power and decision-making would require strong and effective educational leadership from a social justice perspective, i.e., a commitment to equity, diversity and inclusion.
This commitment means vigorously defending the rights of and opening up opportunities for low-income, first-generation, LGBTQ+, non-traditional and underrepresented communities within the largely white and male-dominated environment.
It demands that decisions be scrutinized for their impact on the success of students, faculty and staff, particularly those new to higher education.
It is a commitment to open and broaden access to campus resources and to ensure that the university incorporates different teaching, learning and cultural styles, and research approaches in its educational methods and campus climate.
After years of progressively and rapidly expanding roles in leadership, serving as chancellor at UW Bothell allowed me to apply this social justice perspective in a real-world setting.
At the time of my appointment, UW Bothell was barely 20 years old, had a few core programs in three disciplines and served only 1,600 students. Some believed the campus lacked a clear academic identity or mission that would attract students.
At the same moment, public funding of universities was severely impacted by the great recession of 2008 and UW Bothell lost more than 60% of its state funding. This required specific and targeted strategies to lead the campus.
I was determined to stay on my path and approach my chancellorship with a firm commitment to social justice and equity within the university. Among the many challenges we faced, four stand out as examples of how a social justice perspective is effective.
The first was the necessity to gain the trust of the entire UW Bothell community so that it would accept a social justice mission for the university. Effective change in higher education requires participation by faculty, staff and students. It requires individuals willing to not just talk the talk but also to walk the walk as social justice change agents.
Luckily, I inherited a campus that was not bogged down by a long history of traditions; indeed, the founding faculty viewed the campus as an opportunity to reinvent the definition of a university to better serve students inadequately served by more established institutions. The campus was committed to a social justice agenda from its beginnings.
The second challenge was to grow UW Bothell's size, impact and reputation. We had a laser focus on student recruitment to augment enrollment that would enhance our social justice mission. But while recruiting a diverse student body was essential, graduating them was the goal. We decided that if we admitted a student, it was our collective responsibility to graduate that student.
We urged everyone on campus — administrative support, advancement, campus safety, enrollment, facilities, faculty, finance, food services, librarians and planning — to take ownership of the success of our students.
Faculty and staff agreed to an early-alert system to identify students who were struggling in the first weeks of each quarter. All student support programs, including student affairs, became better coordinated and developed a triage method to work as a team to support individual students. We carefully studied students who left in order to determine what we could have done better and to help them return to campus if that was what they desired.
We also started the School of STEM with particular focus on opening the fields of science, technology, engineering and mathematics to women and students of color and on breaking down traditional barriers to their success.
The third challenge was recruiting and retaining exceptional faculty in the midst of a recession and state budget cuts. We needed sufficient student enrollment to fund new faculty positions, but we also needed new faculty to open new classes and degree programs to build the enrollment.
Although we were committed to hiring full-time tenure track faculty who would carry the responsibilities of research, teaching and service, the appointment of full-time, long-term lecturers focused on teaching also fit our campus well. Keeping our focus on social justice, we combined many part-time positions into full-time lectureships with long-term contract commitments, reasonable teaching loads, full benefits/retirement, promotion possibilities, sabbatical rights and voting rights within their departments. These lecturers could devote their time to teaching and mentoring while maintaining their scholarship. It wasn't a perfect solution, but it provided for more full-time, long-term positions with greater benefits.
The fourth challenge, which was superimposed over all other challenges, was the decline in public support and state funding of public universities and community colleges across the nation. Higher education was once considered a public good and hence publicly funded. Public opinion, reflected in state legislatures, however, is that it should be the responsibility of students and their families.
For many low-income, first-generation, non-traditionally aged and underrepresented students, publicly supported higher education is their only option to get where they dream of going. A social justice leader must provide a voice to ensure that higher education is not just for the elite or a mechanism for students to secure a lifetime of debt. I spent considerable time meeting with state and local elected officials, business groups and opinion leaders to argue for the necessary investment by the public in higher education.
Most importantly, I gathered a strong team of senior administrators, faculty, staff, student leaders and community members to keep a laser focus on social justice and equity issues. That commitment to social justice leadership continues on campus today.
UW Bothell now serves more than 5,700 students, with more than half being people of color. In 2021-22, 66% of undergraduate students and 61% of graduate students graduated debt-free. The wages of UW Bothell alumni with bachelor degrees are consistently the second highest in the state among all graduates with comparable degrees. And there are now five schools with more than 55 undergraduate and graduate degree programs!
It was my great privilege to be part of the UW Bothell community. and I will be forever grateful to all who joined and supported me on the road toward social justice.
Dr. Kenyon Chan served as chancellor of UW Bothell from 2007 to 2013. He has remained a leader with the University of Washington, serving as interim chancellor of UW Tacoma in 2014 and chairing the search committee that selected Dr. Ana Mari Cauce as president of the UW in 2015. He returned to campus in February 2023 as the keynote speaker for the annual Encore! lecture, delivering inspirational remarks on social justice leadership.