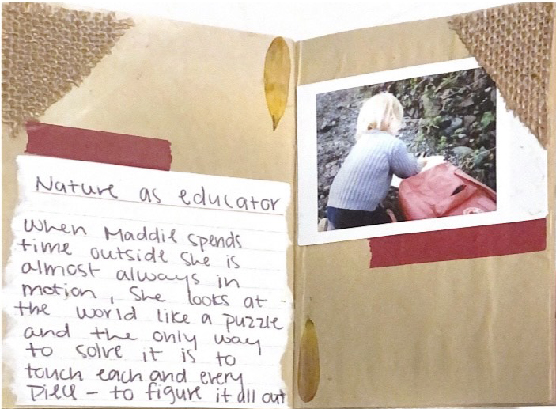 Many of our great-grandparents understood and lived it on a daily basis, even if that is not the case with many people today: Experiencing the natural world is good for human mental and emotional well-being.
Dr. Daniel Cavanaugh in the University of Washington Bothell's School of Nursing & Health Studies uses this powerful concept in his teaching and shows his students — from both experience-based and scientific perspectives — how getting out in nature can enhance their patient-care practices.
He has offered two courses so far. Ecopsychology: Expressive Connections with the Natural World was online in winter 2022 and a hybrid offering in spring 2021. VLPA: Mental Health Promotion Through Adventure & Outdoor Recreation was an online, asynchronous class offered in autumn 2022. VLPA stands for Visual, Literary and Performing Arts, Cavanaugh noted, and is among the areas of inquiry that are the foundation of study at UW Bothell.
Cavanaugh, an assistant teaching professor in SNHS, is an energetic and experienced instructor who not only teaches in this conceptual space but also practices adventure and recreational therapy.
Adventure and recreational therapy
This is a burgeoning field that Cavanaugh knows well. He is on the leadership council of the Therapeutic Adventure Professionals Group, a nationwide professional organization, and co-hosts a podcast about adventure therapy.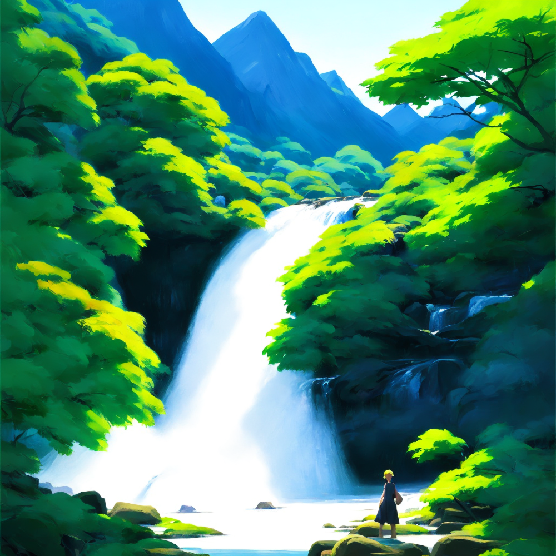 Cavanaugh's approach takes advantage of nearby natural settings, so abundant in the Pacific Northwest. "Instead of sending people out to fancy wilderness programs that cost thousands of dollars, it's better and more accessible to do mental health work that utilizes the outdoors in the community where our clients are," he said. "Adventure therapy is fun as a clinician and fun as a client."
Such therapy usually involves outdoor activities such as hikes, ropes courses, rock climbing or just walk-and-talk sessions in the forest or other natural areas — but not always, Cavanaugh said. Adventure therapy can be as simple and quiet as building a house of cards or doing other experiential challenges with clients either inside or outdoors.
At its heart, adventure therapy is a guided challenge or experience, he said, to help bring a client "from their point A, which is where they are coming into a session, to point B, which is where they want to go.
"We are there to guide and to support so they can find some success."
The science of ecopsychology
This kind of therapy is also much more than just feel-good day-tripping. Cavanaugh pointed to the work of Qing Li of the Department of Rehabilitative Medicine at Nippon Medical School in Japan.
In a 2022 review paper for the journal Environmental Health and Preventive Medicine, Li argued that exposure to forest environments — a practice called Shinrin-yoku in Japan or sometimes "forest bathing" in the United States — can reduce stress, boost immune function, calm blood pressure and even improve sleep.
Li also suggests creating a new interdisciplinary science called Forest Medicine to incorporate into the wider field of rehabilitative medicine.
As for Cavanaugh, he teaches about the interdisciplinary field of "ecopsychology," which centers on the emotional, physical and even spiritual bonds between human beings and the Earth. His students — future doctors, nurses and counselors among them — develop ways to integrate principles of ecopsychology and of adventure and recreational therapy into their health care futures.
As his classes are in the VLPA area, the students also studied their topics through the lens of the arts and humanities. For class assignments, students wrote essays and journal entries about interactions with nature as well as more traditional research papers.
In the future, Cavanaugh said he hopes the class can explore other aspects of ecopsychology, including how mental health is impacted by climate change.
Forms of artistic expression
For their final project in both courses, students were challenged to explore their relationship with the natural world through an artistic endeavor as well as a paper. The creative part of this could be a drawing or painting or sculpture, a song or video or other form of expression. One student made a video of cooking food from a community garden used to support patients. Another composed music interlaced with sounds of animals and nature that was "absolutely gorgeous," Cavanaugh said.
He stressed, however, that he does not grade on artistic ability.
"Some of us are not artists. What I want to see is that students go out and attempt to connect with the natural world," he said. "In a lecture last quarter, I showed examples of what didn't work —like when you take a selfie of yourself in the woods. That's not showing that you're putting in a level of commitment and engagement.
"But if you go out and do a series of drawings — and they're poor quality because you're not a trained artist — that is OK," Cavanaugh said. "It's about connecting with environment and thinking about how you could utilize this in your practice."
Most of these students are studying nursing or health studies, but some have come from other fields — including a couple of students studying engineering.
Mental health and the outdoors
UW Bothell alumna Fallon Zollars graduated this past summer with a degree in Health Studies. She said she took the class because she had enjoyed a previous course taught by Cavanaugh and was looking for something that was "out of my comfort zone."
For her final assignment, she made a miniature scrapbook with Polaroid photographs of the forested place she had bonded with, along with quotes from class reading assignments and realizations of her own along the way.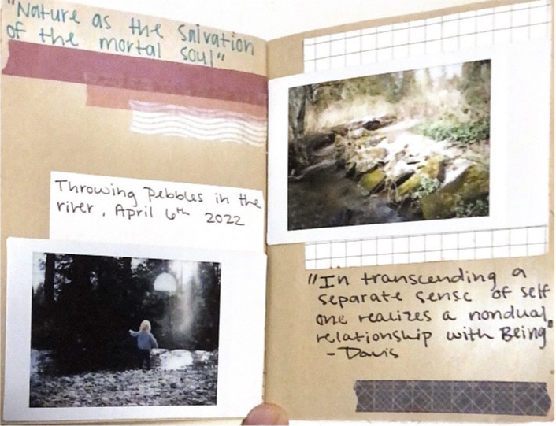 "Ecopsychology really expanded my ideas about what therapy is and what it can do for people," Zollars said. "It challenged me to think about my relationship with the world and others in ways that were not intuitive. The class is interesting because it simultaneously holds this large, almost global perspective while also being very personal and introspective."
One week of instruction explored careers at the intersection of mental health and the outdoors. And there are many, Cavanaugh said, from wilderness and recreational assisted therapy to field guides, public health positions, park employees, outdoor and special educators, and even some types of counselors and psychiatric providers.
Some of those for whom the class proved most helpful, he said, were busy nursing or health studies students who already had jobs in care settings.
Some students did begin with reservations about the class, he said, but that often changed when they got involved. Cavanaugh said he is particularly proud of these student experiences.
Applying to patient care
"I've had a number of students say, 'I was unsure of this, I'm not an outdoorsy person' … or 'I came in unsure and learned so much about how I can support my own mental health and coping skills by spending time outdoors and how I can infuse this into my career.'"
Alumna Zollars feels the same and recommends Cavanaugh's class for any student who wants to go into a "helping profession" — or those struggling with student burnout.
"I use the things I learned in this class in my new role working with adults with autism spectrum and other disabilities nearly every day," she said. "It gave me hands-on tools that I still use in both my personal and professional life.
"I think this might have been the only class I took in all of college that was actually beneficial to my mental health."
By Peter Kelley