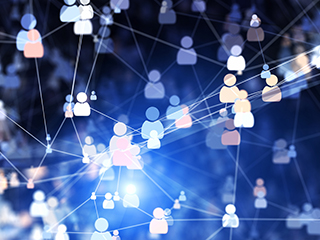 If asked to envision what digital space means, you might imagine chains of computer code, with bits and bytes converging to form a complex backdrop where information can exist. What we are still coming to understand is that digital spaces are not simply computer-created environments. They are also real places for connection and community.
Two faculty members in the University of Washington Bothell's School of Interdisciplinary Arts & Sciences recently embraced the opportunity to encourage students to explore and communicate in the online world using a 2021-22 Digital Scholarship Faculty Fellows grant from the UW Bothell/Cascadia College Library.
Dr. Santiago Lopez, associate professor, and Dr. Julie Shayne, teaching professor, submitted project proposals that aimed to re-envision stories of place and community through interactive digital platforms. For the professors, it was key that their undergraduate students lead, research, design and create the resource.
In this way, they said, students were challenged to deepen the knowledge they are gaining in their respective IAS majors as they design and create digital artifacts for their professional portfolios.
"When students start seeing themselves as researchers and scholars," Shayne said, "it completely changes their relationship to the university, to themselves and to their futures."
Geovisualization and historical tracking
For the student projects to be successful, both professors understood the need for expanded partnerships within the library. Tucked away behind library shelves of tangible books exists a doorway to a digital world. And it is in this space that Denise Hattwig, head of digital scholarship at the library, collaborates with faculty to support scholarship using open access research, digital tools and methodologies, digital collections — and student contributions.
Recipients of the annual DSFF grants get hosting for their projects across various digital platforms, consulting and planning services, technical support, teaching partnerships and a $5,000 stipend, which most often is used to engage undergraduate student researchers.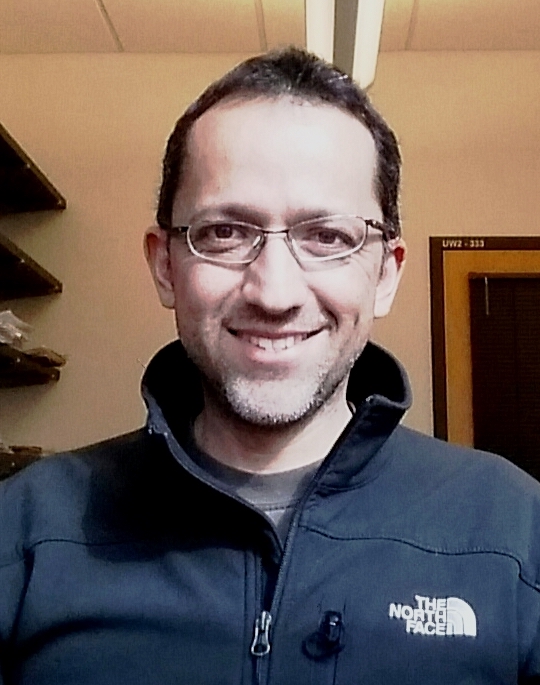 Lopez said his DSFF grant was an opportunity to revive a data curation project he had previously started that would create a memory bank of the UW Bothell geographical landscape over time. He envisioned a public platform of geospatial data that would be easily accessed by people on campus and within the broader community.
Noah Bomar and Sadie Cimino, both majors in Mathematical Thinking & Visualization, led the revived project and the build of a digital prototype now called GeoHub. With technological planning and support from the library's digital scholarship team, the students assessed and then curated immense amounts of historical geovisualization data using the Omeka publishing platform.
GeoHub was first created around earlier student work dating back to the early 2000s. Bomar and Cimino then used skills they gained in the coursework in their MTV majors to sort all the available data and create a digital repository of maps, construction imagery, vegetation mapping, hydrology data and ecology information about the forest and wetlands on the UW Bothell campus and in the surrounding region. The goal was to develop a system for long-term monitoring, documenting and archiving of the process of geographical change in and around campus.
In the end, Lopez said, the students were able to take a computer server full of little-known historical data about place and transform it into a gateway that can lead to a new understanding of this local space.
Lopez also envisions follow-up versions of the hub that could provide new opportunities to research issues of environmental justice, displacement and the early inhabitants of the land where UW Bothell now sits. "In what ways," he wonders, "could other voices and histories be added to the GeoHub to provide a better context to what this place is about?"
Feminist histories and accessing activism
Stories, identities and histories are embedded in the world all around us, said Shayne, who used her DSFF grant to shine a light on the exhibits students created as part of her course Histories and Movements of Gender and Sexuality, which is being offered again in winter quarter.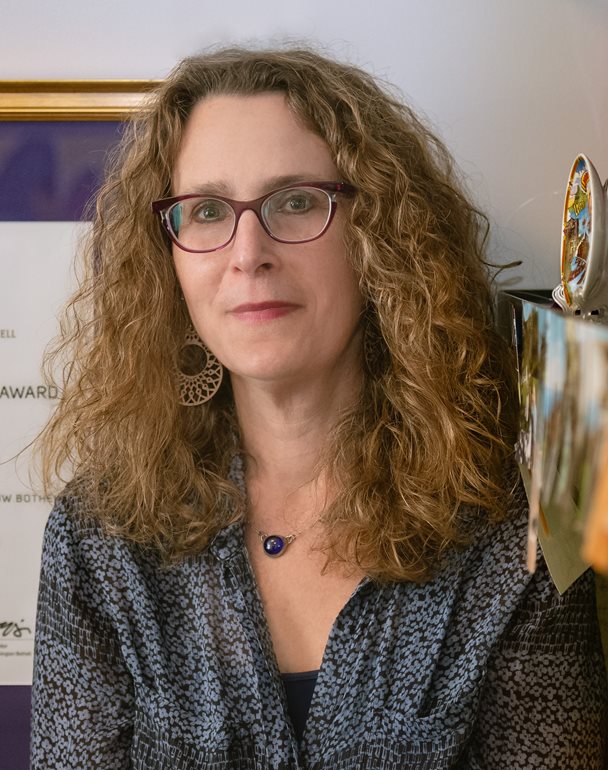 "Students are learning about these different social movements and activist projects, and about feminist activist knowledge production," she said. "The histories exist — they just have not been documented, so part of the students' work in class is to document them."
Jesse Blaire served as the undergraduate research assistant for the project. Blaire recently shared the impact of enrolling in Shayne's Gender, Women, & Sexuality Studies courses, noting both the individual and collective power of hearing and telling histories. Again with support from the library's digital scholarship team, Blaire learned the Omeka publishing platform and then assisted other GWSS students as they developed their findings for the open access project.
The result, called the Feminist Archive Exhibits, presents a melding of historical moments, themes and concepts through student research into existing feminist resources, such as the Feminist Community Archive of Washington housed in the library's digital collection. The students' cultural artifacts — stories, reflections, little-known histories — are now also digitally accessible to anyone.
Shayne's work in this area continues, as she plans to develop the next iteration of these combined student-centered feminist archives with students in. With ongoing support from Hattwig and her team at the library, she will create an archival hub that incorporates the work of GWSS students, the Feminist Community Archive of Washington and Badass Womxn in the Pacific Northwest zine projects.
Digital scholarship and empowering scholars
Both Shayne and Lopez reported that their students were deeply impacted by their involvement in the DSFF projects. Student growth through true engagement in shaping their own learning was the key takeaway.
Students in the GeoHub project had the opportunity to express and include their ideas from the beginning of his DSFF project, said Lopez, who noted that this level of ownership of research and planning creates a lasting impact. "Students can take advantage of their new skills not only related to the use of technologies but also those developed from leading a project," he said.
In majors such as GWSS, said Shayne, it is especially important that students have learning experiences that can serve as evidence of their professional growth, so projects with valuable and visual outcomes are always part of the curriculum. "Students who develop and publish open access research have something tangible to show employers, to show a graduate school, to show the world," she said.
Both professors hope the digital hubs they have developed with students become both resources and inspiration for other UW faculty members as they use digital spaces as a teaching tool across disciplines: "Other faculty can take advantage of this. It's an opportunity to be creative in many ways, using the technology for any project," Lopez said.
Support from Hattwig and the digital scholarship team is another inspiring resource, Shayne noted. "I can't speak highly enough about what research does for students," she said. "Our students have access to our amazing library staff here — and they have access to the entire world through the UW library system."
By Michele Graaff