Growing up, alumnus James Anderson '15 had a serious passion for food and cooking.
"I used to spend countless hours reading cookbooks and watching the Food Network channel. I even started apprenticing in restaurants at an early age," he said. "I came to UW Bothell with a goal of developing the business acumen needed to become a successful restauranteur one day."
Anderson also believed it was imperative to get a global perspective of food and culture. "I dreamed of studying abroad but financially didn't see how it would be possible," he said.
Anderson wasn't the only student who dreamed of traveling outside the United States but did not have the means to do so. To close this gap, UW Bothell created the Study Abroad Ambassador Scholarship. Started in 2012, the scholarship helps offset expenses required to participate in study abroad programs. The awards range from $500 to $2,000 and are given to dozens of students each year.
"Research shows that study abroad experience adds to a student's employability," said Natalia Dyba, director of Global Initiatives. "They learn independence, practice communication in different cultural contexts and learn how to deal with unexpected challenges. Employers are looking for recent graduates with that skillset."
From textbooks to tables
Studying abroad doesn't just make students better job candidates — it can make them better people, too. Anderson testified to this. "The opportunity to travel during college added an intangible depth of experience to my life," he said. "When I returned, I was not the same person I was before I left.
"I deepened my intercultural competency, I was immersed in experiences that defined by professional trajectory, and I built relationships that have lasted to this day."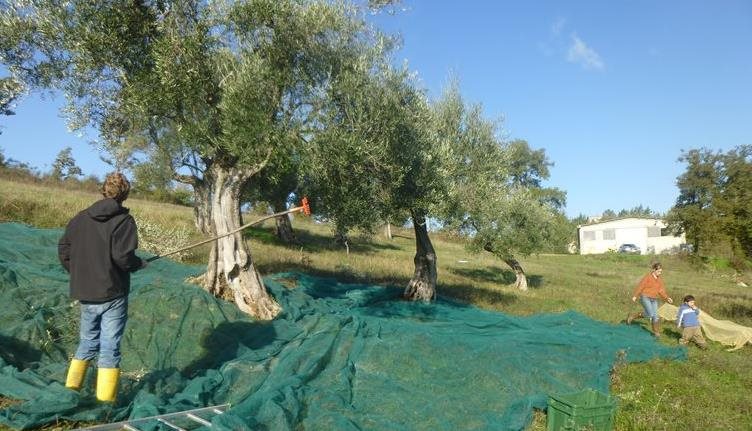 Anderson was the first student to receive the scholarship. In autumn 2012, he set off for Rome to participate in a cultural anthropology program that focused on the culture and politics of food. "I had never been so excited for summer to end," he said. "By being able to go to Italy to learn about the culture, politics and history of food, I was fulfilling a personal passion of mine to learn more about the connection between people, food and community."
The program Anderson enrolled in began in Rome where he explored the intricate history that has shaped food systems in Italy. Later, Anderson spent time in Umbria, where he learned about sustainable agriculture while working on local farms.
"We met with individuals from civic food networks and international food agencies, including the Food and Agriculture Organization of the United Nations," he said. "We talked a lot about sustainability and food security, and discussed how to evaluate the evidence to make responsible personal and political choices."
Finding home across continents
Anderson was a professional chef for more than a decade, but since graduating from the School of Business in 2015, he has decided to cook simply for pleasure. The knowledge he gained abroad, however, still applies to his current job as the associate director for Advancement at the UW's College of the Environment.
"When I was abroad, I spent time with people who were in different schools of studies," he said. "By spending so much time with people who had different backgrounds, interests and values, the experience helped to refine skills that I use today while connecting supporters of the University with opportunities they're passionate about."
Alumna Ester Ndungu '18 from the School of Interdisciplinary Arts & Sciences followed in Anderson's footsteps and was a two-time scholarship recipient — traveling to Tanzania in 2016 and Brazil in 2017. "My study abroad experience was wonderful," she said. "I thank God for having given me this opportunity. Although I am no longer there, the memories remain."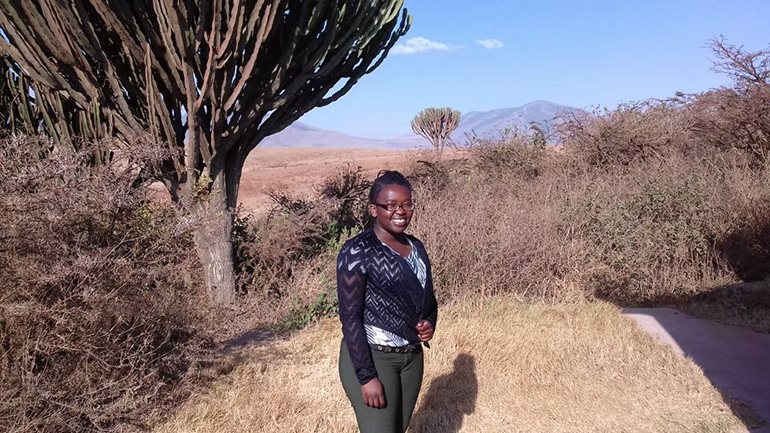 Ndungu immigrated to the United States from Kenya when she was eight years old. The study abroad experience in college allowed her to visit family members she hadn't seen in a decade. "I visited my grandparents, uncles, aunts and cousins," she said. "Although it had been many years since I had been to Kenya, I instantly reconnected with family. It was as if no time had passed since we last met."
After spending a precious week with family, Ndungu boarded a bus and headed to a small college in Tanzania to learn about ecotourism. She was taught that ecotourism is good in the sense that wild animals are given space and are not stormed by humans — but can also be harmful when animals are more glorified than people.
The world is waiting
"When tourists visit Europe, they admire human creation and human architecture," Ndungu said, "but in Africa, it is common for people to only be interested in the animals."
So she focused on the people. "My favorite part was meeting those who live in Tanzania. We spoke about the differences between Tanzania and Kenya. We laughed and made jokes," she said. "It was great to be with my fellow Africans."
Study abroad heightened Ndungu's sense of pride in her heritage and culture. "Not only did I learn more about the world around me, but I also learned more about myself," she said. "It was such a valuable experience that made me appreciate my family and my home in Kenya more than ever before. I loved it so much, in fact, that I did it again the following year and studied abroad in Brazil."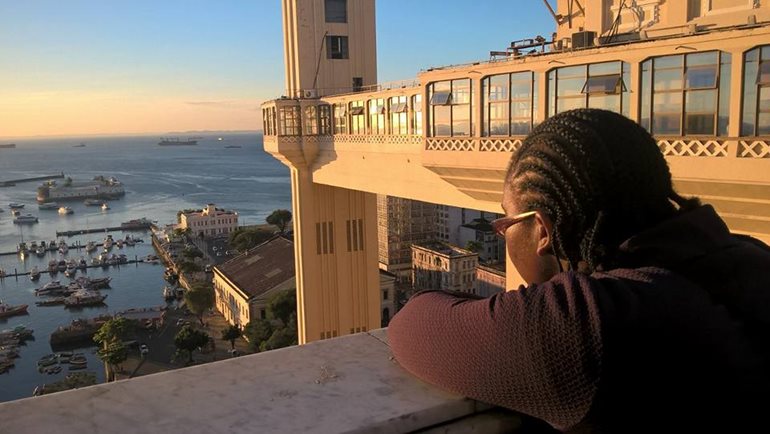 One of the most memorable experiences from that trip was visiting an Afro-Brazilian clothing studio where she saw African designs being printed onto fabrics. It tied into her study abroad trip from the year prior where, in Tanzania, she had visited a clothing shop and had a dress custom made. "Buying clothes in Tanzania is different than buying clothes in the United States," she explained. "You don't shop for shirts or dresses; you shop for fabric you like and then the clothing item is made specifically for you."
Ndungu had picked African prints for her dress in Tanzania that were just like the ones she saw being made in Afro-Brazilian studio. These two experiences gave her a comprehensive understanding of how these fabrics are made, sold and worn across continents. "The prints I saw in Brazil represent the beautiful imagination, creativity and artistic talents of my people," she said. "Seeing that in a different country filled me with deep pride.
"I have grown so much as a person and connected with my culture so deeply," Ndungu said. "I highly encourage others to participate in the program. You never know what you will learn about yourself."
Education and action
Henos Adhana, senior in the School of Business, is among the most recent scholarship recipients. Studying abroad was something he had wanted to do for a long time, but because of the pandemic, he had worried he wouldn't get the opportunity. That's why, when he received an email encouraging him to apply for a 20-day study abroad opportunity in Southeast Asia, he immediately put in his application.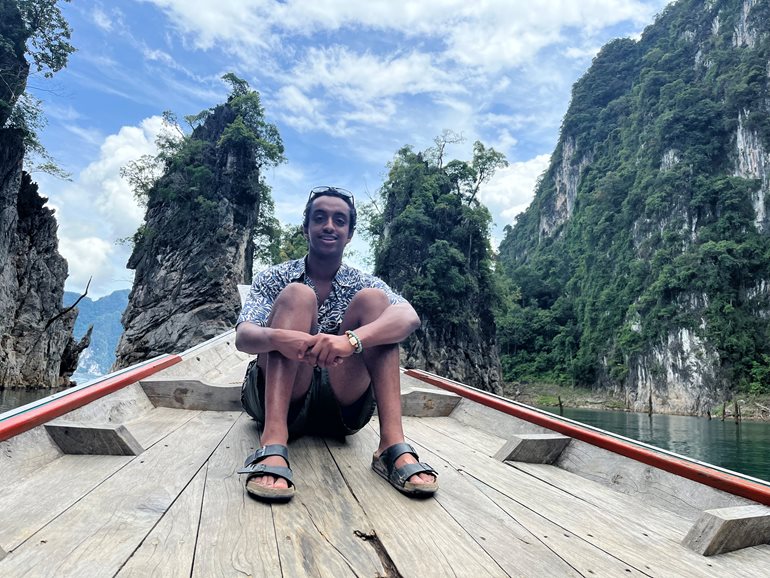 With the help of the Ambassador Scholarship, he was able to spend four days in Cambodia and 16 days in Thailand this summer. During his trip, he learned more about corporate social responsibility. "We met and had discussions with academics, government officials and business professionals," Adhana said. "We took field trips to companies, non-governmental organizations and public institutions to learn about how they function and the challenges they face."
Adhana said he was greatly impacted when hearing about the challenges people in Cambodia continue to face because of the Khmer Rouge genocide that took place more than 40 years ago.
"The impact of that is still being felt today by the Cambodian people," he said. "It was difficult to hear about from the people we were with. One of our tour guides said that both his parents had been taken captive by the Khmer Rouge and subsequently killed. One of our drivers had a similar story that ended with his loved ones dying. It seemed as though everyone was impacted."
After hearing these stories, Adhana felt pulled to help in some way. Part of the trip focused on working with non-government organizations in Cambodia. Adhana chose Husk, an organization that works directly with communities to help improve the lives of local families. "The organization's goals are to provide access to safe water, livelihood opportunities and education," he said.
Adhana and his group mates are currently working on a pitch that Husk staff members can use when interacting with potential donors. "It's a slideshow presentation that details the organization's mission and impact, emphasizing the many families that have overcome hardship because of its support," he said. "Creating this presentation felt like a way to bring some good to people who have suffered so much hurt."
Opportunity awaits
Adhana, Ndungu and Anderson are just three out of more than 250 students who have received the Ambassador Scholarship — and not only traveled to their dream destinations but also learned more than they dreamed possible.
The staff at the Office of Global Initiatives knows the benefits of studying abroad and are eager to help other students have similar experiences.
"November is the next deadline for the Ambassador Scholarship," said Dyba. "We look forward to meeting with students this autumn quarter and helping them expand their horizons by studying abroad."