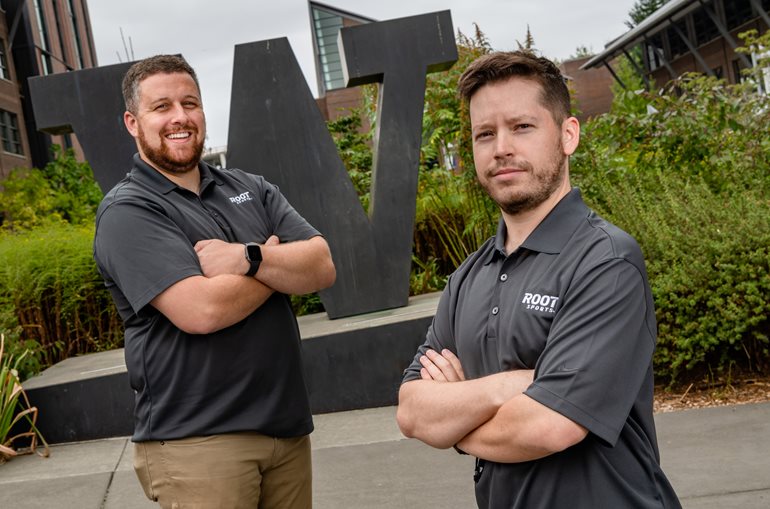 When he was six years old, every Saturday morning like clockwork, alumnus Skylar Lewis Randall '19 would run to the front porch to grab the newspaper. He would search frantically for the sports section. Excitement building, he would spread it out across the nearest clean surface — often the floor — and read it line by line, memorizing every fact and statistic listed on the pages. "I absolutely loved the Mariners and so did my dad. My family really bonded over sports," he said. "I was a fanatic from an early age."
The same was true for alumnus Andy Townsend '16, who has been playing soccer since practically the time he could walk. He started kicking the ball at just 4 years old and played all the way through high school, eventually earning a scholarship to play at Skagit Valley College. "I am a huge sports fan," he said. "I love watching games just as much as I love playing them."
Both Townsend and Lewis Randall now work at ROOT SPORTS, the television home of the Seattle Mariners, Seattle Kraken, Seattle Seahawks, Seattle Seawolves, Portland Trail Blazers, Portland Timbers and Gonzaga Bulldogs.
And they both point to their experiences at the University of Washington Bothell for being able to turn their passions into their professions.
Grand slam event
After graduating from UW Bothell with a major in Media & Communication Studies in the School of Interdisciplinary Arts & Sciences, Townsend landed a marketing internship at ROOT SPORTS. He had a number of responsibilities including managing social media accounts, writing scripts to read on air and overseeing advertisements. "I wore a lot of different hats and loved all the work I did," he said. "But I have to say, I had the most fun organizing the Ultimate Fan competition."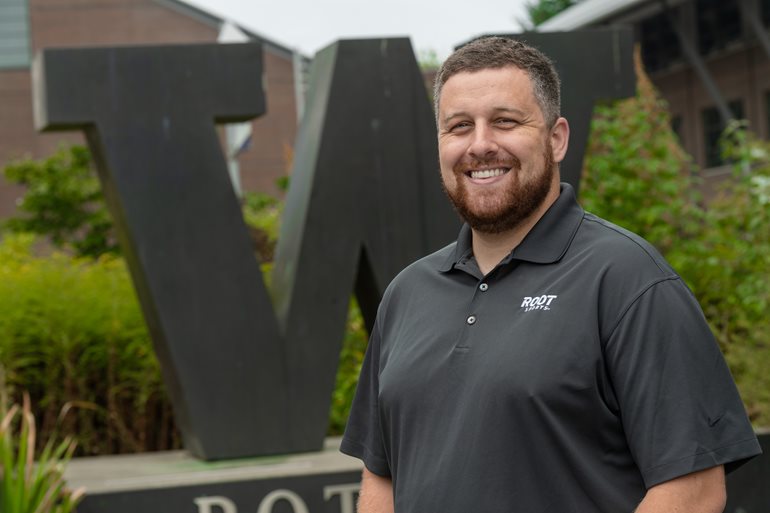 It is also a favorite program of Lewis Randall, who had the same college major but also got a minor in Visual & Media Arts.
Each year, ROOT SPORTS hosts a competition for residents of Washington, Oregon, Montana, Idaho and Alaska. To participate, Mariners fans from across the five states submit a photo and story that states why he or she is the biggest fan of all. Last year, Lewis Randall chose the winners. "A lot went into it, such as organizing flights, hotels and transportation," he said. "It was a ton of work, but it was so worth it in the end."
The biggest fans, wearing customized jerseys, spend this day each year getting a tour of T-Mobile Park and participating in an opening ceremony before the game, Townsend said. "One of last year's winners was an 83-year-old woman who said it was the best day of her life — and she has experienced more than 30,000 days," he said. "To see the genuine, childlike excitement these people experience is pretty dang special."
Lewis Randall, now promoted to marketing specialist after serving in the internship, took over the Ultimate Fan competition responsibilities this year. Like Townsend, he has had an extremely positive experience. "Getting to talk with all these super fans who share my enthusiasm for sports is just the best," Lewis Randall said. "They send in these photos with so much Mariners paraphernalia you can't help but smile."
The 2022 winners were announced this past summer, and Lewis Randall will meet the lucky five on Sept. 30 for the celebration. "I have put in a lot of work to make the day as memorable as possible," he said. "I can't wait to enjoy it and be a part of such an epic experience."
Knocking it out of the park
Lewis Randall took over the marketing specialist role in December and is most excited about running the social media accounts. His interest began in college and was fostered by Matthew Cooley, program manager of the Activities & Recreation Center.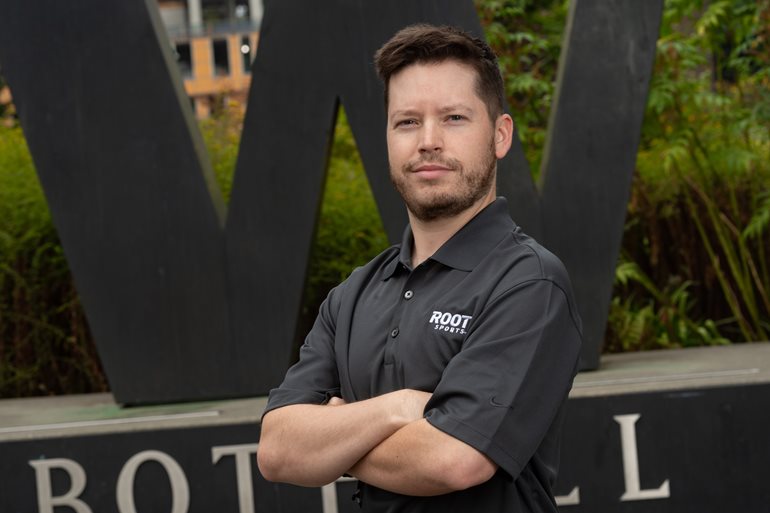 "Cooley encouraged me to start a Twitter account for the Mariners," he said. "I started it my sophomore year and built it up over the years to get practice and grow a following. When I interviewed at ROOT SPORTS, I showed them the account, and they were really impressed.
"It played a significant part in getting the job as it showed how dedicated I was."
Going into his internship at ROOT SPORTS two years ago, Lewis Randall had the goal of growing the station's social media following by 10% annually, which is an impressive growth rate. "I am proud to report that the first year we hit a 15% growth rate, and this year we are on track for 20%," he said.
Townsend is also making impressive strides in the company, where he is now the production manager. "It's very different from what I used to be doing," he said. "I do a lot of project management work such as handling schedules and corresponding with the sales team to coordinate what to advertise on air and how to feature sponsored posts."
He says that UW Bothell prepared him well for this role. "I absolutely loved every class I took with Dr. Susan Harewood, associate professor in the School of IAS," he said. "The work I did in her classes taught me how to work well with others, communicate effectively across company divisions and ultimately, be a leader. She ignited my passion for communication.
"I use the knowledge I gained at the University daily," he said. "I am extremely grateful for my education."
Sliding into home
Townsend says his favorite part of being a production manager is being on the side of the team that "makes the magic happen" for fans. "I am in the trenches every day," he said. "During production it can be 14-hour days, but seeing it on the screen — that makes it all worth it.
"I have to pinch myself sometimes because I can't believe I get to work in the sports industry."
Lewis Randall feels similarly. "It's incredible to think of my 6-year-old self, running for the newspaper every Saturday morning to where I am now, working at ROOT SPORTS," he said. "I went from being a Mariners super fan to working with them.
"It is truly a dream come true."