BOTHELL, Washington — Dr. Linda Watts, professor in UW Bothell's School of Interdisciplinary Arts & Sciences, has been named interim dean of the School of Nursing & Health Studies, effective Sept 1. Watts will fill the position through June 30, 2024, during a search to replace Dr. Shari Dworkin, the former dean who is returning to a faculty role.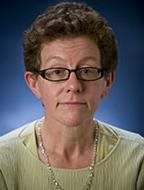 Watts has been a faculty member at UW Bothell since 1999. During this time, she has held a number of leadership roles including IAS director, interim director of the School of Educational Studies and General Faculty Organization vice chair and chair. She is also senior editor for the Journal of Applied Research in Higher Education.
"Having always treasured my collaborations with SNHS colleagues, I feel quite fortunate to be entrusted with this interim role," Watts said. "It is my hope that prior experiences in campus-level leadership, particularly those related to faculty governance and shared governance, will help me to support the vital ongoing work the school conducts.
"In particular, I look forward to assisting in the unit's preparations for the search that will identify its next leader."
Dr. Kirstin G. Esterberg, UW Bothell chancellor, noted that "Linda is highly regarded by her colleagues, and her long tenure at UW Bothell will serve her well in this interim role. Her extraordinary commitment to the School of Nursing & Health Studies and her willingness to take on this leadership role show, once again, that service is embedded in who we are as a community at UW Bothell."
Dworkin joined UW Bothell in 2017. As dean, she was instrumental in creating an educational program for health care professionals to improve their proficiency in topics related to behavioral and mental health. Developed in partnership with the University of Alaska Anchorage and Providence Medical Center Alaska, the program covers the most common behavioral health issues that workers face every day. She also helped to secure a multi-year grant from the state of Washington to develop a behavioral health program, starting with the Renton School District, that assists K-12 teachers and staff in recognizing issues such as anxiety, depression and substance abuse among students.