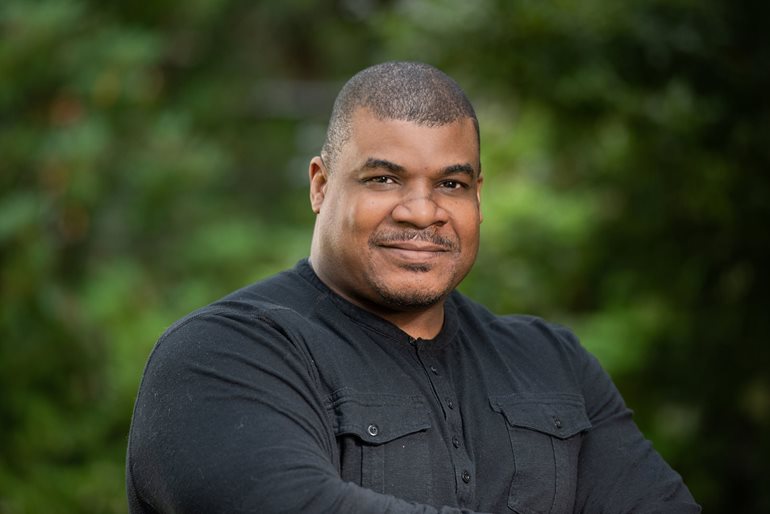 Marcus Johnson says teaching is his destiny. "It is a destiny in which my curiosity, passion and imagination flood my mind with endless questions and also allows me moments to reflect on my journey through life," said the alumnus of the University of Washington Bothell.
That journey, he said, is largely informed by race. A Black man, Johnson said that ever since he can remember, he has been keenly aware of the lack of representation of people of color in educational leadership roles. "I have experienced firsthand how the academic environment can be unwelcoming due to not seeing representation of individuals who look like me in the classroom, or in a mentorship or leadership capacity," he said.
Johnson received his bachelor's degree in Global Studies in 2013 and a master's degree in Cultural Studies in 2016, both from UW Bothell's School of Interdisciplinary Arts & Sciences. Now a doctoral candidate in the UW's Department of Communication in Seattle, he strives to give his students the representation and knowledge he never had.
"My mission is to create a classroom where students feel both safe and brave," he said. "I have had many students of color open up and share painful experiences they have never spoken about before, which is huge and can be incredibly healing."
In recognition of the significant impact Johnson has had on his students, he was awarded the UW Excellence in Teaching Award, one of two presented in 2022 as part of the University's annual Awards of Excellence.
Transformative teaching
This excellence award recognizes extraordinary teaching by graduate students. The recipients are honored for demonstrating exceptional teaching ability as graduate instructors or as graduate teaching assistants.
"Marcus infuses activism into scholarship and scholarship into activism," said Dr. Ralina Joseph, professor in the Department of Communication and Johnson's mentor, in her letter of endorsement. "He establishes the classroom as a liberatory space for all students, and for Black and Brown students in particular.
"Marcus is currently the only Black male graduate student in the Communication Department, and one of four Black men to have ever been graduate students in the department's more than 50 years," she noted. "Furthermore, the Communication Department does not now have, nor have we ever had, any Black male professors. This means that Marcus is the only Black male Communication instructor our students ever experience. And he has set the bar high."
Johnson has a taught number of classes, including African American History, Asian American History, American Ethnic Studies and Black Cultural Studies — which he admits was his favorite. "In my opinion, it is one of the most transformative courses students take when they come into the Communication Department," Johnson said. "I have seen many students go on to change their focus and studies because of this class."
Healing knowledge
The class, Black Cultural Studies, is especially transformative for students of color as they learn more about their history, some for the first time. It even helped one student repair her relationship with her father, Johnson said.
"We were about four or five weeks into the quarter when one of my students came up to me after class and said, 'My dad wants me to tell you thank you,'" he recalled. "I was like, your dad? Can you say more?"
The student disclosed to Johnson that before taking this class, she and her father had a very rocky relationship and barely spoke to one another. "Her dad carried a lot of generational trauma that got in the way of their relationship, but when she took this class she started learning what her father had lived through and was able to empathize with him," he said.
By the end of the quarter, Johnson said, the student and her father often talked for hours on end. "From those conversations she learned that members of her family were activists in the civil rights movement and Black Panther Party," he said.
"Teaching is pretty cool if it can help facilitate all of that."
Safe space
In addition to making peace with others, the class also helps students make peace with their past, most notably through weekly discussions about race, representation, power and privilege. "These are topics a lot of students have never talked about before in a public forum either out of embarrassment, vulnerability or to avoid conflict," he said.
"But most everyone who comes into my classroom has experienced microaggressions, and they don't know how to move through their feelings. When then they come to my class," Johnson said, "they get to learn by speaking up and sharing how it has impacted them. I have had a lot of students tell me how transformative it is to just be seen, heard and validated."
Another class he is particularly proud of creating and teaching was Ferguson and Beyond: Race, Police and Protest in the Contemporary U.S., a course at UW Bothell that Johnson co-led with faculty. "It emerged as an expression of solidarity with UW Bothell students and alumni who were trying to understand and respond thoughtfully to important current events concerning violence, racial injustice and protests following the shooting of Michael Brown in 2014," Johnson said.
In the class, students followed current events and engaged in public conversations about the aforementioned topics, as well as contemporary policing, incarceration and racialized state violence. By the end of the class, Johnson said students were able to gain a more in-depth understanding of the historical and systemically racial components that led to the mass protests taking place across the United States.
"The course provided a space for students to voice their feelings about the political and social climate, and how these moments directly affected them," Johnson said. "Their fearlessness and dedication were inspiring to see."
Making a difference
When he is not teaching, Johnson can be found working alongside his mentor Joseph at the Center for Communication, Difference, and Equity, a space where UW students, faculty, staff and alumni gather to make a positive difference in their communities. His involvement centers around nurturing the leadership skills of underrepresented students of color, particularly those active in Rainier Scholars and in Boys & Girls Clubs of King County. Coincidentally, Joseph also received an Award of Excellence this year, the Marsha L. Landolt Distinguished Graduate Mentor Award.
Johnson said he is honored to receive his award and views it as proof that his efforts matter. "I try to put in the extra effort to support students and help them get across that finish line," he said.
"I hope to make a difference in the lives of underrepresented people and institutions that are striving to push toward diversity and inclusion."