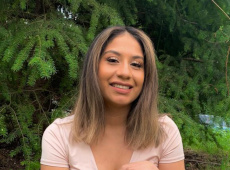 Yasmin Yaquelin Carmona wants to become a school counselor so she can make a difference in the lives of adolescents and help them through difficult times. When she graduated this past spring from the University of Washington Bothell with a degree in Society, Ethics & Human Behavior, she already had two years of experience working with high school students.
A course titled Education and Society taught by Gerard Holzman, lecturer in the School of Educational Studies, led the way to unique opportunities to apply her learning. Part of the Community-Based Learning and Research curriculum, the class required a minimum of 15 hours of service in a school community setting. Through CBLR she returned to her K-12 school district as a volunteer. It wasn't long before the network she developed and experience she gained opened the door to a job as a special education paraeducator.
For her transformative work with youth, Carmona was named one of the 2022 Husky 100 honorees. Every year, the University of Washington appoints 100 undergraduate and graduate students recognized as leaders from the Bothell, Seattle, and Tacoma campuses this award. Carmona is one of 11 students from UW Bothell to be recognized this year.
Speaking from experience
Carmona's experience with students struggling with classwork began even before her first year at UW Bothell. While at Everett High School, she was part of the Seagull Readers Buddy Program, which involved reading to elementary school-aged children whose reading skills were deemed below standard. "I encouraged students to persevere when they struggled with their books," Carmona said. "I helped motivate them through reading activities and by reading them books they enjoyed."
Volunteering through the CBLR course was a perfect fit. At Cascade High School in the Everett School District, Carmona's role was to help teachers prepare class presentations and lesson plans. It gave her a first-hand view into what it would be like to work with teenagers on a daily basis.
Carmona didn't stop at the required 15 hours. She found an opportunity to further engage with the youth, one that would use her background as a first-generation student to encourage the high-schoolers to consider going to college. "I attended an afterschool club where I could get to know them better and to answer their college-related questions.
"Many of them would be first-generation college students like me, with very little idea of what that meant. Although I wasn't much older than they were, I was able to share some things I'd learned along the way about applying to college and finding resources such as financial aid."
Developing skills and connections
Her enthusiasm for becoming a school counselor was only starting to blossom. She shared her goal with adviser Jessica Trenkamp, also a UW Bothell graduate, who suggested becoming a paraeducator in the meantime. Carmona sought out the staff at the Writing & Communication Center on campus for help with her cover letter and resume and soon she found herself applying for a position back at the ESD.
Within a week of her job interview, in November 2020 she was offered a position as a paraeducator in special education at Sequoia High School. "My classroom learning at UW Bothell and my classroom experience at Cascade gave me the skills to get the job," Carmona said. "But it was also the connections I made through those opportunities. Some saw me at work, others heard of my commitment."
Her initial duties during the pandemic included assisting disabled and neurodivergent students to complete class assignments so they could earn credits toward graduation, in both one-to-one and small group settings. She monitored and documented student behavior so she could support the teachers in assessing student progress and devising/revising education plans as needed. Fluent in both English and Spanish, she played a crucial role in translating concerns to parents who spoke only Spanish.
Honing her skills in the classroom served to energize her. Equally compelling were the soft skills she was gaining as time went on: learning to navigate a workplace of people with diverse backgrounds, having greater self-understanding, and boosting her self-confidence in supporting high school students, particularly those who need additional supports.
Seeking social change
She joined the Sequoia equity team, which is committed to examining systems and structures to ensure all its students have an equal opportunity to succeed. Her professional training at both Cascade and Sequoia showed her that quality education is a tool for social change and should be a human right.
Dr. Paulina Abustan, former affiliate assistant professor in the School of Educational Studies, said, "Yasmin is an exceptional scholar who works in solidarity with teachers and leaders to successfully prepare K-12 students for college in a culturally responsive and strengths-based manner. She honors the diversities of the students she works with."
Carmona, who graduated from the School of Interdisciplinary Arts & Sciences with minors in Education & Society, Diversity Studies, and Teaching & Learning, said, "With the idea of equal opportunity for all, I am pursuing further education to gain more skills and attributes that will help me better serve families and students."