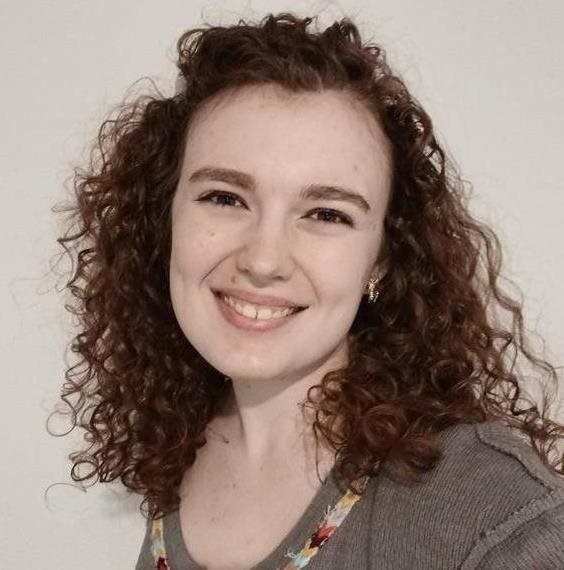 From the time she was young, Kira Lemke has had one, very specific goal: obtain a Ph.D. in neuroscience and work in a brain research facility.
"I have always wanted to be a scientist and became fascinated with the brain when I was about 13," she said. "I am interested in connectivity between different brain regions and understanding how the different parts work together. That's why I came to UW Bothell — to start figuring that out and take advantage of all the great undergraduate research opportunities."
In the process of achieving this goal, the junior at the University of Washington Bothell has accomplished more than she expected. Not only does Lemke excel academically, but she also uplifts others and empowers her peers to succeed.
"She has dedicated years of her scholarship research to advocate for traditionally marginalized populations in the science industry," said Emily Leonard, transition program manager in UW Bothell's Orientation & Transition Programs. "She has been the Womxn in STEM network lead at UW Bothell the past two years and is a founding member and leader of the Health & Natural Sciences meta-major team — all of these roles are in pursuit of equity."
In recognition of all that Lemke has done for her community, she has been named one of the 2022 Husky 100 recipients.
New and bold choices
Each year, the UW recognizes 100 undergraduate and graduate students from the Bothell, Seattle and Tacoma campuses who are making the most of their time at the University. The recipients actively connect what happens inside and outside of the classroom, applying what they learn to make a difference on campus, in their communities and for the future. Lemke is one of 11 students from UW Bothell to be recognized this year.
"There are undoubtedly thousands of students who could positively represent UW, but few are as mindful, committed to equity or academically driven as Kira," Leonard said. "She embodies the type of scholar, leader, mentor and activist you dream your students will grow to be."
Lemke's first experience at UW Bothell was a leadership camp she attended the summer before her first year. She felt it would be a good way to connect with people but also admitted it was an "out of character choice" for her.
"Although that was kind of the point," she said, "because college is about making new and bold choices."
Recognizing that growth usually happens outside of one's comfort zone, Lemke pushed herself to try something new — and the initial apprehension she felt was quickly replaced with feelings of belonging. "I felt so much joy from the peer coaches who ran the event, and they infused my experience with a satisfying sense of connection," she said. "I felt like I was exactly where I was meant to be."
Creating community
These peer coaches played a pivotal role in Lemke's ongoing college experience by giving her the support and confidence she needed to take on the challenges that come with obtaining a four-year degree.
The winter when they encouraged her to become a coach, Lemke was thrilled. "I was so excited at the prospect of participating in the very thing I had so benefited from," she said. "I grew up in a small community, small school, and I knew firsthand how great it is to have a robust network around you.
"I really wanted to create that for other students. I was motivated to intentionally create community — making sure everyone had somebody to support them."
Leonard, who was Lemke's supervisor, said she did an incredible job. "She individually met with first-year students to build strong relationships and set goals. She helped them identify what they wanted to achieve at the University and motivated them to act," Leonard said. "She encouraged them to have agency and reminded them that the challenges they face in pursuit of the dreams are opportunities.
"She did all this while reminding them of the value their unique identities and perspectives bring to our campus, community and society."
Vulnerability and connection
Just as Lemke started in her position as a peer coach, building others up, her personal life was falling apart. Her family home caught fire, and while she and her family all escaped with their lives and health, none of their belongings were saved. "We lost all of our pictures, our clothing, our furniture. Everything. We lost everything," she said.
But from this tragedy, Lemke said she did gain one thing: the skills to become a better peer coach. "Coaching is about removing any barriers an individual student is facing to participating fully in University life," she said. "Facing serious barriers in my own life helped me connect with my students better when they were also struggling."
And many were, as shortly after she started in the position, COVID-19 spread to the United States and UW Bothell shifted to remote operations. To give students a better sense of community in a time of isolation, she hosted online game nights and created online events that catered to the students' various interests and majors. Using her position as the executive officer of Women in Science and Engineering and the network lead for Womxn in STEM, Lemke also invited first-year students into these campus clubs to help build a community with them.
Additionally, she made time to meet with students one-to-one and regularly texted and called more than 40 students, just to make sure they knew they had a friend in her. "Kira worked tirelessly to ensure all students were supported, valued and heard," Leonard said. "She even shared the obstacles she faced — such as her home burning down — and the ways in which she's overcome them to encourage grit and perseverance in others."
Starting a new chapter
Coaching taught Lemke how to be a leader and how to connect with people in a short amount of time — two vital skills she took with her to tackle her next big challenge. Only a few weeks into her first year, she was offered a spot on the board of the National Society of Leadership and Success, which was launching at UW Bothell. But this, too, had just barely begun when the pandemic derailed their plans. The entire board either graduated or quit, and Lemke was left with an empty club that couldn't function without people or passwords.
"No one had thought to give me the passwords to our club files or even just a quick outline of how running a local chapter of this organization works," she said. "However, I believed in this organization and did not want to let go of the challenge of creating a place for this on campus."
She got in touch with the national office her sophomore year and began rebuilding the chapter from the ground up. "I found what I learned from coaching invaluable to keeping a board motivated through remote school and repeated launching delays," she said.
She is cautiously optimistic that it will be ready to launch this spring. "There have been a lot of setbacks, and I don't want to jinx anything," she said. "But I will say this is the closest to launching we have ever been."
Goals to accomplishments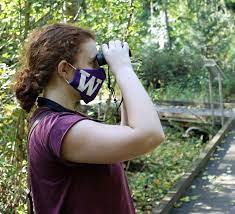 Because all Lemke ever wanted is to study brains, she also made research a top priority. She was awarded a Mary Gates Research Scholarship in 2021, a competitive program that enhances the experiences of undergraduate students at UW while they are engaged in research guided by faculty. Working alongside Dr. Douglas Wacker, associate professor in the School of STEM, Lemke studied geographic variation of bird vocalizations.
She said the peak of her college experience thus far was presenting her work during the UW's annual Undergraduate Research Symposium. "I'd not only been able to learn and communicate important scientific findings but again had found a cohort of like-minded students and encouraging, helpful professors who guided me along the way," she said. "I'm grateful for those who have invested in me — and I have started early trying to invest in others to pay forward what has been offered me and to learn from my peers and the incoming students."
As Lemke moves forward, she said that the communication skills she learned from coaching, the networking experience she acquired from NSLS and the technical knowledge she gained from her research will all be invaluable.
"Despite entering college just as COVID-19 struck and my house was destroyed, I'm so thankful for the challenges and opportunities to grow these past few years," she said. "I entered school with one goal, to learn science, but I've been given the chance to do so much more in the process.
"I hope to take what I've learned here at the University of Washington Bothell forward into graduate school and beyond — to learn, research, give back and invest in the scientific community and my fellow humans each step of the way."