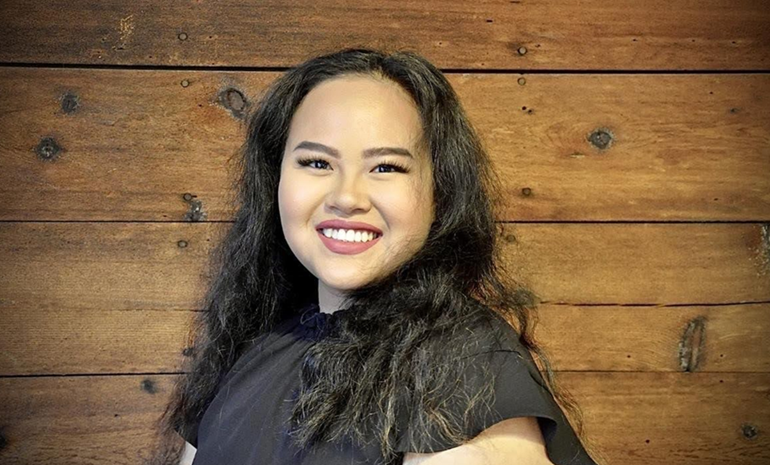 Ngoc-Vy Mai is the kind of person who is always thinking about others and what she can do to perhaps make their lives better. A 2022 graduate of the University of Washington Bothell's Schools of Nursing & Health Studies and Interdisciplinary Arts & Sciences, she is now bringing this same concern into health care advocacy.
By participating in fieldwork internships with Public Health – Seattle & King County and the Midwives Association of Washington State, Mai has been a voice for marginalized communities as well as a resource for low-income and immigrant communities seeking access to quality and affordable health care.
"My dream is for everyone to have equitable and affordable access to reliable, quality health services, as it is imperative to sustaining a healthy society," she said. "Health is a social justice issue and the foundation to a prosperous life. It is the most important aspect of a person's well being."
In recognition of the work Mai has put into making this dream a reality, she has received one of the 2022 Chancellor's Student Civic Leadership Awards. Each year, the University recognizes two student civic leaders. Sponsored by the Washington Campus Compact, this award acknowledges students who address critical issues on campus and in their communities through service and social entrepreneurship.
Dr. Kristin G. Esterberg, UW Bothell chancellor said, "Vy has inspired her peers and community through her public service. Her work with marginalized communities is extraordinary, and her initiative on important issues is impactful. It has been my pleasure to learn more about her and recognize her with this award."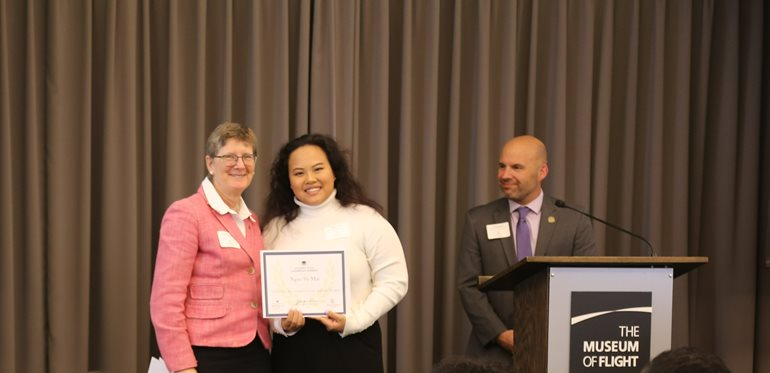 Fight for rights
Mai pursued the public health internship her sophomore year of college. She worked with Eastgate Public Health Center, a low-cost clinic that works to protect and improve the health and well-being of those in the county. She worked in the teen clinic where teenagers can get sex education, information on the prevention of sexually transmitted diseases and free birth control. "This was a really rewarding experience for me because I actually utilized the services offered by the center when I was younger," Mai said. "It was great to give back to the community that gave so much to me."
During her time at the organization, she created a bus banner ad to promote the clinic and its services. "We wanted teens to benefit from the free or low-cost services offered at the center and to remind them that it is okay to talk about their sexual health," she said. "Our banner included the hashtag #TalkingIsPower to encourage teens to talk about their sexual health with doctors, parents or partners."
Mai continued her advocacy on sexual and reproductive rights in the course, Program Planning and Strategies for Health Promotion, later that summer. Throughout the class, she conducted research on education and promotion of sexual and reproductive health within the migrant and season agricultural workers community. "We created a program using data from an already established program that was created for Hispanic women in South Florida called SEPA," she said. [SEPA stands for Salud, Educación, Promoción y Autocuidado or Health, Education, Promotion and Self-care.]
"Our goal was to improve sexual and reproductive health by educating the community about prevention of sexually transmitted infections and unwanted pregnancies in ways that are relevant and culturally appropriate," she said.
Coming full circle
In her junior year, Mai went on to work with the Midwives Association of Washington State right when the coronavirus pandemic hit. The organization had just launched a coalition to respond to concerns and potential effects on midwives.
She conducted research on how COVID-19 affects the midwifery community and created a survey to measure its impacts. The data collected was used to create a protocol for best practices for midwives. The survey results also illustrated for MAWS the importance of focusing on literacy, advocacy and prevention of maternal deaths, especially in Black and Indigenous communities.
"I wanted to be able to do something good during a really bad time," Mai said. "I have also had an interest in midwifery ever since I witnessed the birth of my sister, who is 11 years younger than me. A lot of things went wrong, and from that experience I knew that if I had kids, I would want to have a midwife. So getting to be a part of the field was really exciting for me."
Now, she has a professional role in the field and with the association. Mai was hired in January as the new executive director of MAWS, in part responsible for overseeing UW Bothell students doing similar fieldwork. "It feels like coming full circle," she said. "I am thrilled to be in this position and doing work I am passionate about."
Expanding influence
MAWS had been working on a bill that would authorize licensed midwives to prescribe contraceptives and to manage common conditions of pregnancy for their clients. After Mai was hired, she was able to witness the bill go through the Washington State House of Representatives, the Washington State Senate and then on to the governor's desk where it was signed into law.
"It was so cool to see that firsthand and actually talk to the governor about the bill," Mai said. "It ties into the work I did with women's sexual and reproductive rights as well as the work I did with the clinic. It felt like everything came together and was a big step forward in achieving my goals."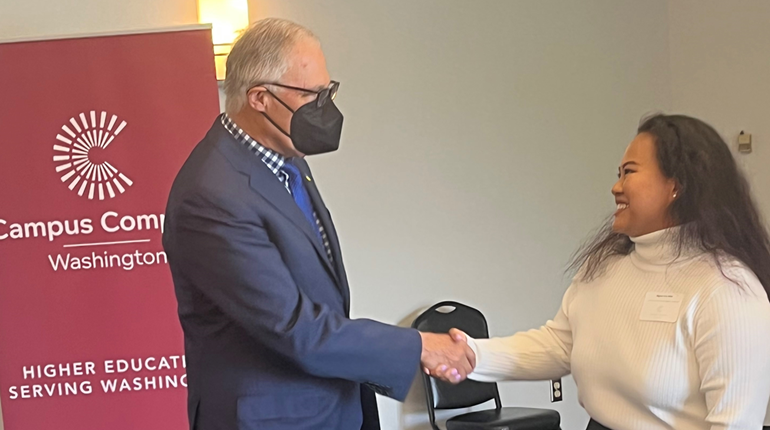 In the fall, she will be furthering her goal of making health care more accessible by starting a master's program in Health Administration at the UW in Seattle. She hopes to use what she learns to expand the impact of MAWS within the midwifery community and eventually take on a larger leadership positions as a woman of color and an immigrant.
"I want to be able to advocate for people like my mom who can't speak English or for anyone who can't advocate for themselves," Mai said. "Before I came to UW Bothell, I was shy, but the University taught me to use my voice and to be proud of my heritage. Ultimately, I hope to inspire others to do the same."
Making an impact
Alumna Vy Nguyen '12 nominated Mai for the award and said, "She goes above and beyond to create a safe and enriching environment for everyone. She is an immigrant and a first-generation college student and has fought hard to become the exceptional woman she is by staying humble, committed and motivated in her passions and goals."
Mai's response to winning the award is perhaps not surprising: "These are all things I am passionate about so it was never about the recognition," she said. "But to hear that what I am doing actually matters to people feels really good. I hope to do more impactful and intentional work in the future."