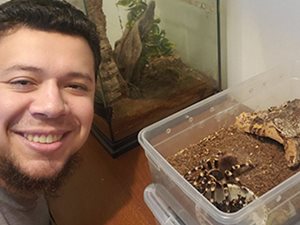 Becoming an entomologist wasn't a childhood dream for University of Washington Bothell Camilo Acosta '19, nor was it a single, dramatic event that piqued his interest in insects. Instead, he described it as "a culmination of small events like spending summer afternoons feeding sugar water to exhausted honeybees or admiring iridescent, green jewel beetles while pulling weeds."
Acosta said he has always been fascinated with insects, which as a child, he thought was normal. As an adult, he says, "I now realize that I have a deeper passion than most."
While Acosta's career path was not always clear to him, it certainly may have been to his mother who was constantly missing her kitchen supplies. "When I was young, I was super into enslaving poor animals in jars and other kitchen containers," he said. "My mom was always yelling at me for taking her Tupperware and using it as makeshift homes for salamanders and snakes."
Investigating insects
Now a graduate from the School of STEM, Acosta works for the Washington State Department of Agriculture as a pest biologist where it's all insects, all the time. Currently, he is acting as the Japanese beetle eradication coordinator.
Acosta said the Japanese beetle is an invasive insect that is "incredibly destructive" to different crops and home gardens. "It is a generalist and will eat more than 300 different kinds of plants," he said. "Finding even one should put you on high alert."
The beetle has been in the United States for more than a century. It was initially found in New Jersey and has since spread to other states. Acosta said it can hitchhike onto airplanes, which is one way it could have made its way to Washington state.
"WSDA has trapping programs in place around Seattle-Tacoma International Airport," Acosta said. "They catch a few every year but even so, the beetle has managed to make its way to Grandview, Washington."
Damage control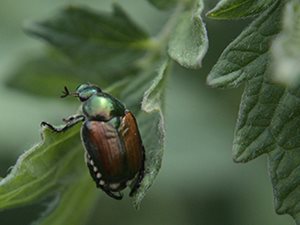 Yakima County is home to many farmers who make a living selling crops, including apples, grapes and hops. If the beetles take over their orchards, it can put the farmers out of business. "Just this past summer, we caught more than 24,000 of them in Grandview alone," Acosta said.
He and his colleagues are devising a sweeping plan to eradicate the insect across the state. In the meantime, they are proposing an internal quarantine. "Typically, after people mow their lawns or trim their hedges, they take the waste to a landfill or transfer station. That can't happen anymore because they could unknowingly transport beetles, eggs and larvae," he said.
Acosta also pointed out that many farmers sell bouquets of flowers at local markets, but with an internal quarantine, this would no longer be permitted. Acknowledging the financial impact this would have, he and his colleagues wrote and distributed a survey of small businesses to understand potential economic impacts. Once they compile the results, they hope to plan ways to mitigate losses.
To students at UW Bothell Acosta said, "Don't neglect your writing abilities. It is a significant part of my job now. I didn't think I would ever have an office job where I would write contracts, environmental checklists and response plans, but here I am doing it.
"Even if your dream is to do fieldwork, don't underestimate the value and importance of learning to write efficiently."
Put into practice
Acosta's time at UW Bothell prepared him for this position in other ways, too. He first started studying beetles as an undergraduate in the wetlands with Dr. Michele Price, assistant teaching professor in the School of STEM.
"Camilo was an amazing student who jumped into opportunities outside the classroom right away," Price said. "He is an example to current students of the incredible career opportunities available in state and federal governments. Through his work, he is helping the well-being of hundreds of farmers, as well as their communities."
Acosta's research into beetles began in 2016 as an independent project in which he examined the diversity of ground beetle in the restored wetlands on campus. He said that Price taught him the skills he needed to succeed as scientist, such as "formulating critical questions and hypotheses, analyzing primary literature and learning about insect field collection protocols as well as how to identify specimens using taxonomic keys.
"I apply much of what she taught me all those years ago to the work that I am doing now," he said. "In a way, that was the start of my career."