On November 9, an Alaskan Alutiiq mask created in honor of the University of Washington Bothell's multi-faceted mission to transform people's lives and in tribute to one of its beloved employees was officially unveiled during a ceremony in Discovery Hall.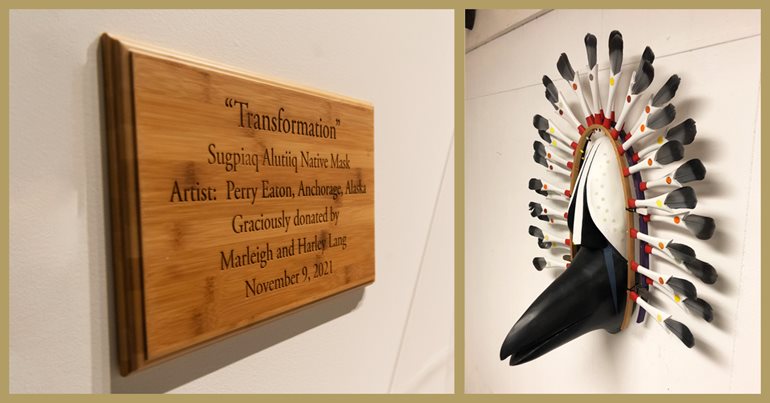 The mask was commissioned by Marleigh and Harley Lang, long-time UW Bothell supporters and donors. Marleigh Lang said she and her husband have always been inspired to give back to an institution that has given their family so much.
"I got my bachelor of science in Nursing from the University in 1968, and a master's degree in Nursing Leadership from UW Bothell in 2006," she said. "Then, all my kids graduated from either the Bothell or Seattle campus. There's really something special happening at the University of Washington."
The Langs' latest contribution, in particular, celebrates the UW Bothell's commitment to diversity, equity and inclusion — and the legacy of their oldest daughter, Natalie Lang, a UW Bothell alumna and employee who was an academic adviser to international students until her untimely death in 2007.
A life devoted to others
Natalie graduated in 1997 with a degree in American Studies. During her time studying at the University, she discovered a passion for helping international students transition to life in the United States. This passion blossomed naturally into a career as an academic adviser to international students at UW Bothell.
In addition to helping students academically, Natalie was instrumental in creating cross-cultural events, such as a Thanksgiving celebration for international students, and in founding an intercultural club to help international students adjust to life in this country, connect with the resources they needed, and feel more welcome on campus.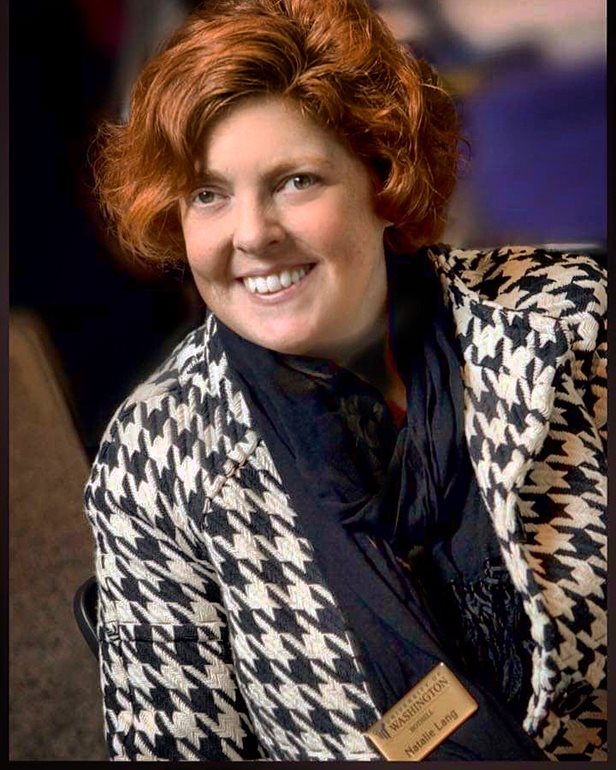 "Natalie saw how much need there was among the international and intercultural students, and she wanted to help," said Marleigh Lang. "We learned a lot from her passion for inclusiveness. It just seemed to come naturally to her to pursue and promote those kinds of things as best she could. She really helped to transform lives, which is something UW Bothell is also known for."
Unfortunately, Natalie's health was fragile all her life, and in 2007 she passed away from kidney failure. She was 38 years old and in the process of completing her master's degree in Policy Studies at UW Bothell. Though her mother says Natalie's death was difficult, she is comforted by the fact that Natalie led a "fabulous life" and was deeply loved by everyone she worked with at UW Bothell.
"She was such an asset to so many people," Marleigh Lang said. "When she passed — I've never seen such a big attendance at a funeral. The church was just packed."
Intercultural tributes
In 2013, the Langs established the Natalie Kay Lang Endowed Fund for Undergraduate Student Support to honor their daughter's service to and support of international students. And in 2015, for their many contributions to UW Bothell, the Langs were presented with the Legacy Award, which recognizes individuals and families who contribute their time, service and philanthropy — and who encourage others to similarly support UW Bothell.
A few years later, Marleigh Lang's unexpected reconnection with an old classmate inspired another idea to honor Natalie's legacy and to support UW Bothell.
While planning her 50th high school reunion, she connected with Alaska Native mask maker Perry Eaton, who was a classmate of hers in elementary school in Shoreline, Washington. Enamored with his spectacular creations, Lang asked Eaton if he'd be willing to make a mask for UW Bothell and for Natalie.
"I felt like his work coincided with Natalie's goals to help create pathways of connection interculturally," she said.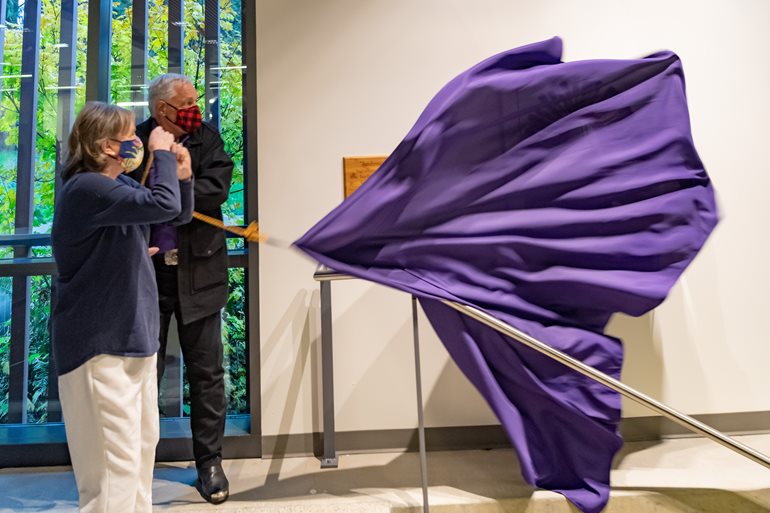 As a child, Eaton, who is of the Sugpiaq Alutiiq people, spent school years in Seattle and returned to Alaska in summers for fishing season with his family. As an adult, he moved to Anchorage full time, where he resides today and where he has a mask-making studio. He began making traditional Alaskan Alutiiq masks 25 years ago.
"I'm from Kodiak Island — I'm Sugpiaq Alutiiq," Eaton said. "Our art and our culture are kind of halfway between coastal and interior or Inuit, and so we have attributes of both. We have form art similar to Tlingit Coast Salish, but we also have a belief system that's much closer to Yupik Inuit, and our language is actually a dialect of a Yupik or Inuit language."
Masks of many meanings
Eaton's masks adhere strictly to the Alutiiq mask construction and form, which includes certain birds, singing masks and effigies. In his culture, as in many Indigenous cultures, masks serve as tools of transformation. They also, he emphasizes, are used as regalia for dancing, first and foremost.
"Where do you differentiate between art and utility? Masks actually are tools in ritual and celebration and festival. The utility of a mask is that it is a tool for transformation. You cover the face; you become something other than what you were," Eaton said.
In his 25 years of mask-making, he's made about 200 masks, each distinctly different in look and meaning. The mask for UW Bothell is no exception. Entitled "Transformation," the bird-like, black and white mask with its mane of intricately-painted and feather-tipped wooden spokes took more than two years to construct.
The biggest challenge, according to Eaton, was finding a contextual image that stayed true to Indigenous form and still spoke to the university's process of ambition and upward mobility as well as to the diversity of the students with whom Natalie worked.
"The cultural value of upward mobility is personified in the American culture perhaps higher than any other in the world," Eaton said. "This mask took so long because — and I'm paraphrasing many, many conversations that we had at the studio and that I had with both intellectuals and Indigenous people — I had to try and identify how you would capture that in our culture.
"It came down to the fact that higher education is a process of transformation," he said.
The spirit of Transformation
Drawing on Alutiiq spirituality, which imbues spirit in everything, Eaton worked to define and create a mask that would represent that process.
"Everything on this mask has symbolism," said Eaton. "So, the bird is portrayed with the beak, but you'll also see a nose and eyes much like a human would have. We believe all spirits have a human form.
"The hoops that hold the pieces in place are the aura of the spirit. And in our belief system," he explained, "when you have the hoops in a manner where they're open across the bottom — they're not a full circle — that means that the spirit is a traveling spirit."
Additionally, the individual pieces extending from the hoop, or aura, represent the variety and the complexity of students' coursework, and each piece has its own differently colored dot to represent the diversity of UW Bothell's student body. From there, each of those individual pieces has a feather on its end representing "the flight of opportunity on the completion of the transformation," Eaton said.
"The spirit of this mask will be felt throughout our campus, and we applaud Perry Eaton for his beautiful artisanship," said Sean Marsh, interim vice chancellor for Advancement & External Relations. "We are grateful to Marleigh and Perry for this meaningful gift, which captures the essence of UW Bothell in such a profound way, and for their tremendous support of UW Bothell over many years."
A source of inspiration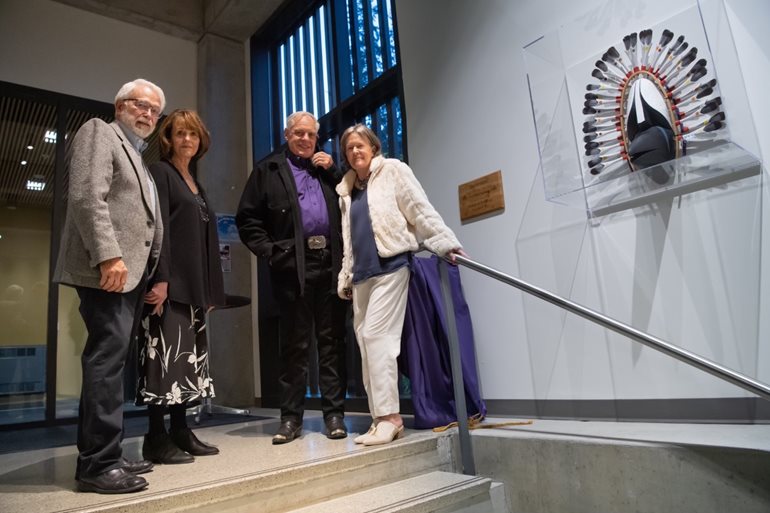 This ornate, complex and purposeful mask will be displayed in a glass cabinet at the top of a flight of stairs in Discovery Hall as a tribute to the multicultural values Natalie Lang worked so passionately to uphold at UW Bothell — and then some.
"With UW Bothell, there's a spirit of positivity where if someone says, 'I wonder if we can do this,' the first answer always seems to be, 'Yes, we can,'" said Marleigh Lang. "It's an open-minded, really bright, thoughtful and courageous institution, and I hope it always stays that way."