Keziah May was sitting in the passenger seat of her friend's car when the words she had held back for years were finally set free: "I think I should go to school," she said.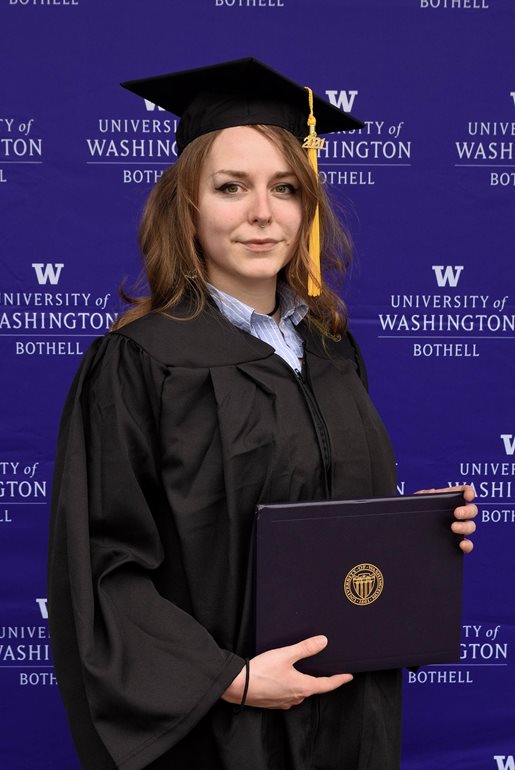 May is the second youngest in a family of eight children. Neither her parents nor any of her seven siblings have obtained a bachelor's degree. Higher education wasn't something she believed she would accomplish.
After high school, she tried a series of different jobs in the service industry, but none felt right. "Whenever I talked to people about what I did for work, I never felt proud," May said. "When I heard people talking about software or data, I could hear the pride in their voices, and I wanted that for myself."
Remembering how skilled she was at science and math growing up, May felt pulled to enter the STEM field. "I had always loved it but never had the confidence to go after it," she said. "I thought a woman like me would never make it in STEM."
The reality, however, is that May thinks she was born to be a software engineer. "I think like one, I approach every problem like one — it's who I am," she said.
May enrolled in Seattle Central College and then transferred to the University of Washington Bothell where in June 2021 she graduated with a bachelor's degree in Computer Science & Software Engineering.
Not only has she become part of the STEM industry, but she is combining her skills as an engineer with her drive to create equity and inclusion. "It is rare to find a student who naturally takes a systems approach to better the world around them," said Dr. Yusaf Pisan, associate teaching professor in the School of STEM. "Kez's compassion compels her to make continuous improvements and make a difference in the lives of others."
Coding for a cause
The impact she has already made on her community led to her being named one of the UW's Husky 100 in 2021.
Each year, the University recognizes 100 undergraduate and graduate students from the Bothell, Seattle and Tacoma campuses who are making the most of their time as students. The recipients actively connect what happens inside and outside of the classroom, applying what they learn to make a difference on campus and in the community. May is one of 12 students from UW Bothell to be named last academic year.
What May loves most about software engineering is what she can do with it. "Anything you care about you can do. If you care about medicine, you can make sure that people get proper diagnoses, treatment and medication," she said. "You can write software that can do all of that better than any human could."
Inspired by her passion for equity and fairness, May launched a diversity council for the Association of Computing Machinery student club. "It was something we as club members had spoken about a lot but never done," she said. "I stepped in as a chair of a committee to get it off the ground. The work needed to get done."
One of the council's projects was to create a holiday calendar that included significant dates from a wide range of religions. "Instead of planning events around finals week or midterms, it shifted to also planning around things like Ramadan," she said. "If people are fasting and hungry, they won't want to go to an event, especially if they haven't eaten in 16 hours."
Success & stigma
May also used her software skills to benefit her community through Tech for Good, a research group at UW Bothell led by Pisan. Under his guidance, students tackle meaningful projects that use software as a tool to improve the world.
Before attending college, May had run a small business where she taught workshops on issues such as communication, risk mitigation and conflict resolution. "I have a strong passion for educating others," May said. "Through Tech for Good, I wanted to use software as a way to educate people on something that is intellectually challenging."
The result was an online class for UW students called Leet Programming, which teaches them how to succeed at technical interviews. "Technical interviews are insanely hard. They last three to eight hours, sometimes even multiple days," May said. "They will ask you a classic question about a time you experienced conflict and how you solved it, and then jump into something like, 'Reverse a string in place without a temporary swapping variable.'"
While there are websites like LeetCode that provide users with sample technical interview questions and answers, they don't teach users how to answer questions on their own. "That is where the Leet Programming course comes in," May said. "Now people can actually learn how to do it themselves and apply that knowledge in their future interviews."
Another Tech for Good project May worked on was the design of a game that has a main character with PTSD. "It requires the main character to understand their trauma, accept it and work through it," she said. "I hope that it takes away from the stigma and creates empathy."
Pride & purpose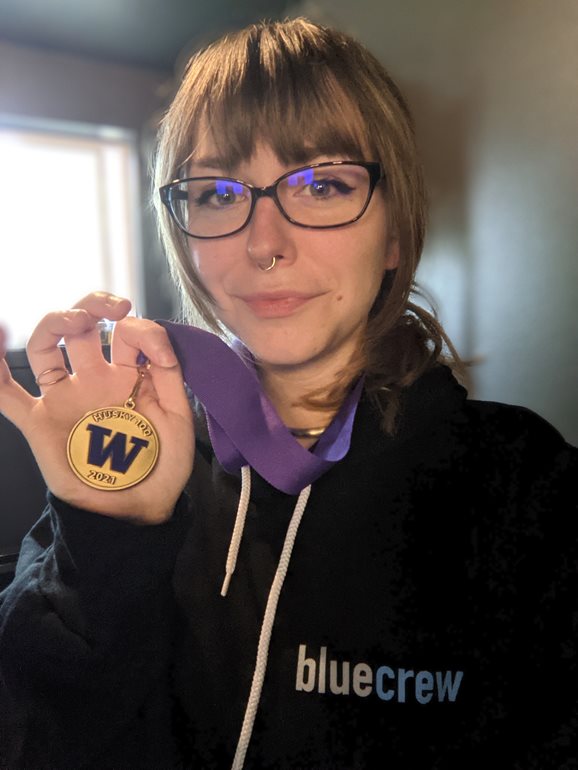 When May graduated from UW Bothell last June, many of her immediate family — which has now grown to more than 30 with sibling marriages and children — were present to celebrate her success.
"Because I am the first in my family to graduate from university, my siblings had to explain to their kids what my graduation meant to the family," May said. "My nieces wanted to try on my cap and kept telling me they wanted to grow up to be just like me. Everyone was in tears."
May has leveraged her college education to earn a position as a software development engineer at Bluecrew, a workforce-as-a-service company that uses technology to match W-2 hourly workers with local workplaces offering top pay.
"Now when I talk about what I do for work, I feel proud," she said. "I have worked hard to make myself proud."