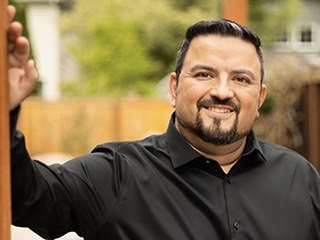 George Ahearn grew up in Othello, a small and rural farming town in Eastern Washington. While he loved his community, he also knew from an early age that he wasn't going to stay there the rest of his life. "I was a really weird kid. I knew from the time I was 9 years old that I wanted to be a nurse," Ahearn said. "I just knew in my bones that was my path. I have always been drawn to helping people."
Sure enough, in 2000 Ahearn graduated from the University of Washington Bothell with a Bachelor of Science in Nursing and in 2005 earned an Executive Master in Health Administration degree from the UW in Seattle. More than a decade later, his passion for serving others has led him to become the 2021 recipient of UW Bothell's Alumni of the Year Award.
Established in 2019, the award recognizes individuals who within the past year have exemplified the core values of the University: transformational education, engaged scholarship and inclusive culture.
Helping hand
Growing up in Eastern Washington, Ahearn noticed a lack of health care resources in rural areas. To help alleviate the need, he founded the company called West Infusion Nurses' Network, which strives to provide people who have autoimmune and genetic disorders with access to quality health care.
"The best part of this job is that people are always very happy to see you," Ahearn said. "Our registered nurses get to spend a lot of one-to-one time with clients and really get to know them and their families during their infusion."
WINNfusion hires registered nurses to travel to clients' homes, removing the stress of traveling to and having to be in a medical facility for simple infusions. Ahearn said his degree from UW Bothell was formative in developing this company.
"The nursing major focused a lot on community health, which was something I wasn't particularly interested in at the time, but it served me well as it is exactly where I ended up," he said.
Aside from providing medical help, Ahearn has also helped transport and deliver more than 54 million pounds of food through the nonprofit, EastWest Food Rescue, that he cofounded in April 2020. "Before the pandemic, my eyes weren't completely open to food insecurity. My family and I feed the homeless and help with the unsheltered, but I never understood the scope of the problem and the sheer need for food," Ahearn said.
Ripple effect
Farmers in Othello, Ahearn's old hometown, had a disrupted food chain due to the coronavirus pandemic. They were forced to waste many onions and potatoes, plowing them back into the ground. Hearing about this, Ahearn took action, and that was the beginning of the food rescue organization which focuses on moving food to where it's needed.
"The biggest success story of our nonprofit is the relationships we have built with our farmers, getting them to trust us and understand that we are not trying to profit off their blood, sweat and tears," Ahearn said. "This helps with getting the farmers to work with us in the future."
Just a few weeks ago, a farmer called Ahearn to tell him about an 8-acre patch of bare land on her property and wanted to know what she could grow there for the nonprofit. They went with a winter squash that will yield 20 tons per acre.
Previously, another farmer had called him when he heard that Ahearn was paying for seed, water and fertilizer. "That farmer had always wanted to grow cabbage and was so excited about the prospect of experimenting with his future without the risk," Ahearn said. "He is eager to plant his three acres of cabbage, master the craft and start sourcing contracts for the next year.
"All the while, he is growing food to give to those who otherwise would go without. It's a great partnership."
Success stories
One of the disruptions for farmers during the pandemic were the fires burning in Eastern Washington. The Whitney Fire, for example, destroyed many square miles of farm and pasture land.
"The ranchers lost their fall and winter crops that were meant to feed their cattle," Ahearn said. "We found one rancher who lost his entire fall pasture of hay. We had the volunteer resource base, and so we immediately mobilized."
EastWest Food Rescue sourced hay from Aberdeen and Olympia as well as other locations in Lincoln, Pierce and Snohomish counties. The volunteers didn't have a semi-truck, so it was all transported on private vehicles to Odessa,Wash.
In the end, they came up with 40 tons of hay to resupply the rancher, who now works with the nonprofit and is procuring two tons of USDA ground beef designated for the Salish people.
"It's building those relationships that are the success story," said Ahearn. "It's amazing what people can do when they come together."
Meeting the need
Ahearn says he calls Bothell home now. "It was the Bothell/Kenmore/Woodinville community that kept me going. There were times I wanted to stop," he said. "The first week we moved 18,720 pounds, and the second week we did 120,000 pounds. I thought surely no one in Western Washington could be wanting a potato at this point.
"But that was when I recognized the sheer need," he said. "I couldn't believe more than 130,000 pounds of potatoes and onions were gone and on people's plates in two days."
"It was potatoes giving hope, potatoes giving purpose, and potatoes giving meaning."
The UW Bothell Alumni Council selected Ahearn for its award in acknowledgment of the impact his service has had on the community, said Tiffany Kirk, interim director of alumni engagement.
"We want to honor George for his commitment to helping others," she said. "Whether as a nurse, an entrepreneur, or a volunteer, he has always acted in the interest of others. He has been so proactive in maintaining his connection with UW Bothell over the years and is always seeking opportunities to support our mission and students.
"We are humbled and proud to present him with this award."
Unity in community
Ahearn gives back to his community through his business WINNfusion and Evergreen Karate, located in Bothell. He has also served on the School of Nursing & Health Studies' Advisory Board and helped sponsor UW Bothell and community events including the annual Bothell Block Party & BrewFest.
For Ahearn, getting the Alumni of the Year award is because of the hard work and dedication of so many people beyond himself. "I couldn't accept this award without acknowledging the work of others," he said. "I am honored to be the recipient. It has been a pleasure to be a part of this community."