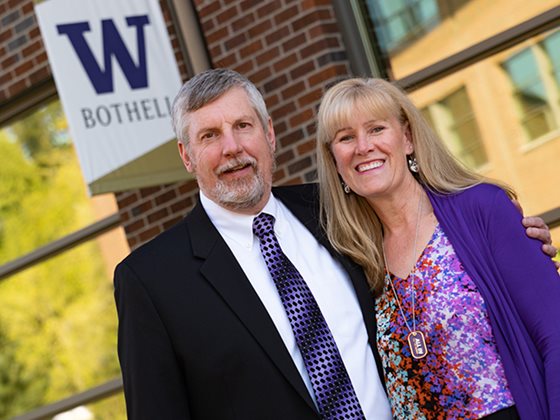 Preston and Jill Simmons receive Legacy Award
A couple who are strong advocates for the University of Washington Bothell and its students, Dr. Preston Simmons and Jill Simmons are recipients of UW Bothell's 2021 Legacy Award. The annual award recognizes individuals or families who contribute their time, service and philanthropy — and who encourage others to similarly support the University.
Dr. Simmons has been a member of the UW Bothell Advisory Board since 2013 and was board chair 2018-2020. His leadership and advocacy as board chair during 2020 — the last year of the Campaign for UW Bothell — bolstered the final push that raised more than $40 million dollars for the Bothell campus, exceeding an initial goal of $35 million.
The Simmonses are generous philanthropic supporters of UW Bothell. Their belief in the transformational power of higher education is demonstrated through their endowed named scholarship, which they established in 2015. The Preston and Jill Simmons Endowed Fund for Undergraduate Support is a permanent investment in UW Bothell students with financial need.
"Investing in UW Bothell is a priority for Jill and me because we both believe in children and their futures very much," Preston Simmons said. "I've been a huge believer in education throughout my life."
Educational motivations
Jill Simmons, who received her BA in Business Administration from Central Washington University in 1985, works as a paraeducator with special needs children.
Aside from her professional work, she said she looks to give back to the community in various ways, large and small. "It makes me feel really good to give."
The Simmonses said they both have been impressed by the number of diverse, first-generation students at UW Bothell who graduate and go on to build their careers and their communities.
"If youth can get a good education, then they can be productive members of society and help make this world a better place," Dr. Simmons said. "A great way to invest is to invest in our future."
He also said he believes there are many more people who deserve the Legacy Award. "We're very honored to be able to receive this and want to thank the University of Washington Bothell."
Collaborative connections
A resident of both Snohomish, Washington, and Anchorage, Alaska, Dr. Simmons is CEO of Providence Health & Services in Alaska, the largest health care provider in that state. Before taking the position in Anchorage in 2018, Dr. Simmons was CEO of Providence's Northwest Washington Region in Everett, Washington, which is where he first connected with UW Bothell through training programs for nurses in the School of Nursing & Health Studies.
Before taking the position in Anchorage in 2018, Dr. Simmons was CEO of Providence's Northwest Washington Region in Everett, Washington, which is where he first connected with UW Bothell through training programs for nurses in the School of Nursing & Health Studies.
One of the latest collaboration examples is a behavioral health certificate program that is now in its second year. The online program, in partnership with the University of Alaska Anchorage, trains nurses and other frontline workers in dealing with people with addiction and mental health problems.
"It will make a big difference over time in the ability to identify and triage patients with behavioral health issues," Dr. Simmons said. "This was a needed element in workforce development, and I'm proud to say the University of Washington Bothell stepped forth to help with that effort."
Since 2007, Dr. Simmons has been a leader in a variety of roles with Providence, a not-for-profit network of hospitals and health care services in seven states. Earlier, he held leadership roles at several hospitals in Seattle where he grew up and went to college. He received a bachelor's degree (Molecular Biology '83) and master's degree (Health Administration '85) from the UW and also rowed with the Husky crew.
Dr. Simmons received his doctorate of science in health services from the University of Alabama-Birmingham and is a clinical professor in the UW's Department of Health Services, School of Public Health and Community Medicine. The Simmonses are big fans of Washington football, with lots of Huskies on both sides of the family.
Strong partnerships
In his association with UW Bothell, Dr. Simmons says he has seen significant development of the campus and community — including the new STEM building now in design phase that will be a shared academic space with Cascadia College. With the Husky Village development project, he added, the campus will have more residence halls that will further transform the campus community. He also anticipates more opportunities for increased partnerships with industry, such as the behavioral health certificate, that help build the regional workforce.
"UW Bothell is a great experience for students, and it's a gem not only in the community at large but with the business community in terms of partnerships it has," he said. "This is a place where people want to live, work and play, and that comes out of having a strong university. I just see this continuing to grow."
As a leader in health services, Dr. Simmons foresees systems evolving to more managed care and services such as telehealth and treating people in their homes with remote monitoring and visiting nurses. Addressing social determinants of health and areas such as homelessness as well as diversity, equity and inclusion also "all have potential opportunities with UW Bothell," he added.
"I think there will be more investment by alumni, too," said Dr. Simmons. "The core elements — the excellence in teaching, the student-to-faculty ratio, the caliber of the students and industry partnerships — I see all that continuing.
"That's the secret sauce that makes this such a great university."