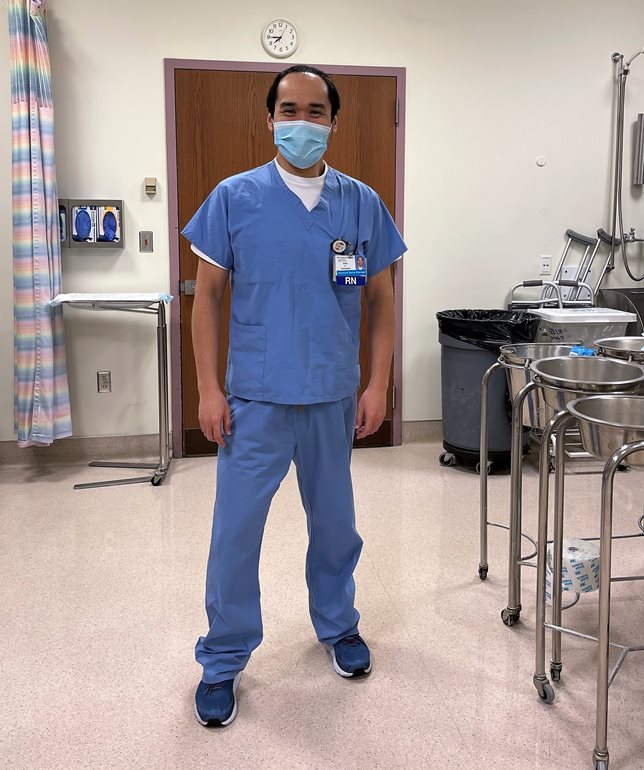 In an extraordinary way, Brian Velasco is comfortable working during the coronavirus pandemic, even as it complicates his work as an assistant nurse manager at Harborview Medical Center in Seattle.
"You see people at their wits end and at their worst," Velasco said. Yet, this is a role for which he prepared by getting a Master of Nursing in the Administrative Leadership track from the School of Nursing & Health Studies.
"I feel like I'm better equipped in facing these types of challenges — and even enjoy it," he said.
Safety net hospital
Velasco worked as a bedside for nurse nine years at Harborview, Seattle's "safety net" hospital that treats everyone regardless of their ability to pay. After receiving his MN last June, he took on a leadership role this year as the assistant nurse manager in the orthopedic trauma clinic and the after-care clinic.
The after-care clinic treats county jail inmates, people who lack permanent residences, patients without insurance and those struggling to enter the health care system.
"You can see why we are the safety net hospital through the services we provide in that clinic," Velasco said. "We know they have their backs up against a wall and have nowhere else to turn."
Velasco is responsible for making certain his team of about a dozen nurses is equipped, trained and prepared "to perform their responsibilities and to take care of our patients well."
With both access to treatment and follow-up care, he said, those patients don't end up in the emergency room as often.
Inspiring leadership
Velasco said he was inspired to pursue the master's degree by his managers and by "seeing what formally trained leaders can do in the community, for our patients and for the organization as a whole."
He decided to go beyond bedside nursing and have a bigger impact on how Harborview moves forward with patient care.
Velasco had received his Bachelor of Science in Nursing in 2015 from UW Bothell and also said he "wanted to continue there to get that excellent education."
The MN program included meeting one day a week in class for two years while he continued working full time. "It was a good kind of busy."
Velasco also intends to keep busy. He'd like to develop even more business skills with an MBA and add advanced nursing credentials with a doctor of nursing practice.
Education matters
You can't go wrong with more education, said Velasco.
"You're increasing your value as a person and as a working member of this profession," he said.
The pandemic has also demonstrated how nursing leaders can rapidly respond to new challenges. And while everyone hopes the pandemic will end soon, he noted, no one expects it will be the last time hospitals are forced to shift.
"These types of things happen, and it's up to us aspiring nurse leaders to choose how we want to change the direction of health care," Velasco said.