A University of Washington Bothell computer science student is one of the volunteers in the Seattle tech community who helped take some of the frustration out of finding the COVID-19 vaccine with the free tool at CovidWA.com.
Ryan Russell, a senior majoring in Computer Science & Software Engineering, joined with more than 100 people who quickly came together to develop the website that might be considered a shortcut to the "vaccine game."
The game is what happens when a large number of people are looking for a limited supply of the drug on the state Department of Health website. The process is like a board game where a player moves a few places and then has to return to the beginning and start over — and over.
It didn't take the local tech community long to see they could solve that problem.
Compiling what is available
A team organized and created an application that can "read" each vaccine provider's website. Bringing availability status to a single website, CovidWA, makes it easier to find where the vaccine is available to schedule an appointment. Russell is one of the coders building the website readers. He also took part in planning meetings.
"COVID-19 has flipped everything upside down and claimed many lives," said Russell. "I'm not a doctor, so this is my way of giving back, sitting behind a laptop and making change. That's my impact."
Russell was enlisted at the request of Maureen O'Hara, a member of the UW Bothell Chancellor's Advisory Board, a former Microsoft employee and a former UW faculty member. She joined the effort just days after the founders got together and helped launch it Feb. 10, initially serving King County.
O'Hara put out a call for volunteers at UW Bothell through Dr. Wolf Yeigh, chancellor, and two other faculty members in the School of STEM: Dr. Bill Erdly, associate professor, and Dr. Arkady Retik, associate teaching professor. They in turn contacted Russell as president of the popular ACM club, a chapter of the Association for Computing Machinery, a national professional organization. Of a half-dozen students who were interested, Russell, who also works part time with a startup, has devoted the most time.
How to find the vaccine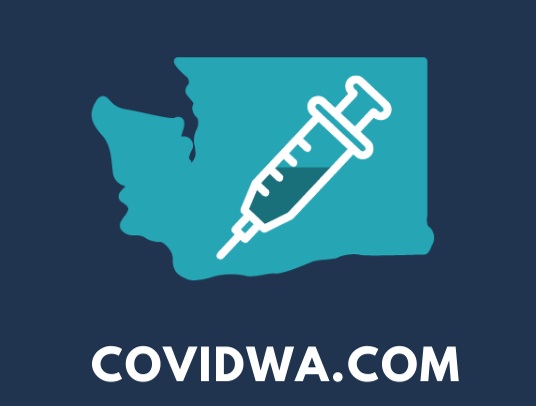 Let's assume you are tired of a year of social distancing, mask-wearing and self-isolating. You hear that vaccines have been shipped to Washington state. You're ready to play the vaccine game. First, you have to determine if you are eligible by going to the state Department of Health's website, the WA State Vaccine Phase Finder.
You answer a series of questions — zip code, age, living circumstances and general history of disease — to finally get to a page you can print to show eligibility. This is not an appointment. To make an appointment, you must then find a vaccine provider by visiting another website, doh.wa.gov/VaccineLocations.
There, you'll see a county-by-county list. You click on a county to see all the medical facilities and pharmacies where vaccinations are available. You click on each site, fill out more forms, and as you think you're reaching the end, you're told there are none available. Try again later.
There are more than 300 possible vaccination sites in Washington's 39 counties — 80 alone in King County. Constantly refreshing the computer and starting the game over feels like playing a slot machine that never pays off.
O'Hara said people who shared frustration and a Microsoft connection came together early in February with one idea, "There's got to be a better way."
Coding a 'better way'
The founders are George Hu, Daniel Morris and Dmitry Grigorenko, who work or worked at Microsoft, plus Grigorenko's wife Olga Illarionova, and Darren Lim, a student at MIT, said O'Hara, who was one of the first to lend her efforts.
Quickly, volunteers from most every tech company in the area joined, and now there are more than 100 working on the new website at no charge.
CovidWA.com now covers every county in the state. The team continues to improve the website, reaching out to marginalized communities, willing to cooperate with the state's Health Department and offering the software to problem-solvers in other states who would like to do the same thing.
Within two weeks of the website launch, people had come to CovidWA.com more than 1 million times. Thousands reached the coveted "schedule" button, and many left expressions of their grateful thanks on the website.
The team can't say exactly how many people it's helping because it doesn't keep any records of the users.
For Russell, joining the team has not only been personally satisfying, but it also has added to his professional experience and given him a network of career contacts.
As anyone who successfully finds a vaccination site knows, winning the vaccine game is a shot in the arm.