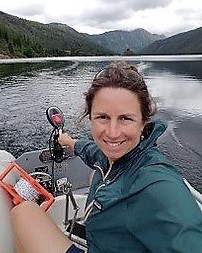 At first, students may wonder why it's important to study a lake. Why should they care about its behavior and chemistry? It's because this knowledge can impact the environment in ways important to ecological and human health, said Dr. Avery Cook Shinneman, associate teaching professor in the School of Interdisciplinary Arts & Sciences.
In fact, it is so important that officials from King County, Washington, have asked the students in her most recent Limnology course to share what they have learned with the public.
Shinneman has been teaching this subject — the study of inland waters — at the University of Washington Bothell since 2012. The course runs every other year, and in normal conditions would have been focused on field-based learning. In prior courses, students spent time at Martha Lake in Snohomish County. Venturing off campus, students would learn how to sample a lake at different depths as well as how to collect and analyze the water samples.
Because of COVID-19 and the shift to remote learning, the students in last year's spring 2020 class couldn't have physical interactions with the lake. "Usually because the class is field-based, the connection between the textbook and 'real world' is clear," said Shinneman. "I didn't want my 2020 students to lose that."
Course receives funding
Determined to preserve meaningful interaction for the students, Shinneman partnered with King County and a nonprofit called Lake Advocates to maintain the Community-Based Learning & Research component of the course. The partnership was supported by a grant from WaterWorks, a King County program funded by wastewater fees, and focuses on how to protect and safeguard lakes in the county.
With this support, the students were able to create educational tools designed to inform the public on what they can do and what they should refrain from doing to help improve water quality. This can include an array of behaviors such as cleaning boats and using less lawn fertilizer, Shinneman said.
Originally, the class had planned on working with a UW Bothell media production course to make videos that King County could use on its website. Because of the pandemic, however, the students were unable to make the videos. The course shifted yet again, and the limnology students decided to create a series of infographic posters themselves.
The power of posters
Fourth-year Biology major Tram Lam felt pulled to learn about environmental science. "Having an infographic poster about local lakes is a very simple way to inform people about complex issues," she said. "People go into lakes all the time, but not many people think about what actions they can do to help or to prevent harm to the lakes."
King County partnered with the UW Bothell students for that very reason — a need to better inform the public. Representatives from the county met with students over video conference and identified six areas of key concern. One was toxic algae blooms, the infographic poster Lam was assigned.
"Before taking the class, I had never heard of toxic algae blooms let alone the dangers they are associated with," she said. "It can lead to severe illness in humans and death in animals."
After the class ended, Lam was one of two students hired through the grant to continue working on the posters for publication. She said it was both challenging and rewarding.
Community comes together
"I feel honored to work with King County," said Lam, "and they hold our work to an extremely high standard. I am grateful for their feedback because it's allowed me to grow and learn as a student.
"Not everyone has access to environmental education, and that's what makes the infographic posters so impactful. We are creating communal knowledge," she said.
The posters are set to launch on King County's website this spring. The students completed six posters that addressed toxic algae blooms, shoreline management, lake management, invasive species, fisheries impacts and water quality.
"I was so proud of the student engagement," Shinneman said. "We saw our community partners and employees of the county interviewing from their garages and kitchens. We were connected through the fact that this is happening to everyone and were able to work together as a community despite being stuck at home."