What's your major? For students ready to graduate from the University of Washington Bothell, that's easy to answer. It's a more difficult question for arriving students, who may be uncertain or have only a broad idea where they want to concentrate their studies.
Now, they can find their way on Meta-Major Pathways.
The new advising tool offers pre-major students a way to hone their general academic inclinations into a collection of majors that align with their talents, interests and values — what they'd love to learn about. "It's showing students possibilities," said Kathy Mitchell, assistant director of student success and retention.
What's more, Meta-Major Pathways connect what students learn to possible careers, Mitchell said.
"Students wanted to know, 'Who hires people in this meta-major pathway, and what are the jobs they actually hire for?'"
Major exploration
For many new students, it's likely someone told them something like this: "Major in chemistry if you want to be a doctor," or "Major in business if you want to find a job."
Students at UW Bothell are encouraged not to stop there. More choices and better advice are available through Meta-Major Pathways, said Mitchell, adding that the tool helps students see that they have many ways to achieve their goals.
"We group the majors together in a way that makes sense to students and also makes sense to where they're going next, where they want to go," she said.
The Meta-Major Pathways tool was developed by the Office of Student Academic Success in collaboration with academic advisers and the Offices of Admissions, Career Services, Orientation and Alumni Engagement. It builds on "degree maps," another advising tool at UW Bothell that documents course requirements for each major, quarter by quarter. The pre-major advising team started using Meta-Major Pathways with new students arriving for the 2020-21 school year, Mitchell said.
Students can find more information on the webpage where all available majors are arranged under five meta-majors categories: Technology & Engineering, Arts & Media, Health & Natural Sciences, Education & Society and Business & Policy. Students can simply click on a category to see possible careers and graduate programs in the related fields. They also can find undergraduate research, internship and study-abroad opportunities — as well as clubs and activities where they can make friends and contacts with people who have similar interests. See faculty and adviser videos about meta-majors here.
Meta benefits
Given the benefits, many universities use tools similar to UW Bothell's Meta-Major Pathways.
"Research shows that meta-majors can support retention and a sense of belonging for students. They'll see a community of students with similar interests," said Cinnamon Hillyard, associate vice chancellor for student success. "With this framework, we can easily link students to faculty, advisers and alumni and then develop targeted programming."
Djelli Berisha, now a senior majoring in Biology who plans to attend medical school, said Meta-Major Pathways would have helped him when he started at UW Bothell.
"At first, I didn't want to major in Biology, and I was leaning more toward [studying] chemistry or public health. Upon further exploration into the Biology curriculum at UW Bothell, I became intrigued at the intersections between biology and chemistry, understanding the chemistry of molecules and how that pertains to biological life," said Djelli, who is also pursuing minors in Chemistry, Diversity Studies and Computing & Software Systems.
"It's this kind of exploration and experiential learning that Meta-Major Pathways encourages for all students, which empowers us to find a major we truly love and can make careers out of," said Berisha, who also is president of the Associated Students of the University of Washington Bothell.
Rafael Delgado, assistant director of Career Services, said the Meta-Majors Pathways also help students recognize there is more than one path to get to the same destination.
"Students who are interested in a particular industry can now explore the various degree majors associated with that industry focus," Delgado said. "They have more information to support their decision-making on relevant courses to explore. They can compare one degree to the other and make more informed decisions."
Interdisciplinary paths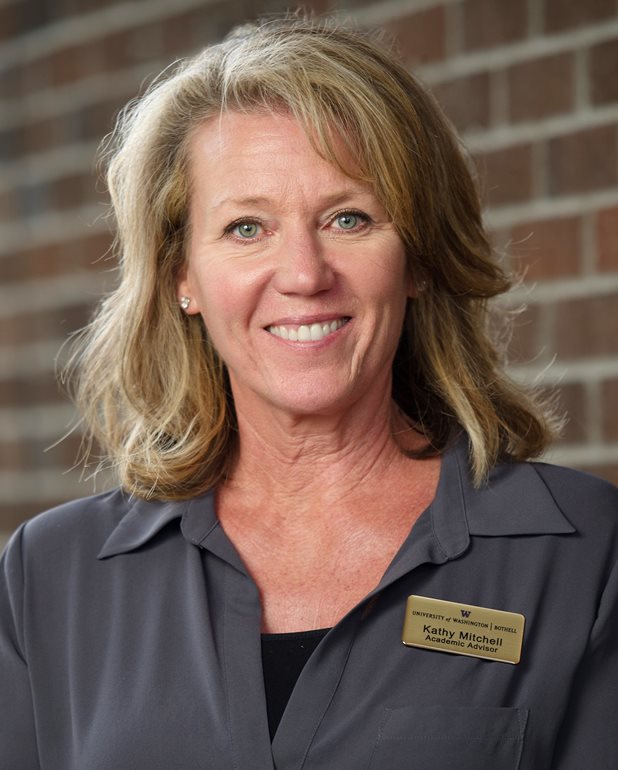 One might think the five meta-majors are the same as UW Bothell's five schools, but they are not. The meta-majors suggest options from any school. For example, Mitchell said, a student interested in technology or engineering would perhaps think first about the School of STEM. The Technology & Engineering meta-major, however, shows students that there is also a degree called Science, Technology & Society, which is offered by the School of Interdisciplinary Arts & Sciences.
For another example, someone interested in the Business & Policy meta-major will find majors in Business Administration, Global Studies, and Law, Economics & Public Policy. "There's not just one major," Mitchell said.
Meta-Major Pathways also help advisers, Mitchell said. They can use the tool to target their communications and recommendations for students. For instance, advisers can tell students in the Health & Natural Sciences meta-major about workshops for applying to medical school. And, students who plan an engineering major will hear they need to start taking math courses right away.
Casting out well beyond graduation from UW Bothell, said Mitchell, the Meta-Major Pathways and degree maps show students what it takes and all the choices they have to get where they want to go.