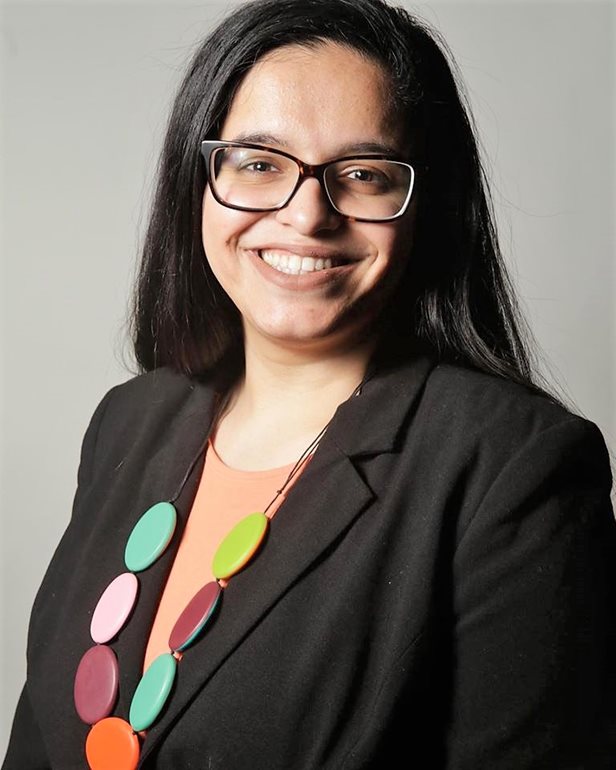 How has work in student housing changed since remote operations began at UW Bothell? Karan Sandhu, a resident director, answers a few questions from Director of Communications Maria Lamarca Anderson.
Q. What would you normally be doing now and where?
A. Normally I would be in the Husky Village Community Center all day, being generally available to all students who live in our residence halls. Now during the pandemic, I am in HVCC about 60% and working from my on-campus apartment about 40% of the time.
Many students need extra support as they transition to college life and learn how to live independently for the first time with roommates. Some who are struggling academically might need mentoring, support, advice or just a listening ear.
We would also be having social events in person.
Q. What are you trying to work on today?
A. Today I'm planning to meet one-to-one with our resident advisers, known this year as resident astronauts. This will make sense in just a moment.
I will also likely meet with residents using Discord, a platform for online communities. We have a pretty successful Residential Life server that's focused on building community and supporting our residents in a variety of ways during this pandemic.
We've renamed our buildings for the year, and our Discord communities reflect the new names. We figured no one wants to be on Planet Earth right now. [Laughs.] Aspen is Mars, Cottonwood is Saturn, Dogwood is Pluto, Hawthorne and Pine are Neptune, Oak is Jupiter, Spruce is Mercury, and Willow is Uranus. All of us in student housing are astronauts.
I'll also meet with residents in person, of course using the guidelines of wearing masks and staying physically distanced. Our entire staff is doing all we can to make sure all residents feel supported and are adjusting as well as possible given remote operations at UW Bothell and fewer opportunities to build community with other residents in person. Even though the campus is operating under remote operations, Housing & Residential Life cannot ever be fully remote, and we are always operational 24/7.
Q. What adjustments have you made to fulfill your work responsibilities?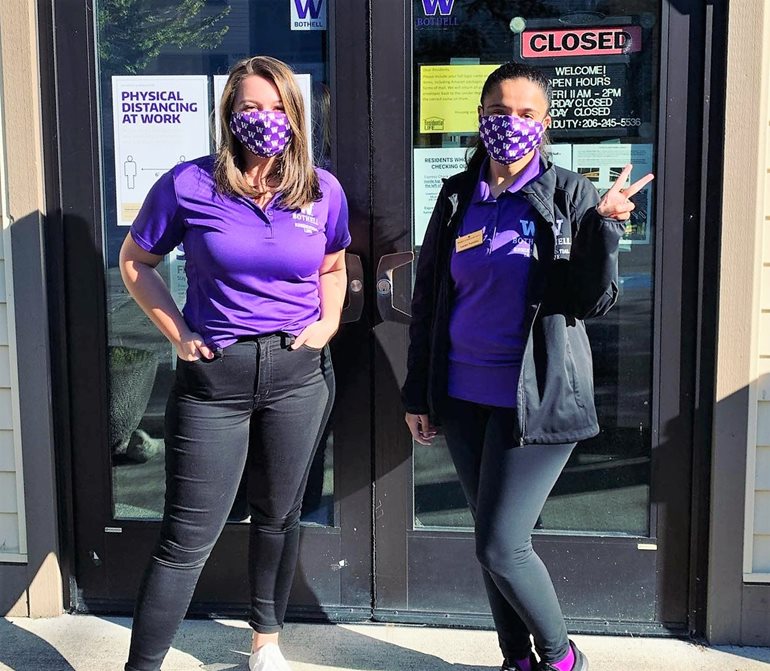 A. Instead of being in the HVCC all day, the resident directors (Afton Lopez and I) take turns staffing in person and ensure we model physical distancing. We have moved all our events online. We hold meetings online as much as possible, even though we all — the student staff and the resident directors — live onsite.
Although our residents knew the restrictions for living on campus during the coronavirus pandemic before moving into the Husky Village Galaxy, it doesn't mean that they are not affected by them or that they're not going to feel isolated. Imagine living in your apartment, on your own for the first time, and you're surrounded by people but not able to engage with them in person as much as you would normally.
To help residents combat the feelings of isolation, the resident astronauts go on physically distanced walks with them or go out for coffee or boba. We're partnering with other departments on campus to see if some spaces can open under strict guidelines, such as the sports fields. We all have to work together to combat the effects of the pandemic. The onus is not just on those of us in housing to give students the best possible experience.
We're working with the Student Diversity Center on a mental health session about Zoom burnout. The ironic thing is we are holding it on Zoom!
Q. What are you doing to care for yourself or for others?
A. In the beginning, I had to stop and process the fact that I live where I work and don't have the luxury to work remotely all the time as so many others do. While I try my best at setting boundaries, I really can't leave my work behind, and I am extremely passionate about supporting our residential students.
Between the pandemics and the upcoming election, I've found that I needed to limit my news intake to preserve my mental health. I also exercise four or five times a week!
I have found solace in cooking new things (sometimes) but mostly eating takeout and getting out in nature, and, when I can safely do so, I engage in authentic conversations in person. The opportunity to connect with students in person cannot be replicated in a virtual setting, and I am grateful for every in-person interaction that I have as this is what keeps me going.
Besides feeling isolated, our residents are frustrated and feel hopeless by the pandemic and the condition of our country. It's important to give them space to vent and talk about their feelings, so I practice being an active listener. I ask them how they can take care of themselves and what support from others might look like, so they don't have to worry as much about the world around them in that moment. I ask them what would bring them joy and also what are the barriers they may be experiencing. It's extremely important to eliminate barriers in order to effectively support all our students here at UW Bothell.
Q. Do you have a change of perspective to share?
A. The multiple pandemics we are facing are a result of long-established inequities. We have always been facing a racist pandemic, first and foremost. Now we are also dealing with a deadly virus that has harmed many directly or indirectly, specifically low-income folx, people of color and the diminishing middle class.
Students come to UW Bothell so they can combat those inequities and effect change for a better future for themselves, their families and future generations. I've always felt that is a role of higher education, especially at UW Bothell, and these extraordinary times have only heightened this philosophy.
Q. What other thoughts or feelings do you want to share?
A. I would like folx to remember there are essential employees on campus, some of us 24/7. We have 130 students in campus housing, many who feel isolated and are looking for something to do in order to feel belonging and a sense of community — which is pivotal to student success.
Knowing that, my hope is faculty and staff keep it in mind when they interact with our residents. Check in and ask them how they're doing. Suggest activities that adhere to pandemic guidelines. We are all in this together to make their UW Bothell experience the best it can possibly be under these conditions in our world today.
I would like to acknowledge our phenomenal Housing & Residential Life team; Katie Horowitz, director of Residential Life and Student Conduct; Erick Lacayo, housing operations manager; Afton Lopez, resident director of operations; Jeff Sann, director of auxiliary services; Mary Toll, assistant director of Residential Life and Student Conduct; and Brenda Đào, Student Engagement & Activities program manager.
I also want to give a BIG shout-out to our community astronauts and resident astronauts. Without the student staff, we would not be able to operate here in Residential Life. The student staff are critical to success short and long term.
Working together we are successfully operating student housing during the pandemic and supporting our residents through their challenges and joys. Greetings from the Husky Village Galaxy!