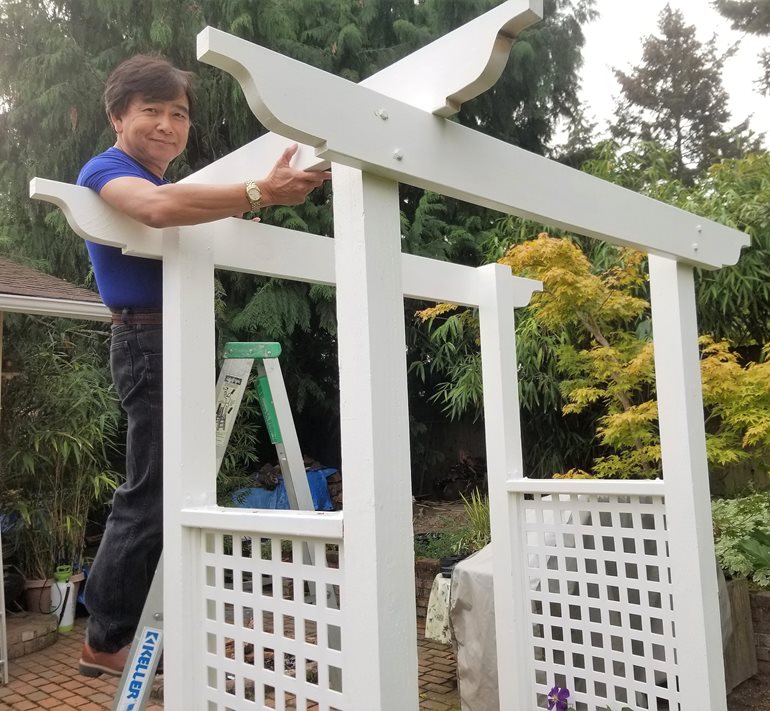 How has work in Orientation & Transition Programs changed since remote operations began at UW Bothell? Jerry Chan, program support supervisor, answers a few questions from Director of Communications Maria Lamarca Anderson.
Q. What would you normally be doing now and where?
A. Among other responsibilities, normally I would be supervising a full team of student employees working full time Monday through Friday at the Welcome Desk in Founders Hall (UW1). With most people working remotely, the desk hasn't been staffed since spring quarter.
My home office has become the Welcome Desk. It is where I answer questions by phone that would normally be in person and where I respond to emails sent to the general mailbox for Orientation & Transition Programs.
Q. What are you working on today?
A. We are in the midst of Zoom orientation sessions for incoming students. In fact, we have one today so I will likely have to pause this interview and take a call. [Ed note: Jerry did exactly that, and his phone rang again as this interview was ending.]
Q. What adjustments have you made to fulfill your work responsibilities?
A. Initially the main adjustment was setting up my laptop at home to take all calls we would normally get in person or by phone at the Welcome Desk.
The second adjustment was getting used to the number of calls, all while also meeting my other responsibilities of supporting the overall work of OTP. Just because you can't see people doesn't mean they're not there or that their questions and concerns have gone away. Quite the opposite. They were anxious, they were lost, they needed someone to talk with and, at times, vent to.
It was a lot, but there was no one else to pick up the slack so I just learned to roll with it. The summer being the busiest time for our department, I admit there have been times when I felt overwhelmed, and the quarantine confinement added to the pressure.
Q. What are you doing to care for yourself or for others?
A. My wife is among the population considered vulnerable, so I have been especially cautious about going out only when absolutely needed.
Like many others, I have turned to home projects — gardening and home repair — as a positive way to use my unspent energy. It's been quite satisfying.
Q. Do you have a change of perspective to share?
A. I'm sure I'm not alone when I say that what I've missed the most is personal interaction, in person. Zoom just doesn't do it for me. We have a large group of people we see regularly, and it's been so hard not to get together with them. I miss those good times.
Q. What other thoughts or feelings do you want to share?
A. Looking for the silver lining, I believe that one benefit to this pandemic is that it has shown us what our priorities are and the things we took for granted. There will be things we no longer do after all this because they are just no longer important enough for us to spend our precious "free" time doing.
Also, adverse times bring people together, and I appreciate how UW Bothell faculty and staff have really rallied to provide our students what they need to get the UW education they are here for, safely.