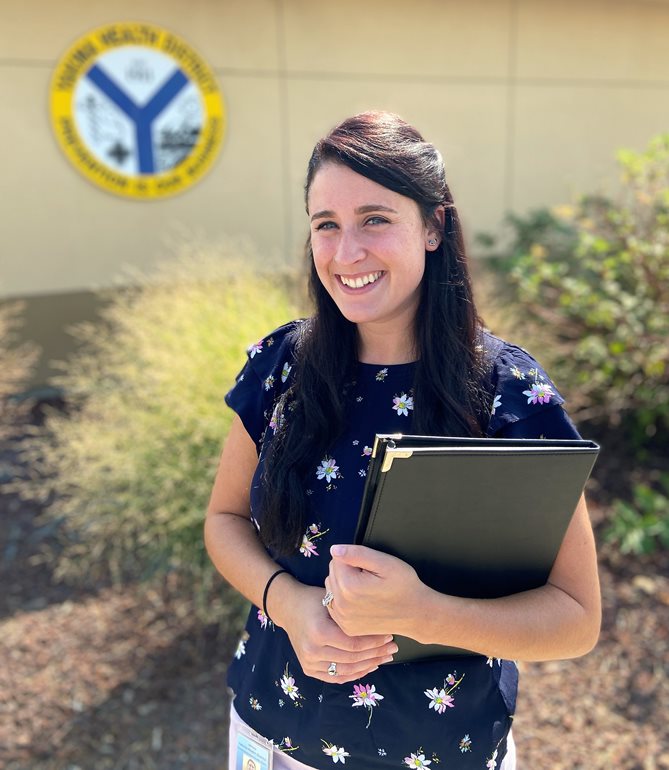 Mary Cowan (Health Studies '17) started working for the Yakima Health District about a year ago. As a facilitator of the food safety program, she was primarily concerned with restaurants in the eastern Washington county.
Then the coronavirus hit, and everyone in the department of about three dozen workers urgently shifted to pandemic response. Cowan was assigned to a technical assistance strike team for fruit packing warehouses, where the crop from the largest apple-growing region in the state is packed, stored and shipped.
"It was the worst condition for COVID-19 — packing lines with people really close together," said Cowan, noting that many of the warehouses are also located in communities where some workers speak only Spanish. That made it more difficult to put out information, which needed frequent updating.
"Everything with COVID, it was happening so fast."
Prevention measures
The county team coordinated with the governor's office and the state departments of Health and Labor & Industries, identifying itself as an information resource. To network and contact warehouse owners, the county team also collaborated with community partners, the Yakima Valley Development Association and the Washington State Tree Fruit Association.
"We were not trying to come at this in an enforcement capacity," Cowan said. "That was a fear for so many people."
Serving as a conduit for advice from the World Health Organization and the Centers for Disease Control and Prevention, the strike team visited each warehouse to let managers know what they could do to mitigate COVID-19. Visiting about 20 warehouses, Cowan would conduct walk-throughs, checking for masks and physical distancing, looking for places where a physical barrier might help and asking questions such as, What's your sick policy? Can people take time off?
Every facility is unique. Some are large, well-organized businesses with a human resources department. Some are owned by a single farmer. Occasionally, Cowan had to explain it was in the owner's interest to keep workers healthy. Some had to reduce production to 25% to separate employees. Even though the health workers were not there for enforcement, Cowan said, conversations sometimes "got intense."
The team also put out a video and distributed flyers explaining COVID-19, reinforcing the necessity for precautions, such as frequent hand washing. The information was in English and Spanish "to make sure it was getting down to workers."
Once a national hotspot, Yakima County's rate of coronavirus has now fallen and Cowan — while still serving as an information resource — has gone back to her role as an environmental health specialist in food safety.
Lessons learned
When she thinks of the way she and her team responded to the health emergency, Cowan remembers lessons from the University of Washington Bothell — coordinating with others, working with community partners and adapting rapidly to changes.
"I feel like I worked on a lot of projects like that and was taught to approach public health in that way," she said. "I had so much preparedness and education, looking at public health through a cultural lens. That really helped me as a white woman entering the Latino community, really understanding my position and not ignoring the politics that play into that for these farmworkers."
Recalling a course in the social dimensions of health, Cowan realized that she was reaching a community through their workplace. "I was able to see more, understand more and come at if from a humble and empathetic lens, instead of expecting every type of person to meet guidance a certain way.
"I was thinking so much of all my professors at UW Bothell," Cowan said, mentioning her mentor, Associate Professor Jody Early, as well as Assistant Professor Andrea Stone, Lecturer Stefanie Iverson Cabral, Senior Lecturer Grace Lasker and Associate Professor Nora Kenworthy, all in the School of Nursing & Health Studies.
"I appreciated the professors at UW Bothell, particularly having so many strong females. That was so inspiring for me to see the kind of work they could do," Cowan said. "Seeing strong, educated women made me feel more competent and capable going into a professional field — and going into these warehouses at the supervisory level."
For a career or a crisis
Cowan, who started college at a larger university and considered careers in nursing or teaching, said she is glad she found UW Bothell, the faculty relationships and the Health Studies major, which encompassed her wide interests.
"I felt like I got so much more for my dollar at UW Bothell," she said. "The Health Studies program has helped me so much in career searching because I feel I have so many more avenues I can take."
While she isn't officially a health educator, Cowan was prepared when she was thrust into that role by the pandemic.
"What I wasn't prepared for was having to convince people that their health mattered and that other people's health mattered, but that's kind of where we are today," she said. "That just makes the work of health educators that much more important."