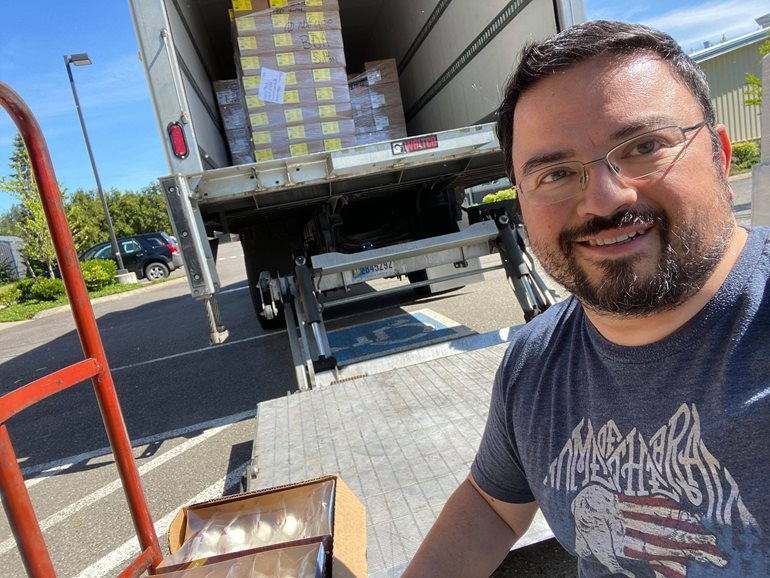 Bothell business owner and University of Washington Bothell graduate George Ahearn co-founded the EastWest Food Rescue nonprofit with a simple strategy: "You tell us you're hungry; we get you food."
Ahearn, who grew up in Othello in eastern Washington, was prompted to act in April when he learned that onion and potato farmers in his old hometown were unable to sell all their crops because of the coronavirus pandemic.
After he heard that onions would go to waste and potatoes would be plowed under, he started looking for a truck.
"April 27 was my first Facebook post," he said.
Call to more action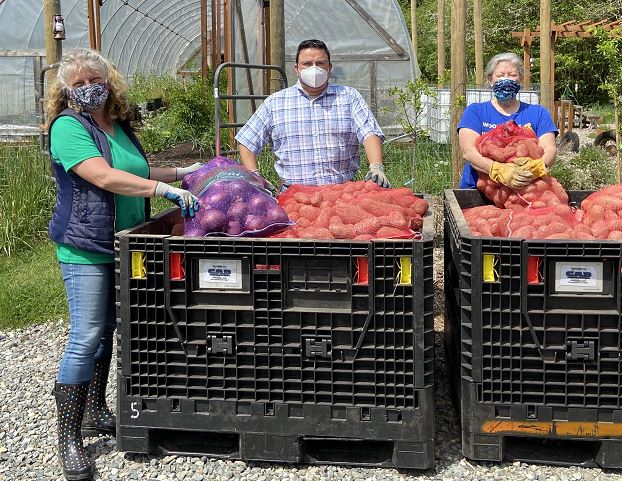 One of the first people to respond to Ahearn's call to action was Nancy Balin, who heads a foundation to fight testicular cancer and is a member of the Woodinville Rotary Club and the Woodinville and the Bothell-Kenmore chambers of commerce. Through her business contacts plus other social media responses, people with trucks started volunteering.
"By May 1, we were rolling on the road," said Ahearn, who reports that they picked up 9 tons of potatoes and onions.
Just in time, Balin also had connected on Facebook with Farmer Frog, a Woodinville nonprofit educational foundation led by Zsofia Pasztor, who also partners with UW Bothell on community-based learning projects. Farmer Frog had available space for Rotary volunteers to re-bag and distribute the produce.
"Everything has been so serendipitous, it's amazing," Balin said. "That's how we've been running this. We just have an idea and deal with it the best we can."
Pop-up nonprofit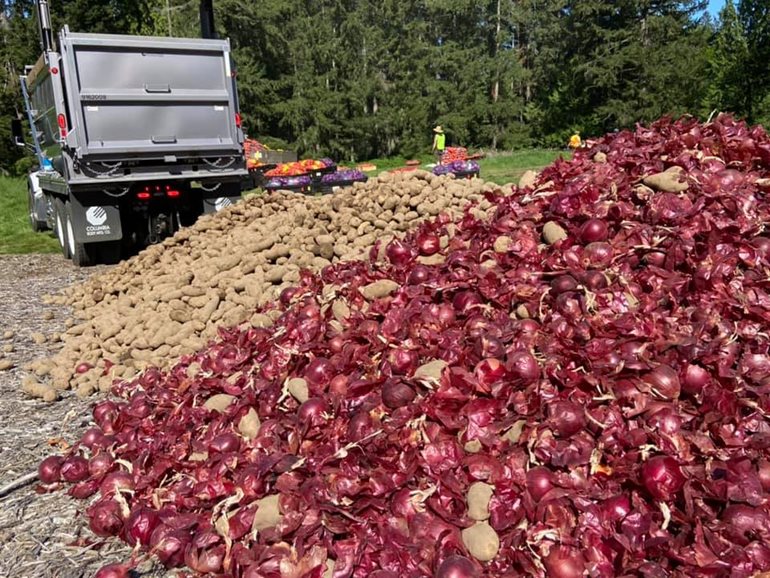 To streamline their work, Ahearn, Balin and Pasztor founded EastWest Food Rescue. Ahearn finds food through his farmer contacts. Pasztor receives and distributes it. And Balin coordinates operations.
Semitrucks arrive daily at Farmer Frog where dozens of community volunteers unload and distribute the contents to food banks, tribes and organizations as far away as Portland to the south, Whatcom County to the north, Neah Bay on the coast and Blackfoot, Montana, to the east.
By late summer, they were handling about 300,000 pounds per week — potatoes, onions, apples and watermelon. EastWest also distributes 20-pound boxes of fresh produce, dairy and meat products from the U.S. Department of Agriculture's Farmers to Families Food Box Program.
What began as a social media post seeking a volunteer with a truck has turned into an enterprise whose agility would be the envy of any startup.
"I've run businesses," Ahearn said. "I've never seen anything scale so quickly."
Community and purpose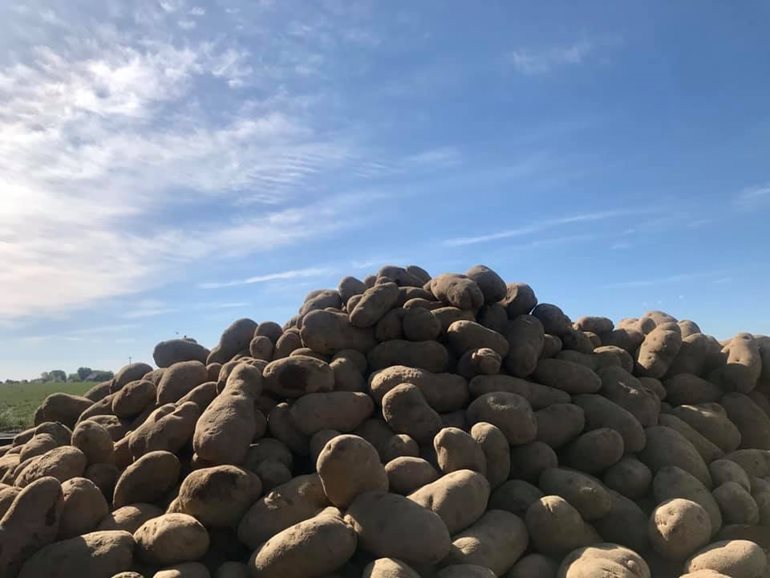 Ahearn owns WINNfusion, a home infusion company that hires RNs. He also owns Evergreen Karate on Main Street in Bothell. He has served on the School of Nursing & Health Studies' Advisory Board and helped sponsor UW Bothell and community events such as the annual Bothell Block Party & BrewFest.
"Bothell was the first place I visited coming from eastern Washington to go to school," said Ahearn, who received a Bachelor of Science in Nursing in 2000. "Bothell is my home now. It's my community and where I plan to stay and support.
"Going through UW Bothell really set me up for success," he added. "I loved learning the business aspects of the program as well as the community health aspect." Ahearn also received a Master of Health Administration from the UW in Seattle.
Combining areas of skill, Ahearn has turned a phone call into thousands of pounds of produce and has grown a Facebook post into a nonprofit that has fed hundreds of thousands of people.
"It's really just finding a way to connect the dots. I was amazed to see a potato give people hope and to bring tears to people on both sides — the donors and the recipients. A potato can give people purpose," he said. "So, figure out what dots you have in your life and try to connect those and make it easier for someone."
Market to farm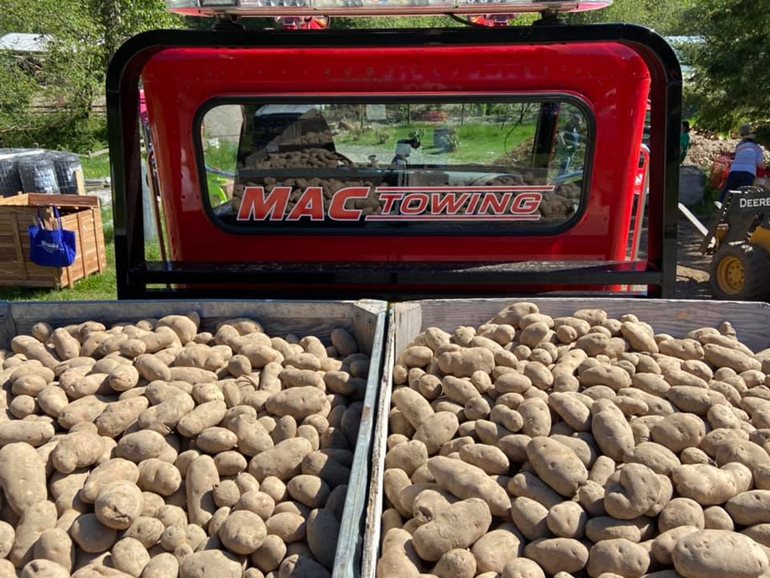 While driven by volunteers and donations, EastWest needs financial help to continue moving food to people who may still be jobless and homeless even after the pandemic eases, said Ahearn.
He wants EastWest to carry food back to the agricultural community as well. Instead of heading east empty, one recent convoy carried 2,000 pounds of canned meats.
The founders also want to be able to pay the farmers — not only because they are entitled to compensation but to give them incentive to keep farming. That has led EastWest to plan an agreement with the Farm Link Project, which connects farm surplus to food banks.
"We want to use resources we have so people don't go hungry," Ahearn said.