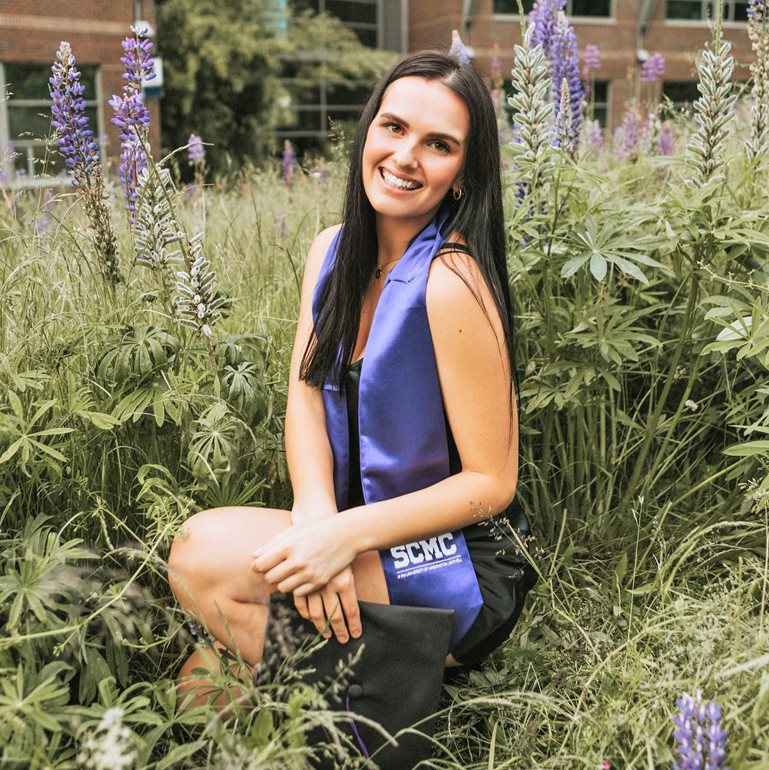 Kaely Nelson was into Tesla long before she arrived at her job with the all-electric carmaker. In 2018, she dipped into savings to reserve a spot on the waiting list for the best-selling Model 3. This summer, she completed an internship in California and was hired as a Tesla global supply analyst of recycling.
Now, when she receives her Model 3, it will come with the autonomous driving add-on as an employee perk.
Nelson said the University of Washington Bothell helped prepare her for her first "big girl job." And it wasn't just in graduating this summer from the School of Business with a degree in Supply Chain Management. It also was in the experiences she had as treasurer of the Associated Students of the University of Washington Bothell, serving on committees that allocated millions of dollars in student fees and leading the Supply Chain Management Club as president.
Don't call it scrap
"It's all about optimization, building that network and understanding the value of something," Nelson said.
In her internship, she conducted various cost-benefit analyses on the value of reselling the scrap generated by the car manufacturing process, including raw-material trimmings or rejected parts. As someone concerned about the environment and climate change, recycling was a job she was eager to tackle.
"The best way to convince corporations to act sustainably is by showing them how to make money by doing so," she said. "I'm developing a recycling network of buyers — making money off the material rather than considering it a liability or junk.
"We don't call it scrap anymore," Nelson said. "We call it a recycled commodity."
The UW Bothell experience
Back when Nelson was thinking of where to go to college, her family was living in the Seattle area after having relocated several times. She didn't want to move again to go away to school, so she decided to live at home and save money while attending Cascadia College. Nelson liked the campus and chose to continue her education at UW Bothell to build her skills in finance and leadership.
In addition to being student government treasurer, she helped allocate spending through the Services & Activities Fee and the Student Technology Fee committees. Among other worthy initiatives, that included spending on laptops for students who needed them to do school work from home during the pandemic. She also revised how travel funds are processed through the Student Academic Enhancement Fund.
Her work was recognized with this last year's Outstanding Student Leader of the Year award in the Division of Student Affairs.
Nelson said she couldn't have accomplished everything she did without encouragement from School of Business Associate Professor Surya Pathak and from Sam Al-Khoury, the director of Student Engagement & Activities, who helped her learn how to act autonomously.
"There's no one telling you, 'This is what we need you to accomplish this year,'" Nelson said. "It's your job to figure out."
The long haul
As president of the Supply Chain Club, Nelson had planned a spring break trip last March to Japan with five other students. They had tickets, reservations and appointments to tour Japanese factories and study their manufacturing practices. But plans were canceled as the pandemic outbreak forced everyone to stay home.
The pandemic also impacted her graduation experience, Nelson said. A silver lining, she said, was that having a UW virtual Commencement meant her family members from different parts of the country were able to watch the ceremony. She finally felt a sense of closure when she took cap and gown photos "on an emotional day" with friends.
Now working for the company that's building her car, Nelson sees herself with Tesla for the long haul. Plus, she doesn't know anyplace else that has a global supply analyst of recycling on staff. After establishing her career, Nelson would like to return to school for an MBA.
When she reflects on her UW Bothell experience, Nelson thinks of what a big decision it is to choose a college.
"Most of us are commuters. We don't live in frats or sororities. And most of us work," she said. "It's such a different experience, but I made the right choice. I'm so glad to be a UW Bothell alum."