Doctor, lawyer, health researcher: Three 2020 graduates of University of Washington Bothell on their way to professional careers are celebrated for how they reached this moment in their lives.
Midia De Souza, Yasmin Guzman and Shugla Kakar are each recipients of the annual Chancellor's Medal, which is presented to students whose commitment to learning and overcoming obstacles is a source of inspiration to other students and faculty. De Souza and Kakar are also distinguished as two of the annual Husky 100 — students who make the most of their UW experience.
Midia De Souza, validated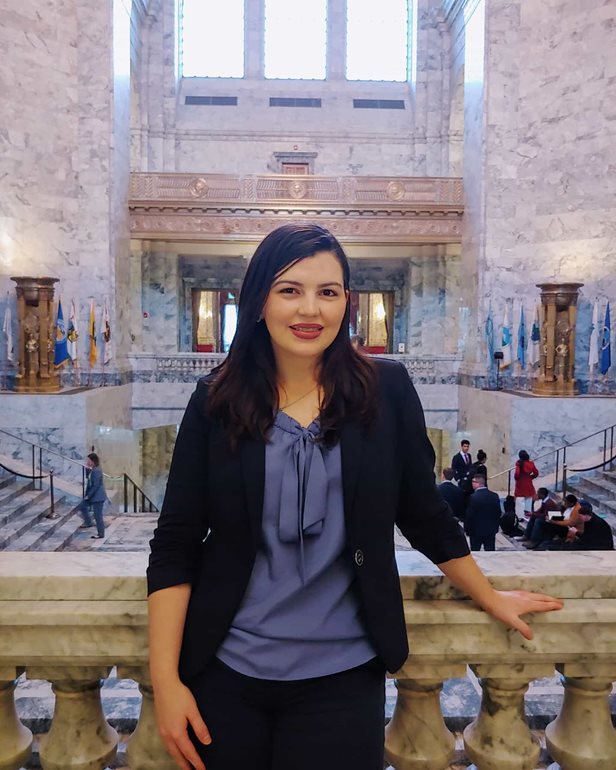 De Souza had a double major in Law, Economics & Public Policy and in Media & Communication Studies with a minor in Human Rights. She plans to become a lawyer and help immigrants.
De Souza remembers a time when she was doing work cleaning houses, frustrated and worried that because of her immigrant status she wouldn't be allowed to go to college or wouldn't be able to afford it. She didn't give up hope, and when her family moved to Washington, she found a supportive academic community at UW Bothell.
She felt especially empowered participating in the Washington, D.C., Human Rights Seminar in the nation's capital where students met with lawmakers, federal agencies and human rights organizations.
"I never thought I'd be in those rooms, meeting very influential people and actually having them answer my questions and take us seriously," she said.
Back on campus, she co-founded the Huskies Dream Team to support those in the Deferred Action for Childhood Arrivals program. She also learned the art of argument as a member of the Debate Society.
Off campus, De Souza worked as an assistant at Open Door Legal Services at the Union Gospel Mission in Seattle, helping homeless people.
Receiving the chancellor's medal validates her experiences at UW Bothell — and the commitment and sacrifice her family made, De Souza said.
"I can say to other students who've grown up similarly to me or experienced different hardships, they can achieve. There are people who are going to support them. So, keep going."
Yasmin Guzman, representing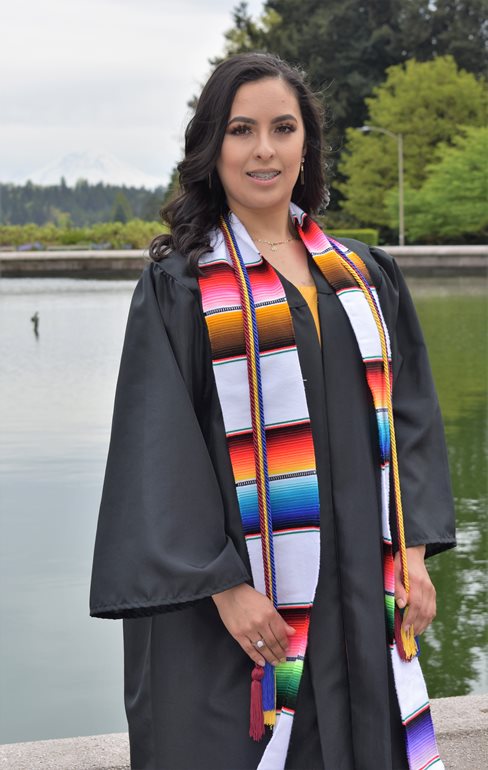 Guzman majored in Health Studies and minored in Health Education & Promotion. She is starting a "dream job" with Seattle Children's Research Institute.
As the first member of her immediate family to receive a four-year degree, Guzman has had a number of first-generation firsts. She never imagined traveling to Europe but took a study abroad trip to France and Spain, thinking, "I can't believe I'm here, actually doing this. These are things I only saw on TV."
On the UW Bothell campus, Guzman was active in the Latinx Student Union. She conducted undergraduate research with Janelle Silva, an associate professor in the School of Interdisciplinary Arts & Sciences.
Guzman also interned off campus at the Seattle Children's Research Institute, which led to a full-time job on a long-term survey of child health.
For all four years of college, Guzman worked in the admissions office as a student ambassador, serving as a tour guide and role model. Her hard work was backed by scholarships and grants that included Husky Promise, College Bound, Pell grant, Leadership 1000 and a Hispanic Seafair scholarship.
"Obstacles made me realize I need to cherish and value people more," she said, noting that at home she serves as a translator for family members who do not speak English.
Of the Chancellor's Medal, Guzman says she's not the first student to learn what resilience means. "This award is not for me personally but for everyone who shares similar stories."
Shugla Kakar, driven
Kakar had a double major in Gender, Women & Sexuality Studies and in Health Studies. She plans to become a gynecologist and help women in her native Afghanistan.
With a demanding pre-med course load, Kakar also took on leadership positions on campus. She has been president of the Muslim Student Association and capped three years representing the Associated Students of the University of Washington Bothell as the 2019-20 student body president. She also played a role in bringing about the Student Diversity Center, the Health and Wellness Resource Center and the academic degree maps project.
Kakar is driven to fulfill the dreams her father had for her and her siblings when he moved the family from Afghanistan. Hekmatullah Surgul Kakar believes in education for women and helping people.
"He wanted us to get an education and be our own selves," said Shugla Kakar, who was 14 when they arrived in the United States. The only English words she knew were, "Hi, how are you."
Through hard work, the support of her family and "powerful" mentors such as Kelly Snyder, the former assistant vice chancellor for government and community relations, and Emily Christian, the academic services director in the Student Affairs Office, Kakar said she found her voice and became "this person that I am today — a really confident, outspoken woman who inspires other women and marginalized people."