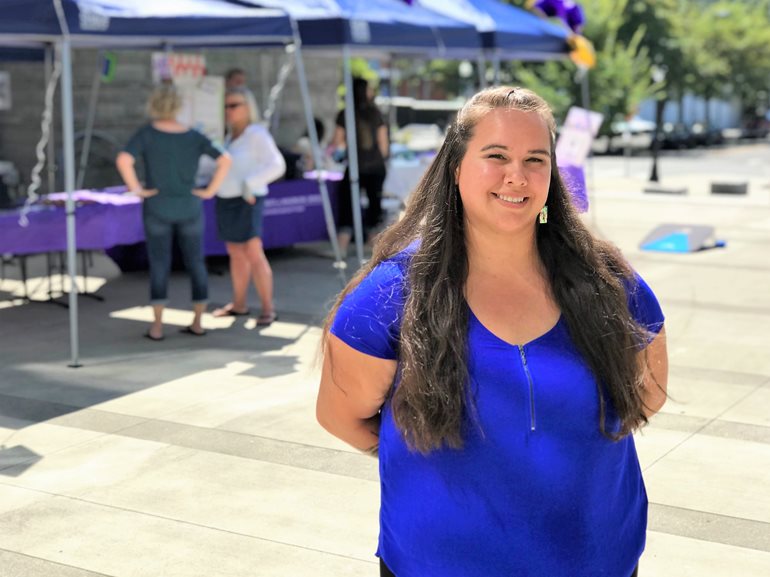 By Douglas Esser
Samantha Capoeman is a member of the Quinault Indian Nation and a nurse who works in tribal clinics in the remote villages of Taholah and Queets on the Washington coast. She also was a student at the University of Washington Bothell this summer who completed requirements for her Bachelor of Science in Nursing.
Capoeman had to miss one of her community health classes when she participated with her family on the Paddle to Lummi, the annual Tribal Canoe Journey that celebrates indigenous Coast Salish traditions.
Sometimes on the ground support team and sometimes pulling her own weight in an oceangoing canoe, Capoeman was among the crews that paddled five Quinault canoes 345 miles in 13 days around the Olympic Peninsula to the Lummi Nation near Bellingham.
Tribes arranged their own first-aid so Capoeman wasn't being paid to be a nurse, but she couldn't help "kind of watching out for everybody," she said.
"I went just as a participant, but given my nature as a nurse, you want to educate and help. I still had a duty to fulfill."
Wear a life jacket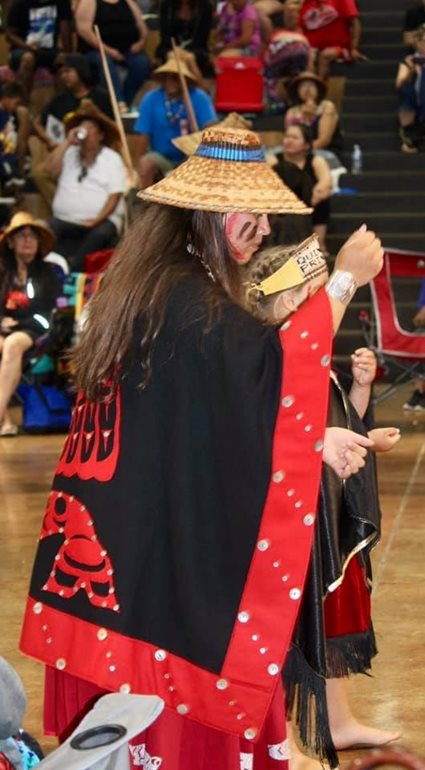 Capoeman shared her experience in a presentation July 30 to classmates in the course, Community-Based Health in Community Practice. As a nurse on the journey, Capoeman urged everyone to wear life jackets and to drink plenty of water. Sunscreen was important. At nightly stops she urged everyone to wash their hands frequently. "You have to teach that importance," she said.
She was particularly concerned with educating children how to be safe: Partner with a buddy. And she fully participated in an experience that was physically exhausting and spiritually fulfilling.
"Nothing can prepare you for pulling and singing at the same time," she told her classmates.
Her husband, Guy Capoeman, helped skipper one of the five canoes. Their children — ages 7, 8 and 10 — went along but weren't allowed on rough water.
Safety conscious for everyone on board, Samantha Capoeman was concerned about emergency gear on each canoe — radios, GPS and flares.
"Those canoes should be prepared in case anything happens," she said. "They should also have extra water on board. They should have a support boat to travel alongside them as a safety precaution in case anything happens."
Capoeman reminded some participants who have chronic health issues to take their medications. She also watched out for diabetics who, away from home, were perhaps not drinking enough water or eating the right foods.
30-year tradition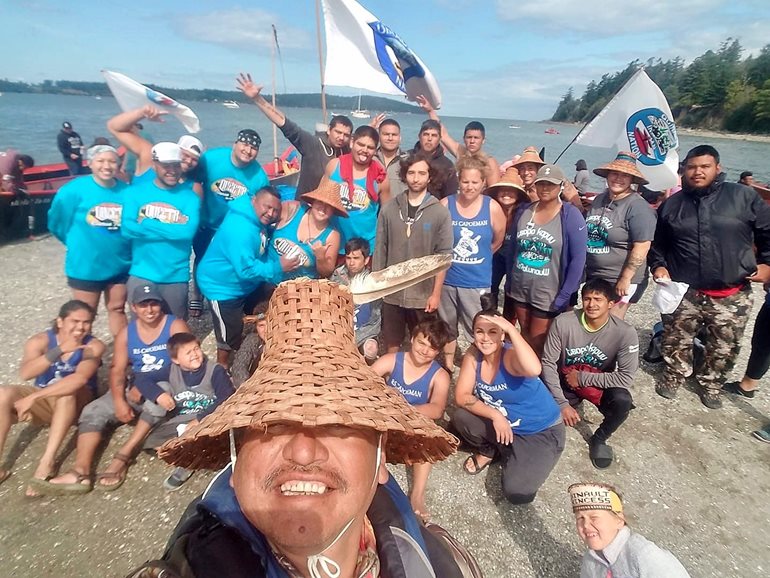 This was the 30th year for the summer journey, which is hosted annually by a different tribe. More than 100 canoes arrived July 24 at the Lummi Reservation where thousands of people took part in a four-day potlatch of songs, drumming, dancing and storytelling.
The annual paddle honors the cultural traditions of Coast Salish tribes that crossed the water for trade and ceremonies.
Some canoes, like the Quinault's, traveled for many days, stopping along the way at other reservations where they were welcomed with song. The canoers also would sing a song and ask permission to come ashore.
"They're sharing cultures, learning languages and traveling the highways of their ancestors," Capoeman said. "Everybody's together. There's unity."
Reviving lost culture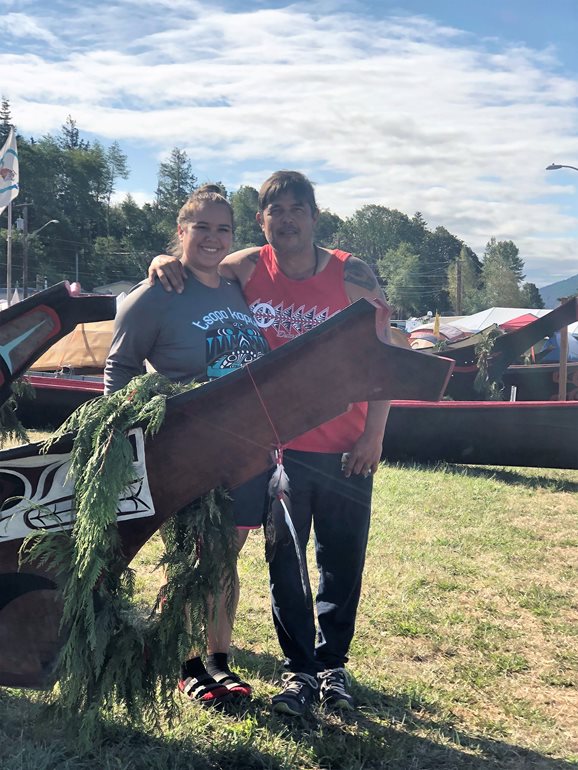 The Quinault are ocean navigators, skilled in crossing rough surf in their canoes. Averaging 30 to 35 feet in length, they follow historic designs.
"It's something we've done for centuries," Capoeman said. Her husband, who also is a master canoe carver, trains tribes from calmer Salish Sea waters how to pull through the surf.
Most of the canoes in the event came from Washington and Canada but some came from Alaska. Some paddlers painted red handprints over their mouths to honor murdered or missing indigenous women. Next year's destination is Nanaimo, British Columbia. The official Tribal Canoe Journey Facebook page has more than 25,000 followers.
It's a way to restore lost traditions, Capoeman said.
"It's important for me to know my history and bring it back to life," she said. "My biggest goal in my life is to share as much as I can with my children."
A video posted on Facebook by Quinault Indian Nation President Fawn Sharp shows a canoe with Capoeman in the front (in blue life vest).
Nursing lessons
Capoeman grew up in Aberdeen and has been living in Taholah eight years. She became interested in nursing at a high school career fair and received her RN at Grays Harbor College.
For the last year, she has been working as the Quinault's community health nurse. Duties include visiting homebound patients, consulting with child day cares and overseeing health for employees of the tribe, such as checking immunizations.
She regularly made the long drive for her UW Bothell class, which was held once a week. This summer, the class conducted a disaster preparedness survey for the city of Bothell that gave her insights for her own community.
"It gives me scope, and it gives me things to add to my basket of knowledge," she said. "There are certain things in disaster preparedness I'd like to see my nation looking at."
For example, she now has a heightened awareness of the tsunami risks for Taholah and Queets. The villages both have lower areas that could be inundated by a huge sea wave, including her own home.
"I'm not prepared — and I'm sure a lot of residents are not prepared for something like that," she said.
The clinic, on higher ground, has a generator, extra water and non-perishable food, and emergency kits to help the community hold out until roads reopen.
Community resource
With her BSN degree, Capoeman is applying to the UW School of Nursing's Doctor of Nursing Practice program. She wants to pursue the program's emphasis in family nurse practice and become even more valuable to her tribe.
Capoeman's combined nursing knowledge and cultural competence already make her a priceless asset for the Quinault, said Annie Bruck, the senior lecturer who taught the summer course.
"She filters everything in her community through the eyes of a nurse, and I think that's invaluable for them," Bruck said.