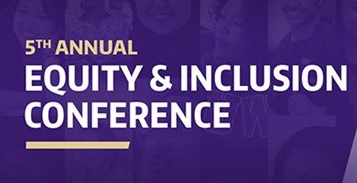 The University of Washington Bothell welcomes campus and community participants to its fifth annual Equity & Inclusion Conference May 10 in the Activities and Recreation Center.
"The Equity & Inclusion Conference has become a mainstay for our community. It draws people from across campus as well as many from neighboring schools and communities," said Wayne Au, interim dean of the Office of Diversity & Equity. "The conference highlights both our institutional commitment to diversity and our commitment to serving the needs of our regional partners."
The conference is presented in partnership with T-Mobile, the wireless network based in Bellevue. Admission is free for current UW Bothell and Cascadia College students, faculty and staff.

The Office of Diversity & Equity invited nationally recognized trainer Loretta J. Ross to deliver the keynote speech, "Calling IN the Calling OUT Culture: Accountability through Love."
Ross, a visiting professor of practice in the School of Social Transformation at Arizona State University, teaches Reproductive Justice Theory and Practice, and Race and Culture in the U.S. She was the co-founder and National Coordinator of the SisterSong Women of Color Reproductive Justice Collective from 2005-2012. She also is author or co-author of several books including "Reproductive Justice: An Introduction" and "Radical Reproductive Justice: Foundations, Theory, Practices and Critique."
Once again, a highlight of the conference is the Create the Change student competition, sponsored by conference partner T-Mobile. Groups of UW Bothell students working in areas of equity and inclusion pitch their projects in short presentations. Conference attendees select the winner who will receive a $5,000 grant and mentoring from T-Mobile diversity and inclusion leaders. Students have until April 26 to submit a project.
The conference includes presentations by UW Bothell faculty, staff, students and alumni. Register here.