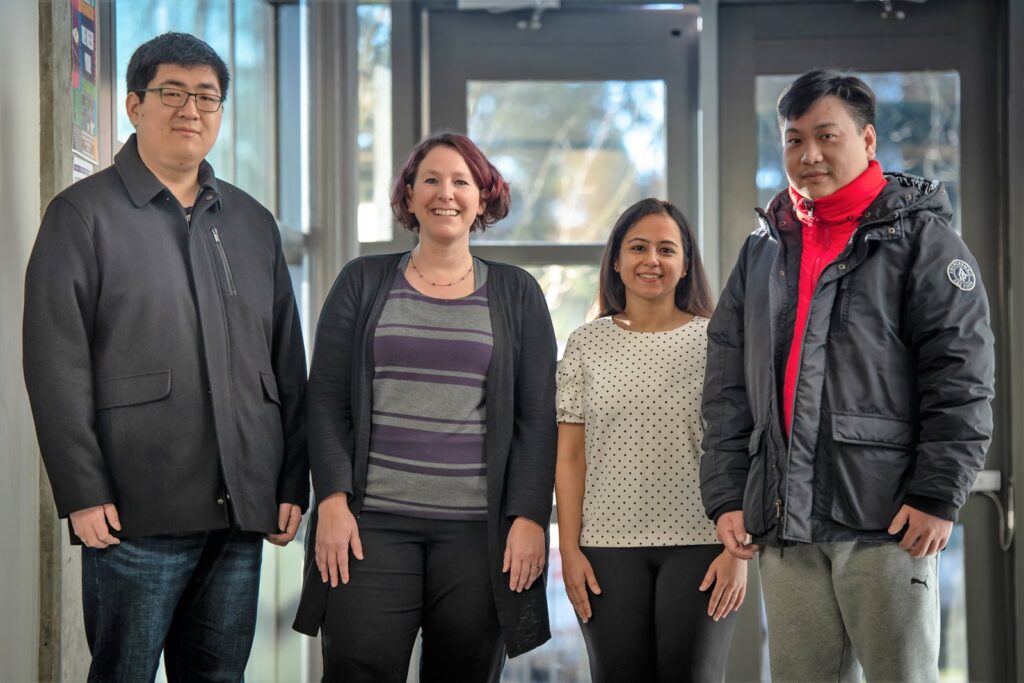 By Douglas Esser
As an associate professor in the School of Business who researches teamwork, Deanna Kennedy has a special interest in seeing what happens in class when she assigns group projects. They usually start out with everyone assigning tasks and an idea how the team will bring it together. But, as anyone who has worked on a team project knows, it doesn't always play out that way.
"At the end of the quarter, it never fails that we see teams in our classes going, 'Oh, I thought you were going to do that. Oh, I thought we were going to do it this way.' Or somebody says, 'I decided to do something else with my part,'" Kennedy said.
Student angst aside, the interesting questions for Kennedy are, "When did things change over the quarter, and how bad is it to the team's result?"
The model of teamwork
Those are the kinds of questions that led to Kennedy's current research. Using a three-year, $400,000 government grant, she's hiring student researchers to create and run a computer model of teamwork. The simulation can answer questions about how teams form shared cognition, how team members communicate, and when they start to have different ideas and fall apart. In other words, what do you need to do to keep everyone on the same page.
"It is about using math to figure out human behavior, which is tricky," said Kennedy, a University of Washington Bothell faculty member since 2010 who teaches classes in operations and project management as well as business statistics.
Teamwork may be important in successful class projects, but it is crucial in the military or, say, a mission to Mars. Kennedy's research is funded by the Army Research Office, and it will use data from the NASA Human Exploration Research Analog (HERA) project. HERA records and documents would-be astronauts working in confined spaces for weeks at a time. Kennedy shared some of her previous research in this field in a UW Bothell Pub Night Talk at McMenamins in 2017, "Teamwork in Extreme Environments: From Surgical Units to NASA Missions."
The modeling team
For this project, which started in August 2018, Kennedy hired three students. Undergraduates Shawn Ge and Zhen Yang developed a computer model of team interactions, and MBA student Sumati Ahuja models and analyzes how the results of interactions affect team cognition and performance. The next step is to run the model with the NASA information. It will be coded by NASA experts who can judge whether the HERA team successfully completed a task or not.
"Over time, people start to deconverge. Can we figure out when that happens?" asks Kennedy. "The question is: When should teams be retrained or when should the commander step in to ask them to make sure they're on the same page?"
Ge and Yang learned the NetLogo programming language to create the computer model. It will simulate how the HERA team members talk to each other — how often, with whom, when and what they talk about.
The learning experience
Ge, who is on track to graduate in spring 2019 with a degree in Supply Chain Management, also has applied the model to study team leadership in an independent research course with Kennedy. "This kind of research helped me understand what I really like," said Ge, who also presented the idea at a recent academic conference.
Yang, a Business Administration major planning to graduate in fall 2019, has used the model to correlate trust with team efficiency and effectiveness. "The knowledge I gained about teamwork will help in my future career, maybe sales, marketing or supply chain management," he said.
Ahuja, who will receive a Technology MBA in spring 2019, learned the MatLab programming language for her part of the project. She explains her behavior analysis by comparing it to watching a team make coffee. "The team knows what the ideal coffee should look and taste like," she said. "Did the team achieve making the ideal coffee or not? Is it because of their understanding of how the team would work on the task?"
Ahuja, who previously worked at LinkedIn and Google, is headed for a job in product management at Microsoft. "This has been the perfect bridge, giving me some practical experience in programming and building models."
She said the experience also has been valuable in showing how best practices in teamwork, collaboration and communication are based on data. "There's science and math behind it."