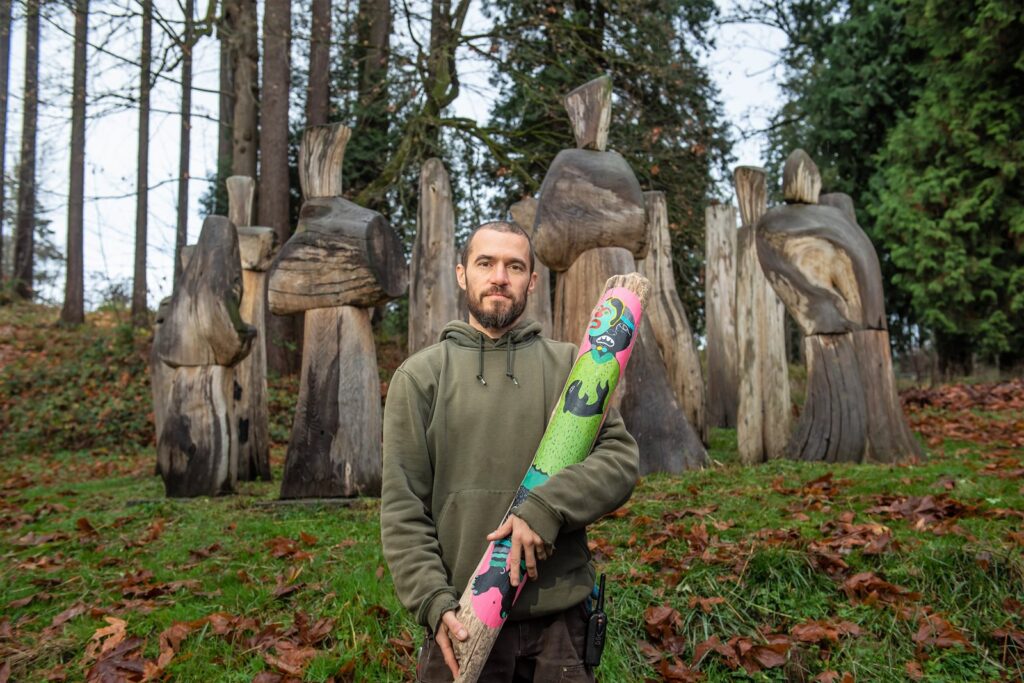 By Douglas Esser
Towering figures in the Ancestors sculpture appear to be watching over University of Washington Bothell and Cascadia College students as they pass a wooded hillside on campus. Some students looking back at the Ancestors apparently recognize a power there. They occasionally leave offerings, perhaps in the hope of a little luck on a big exam.
Groundskeepers have found oranges, vases of flowers or bouquets of roses and sometimes trinkets such as little toys, said Tyson Kemper, grounds supervisor. Last summer Kemper found a unique item, a painted section of beaver-chewed wood, which he keeps in the facilities office at Chase House. Alexa Russo, UW Bothell sustainability coordinator, said she has seen candles and vase-like jars there.
Offerings usually are left at the feet of one of the 10-foot-tall figures within the interior of the sculpture, which is made of 16 cedar statues placed over a site that spans about 20 by 30 feet.
It's a mystery. Kemper thinks students recognize Ancestors as a link to nature. Carrie Newman, assistant director of UW Bothell orientation programs, suspects offerings are becoming a campus tradition, like rubbing a bronze statue for luck.
In any case, sculptor Michael Dennis said he loves that students see something in his art and interact with it.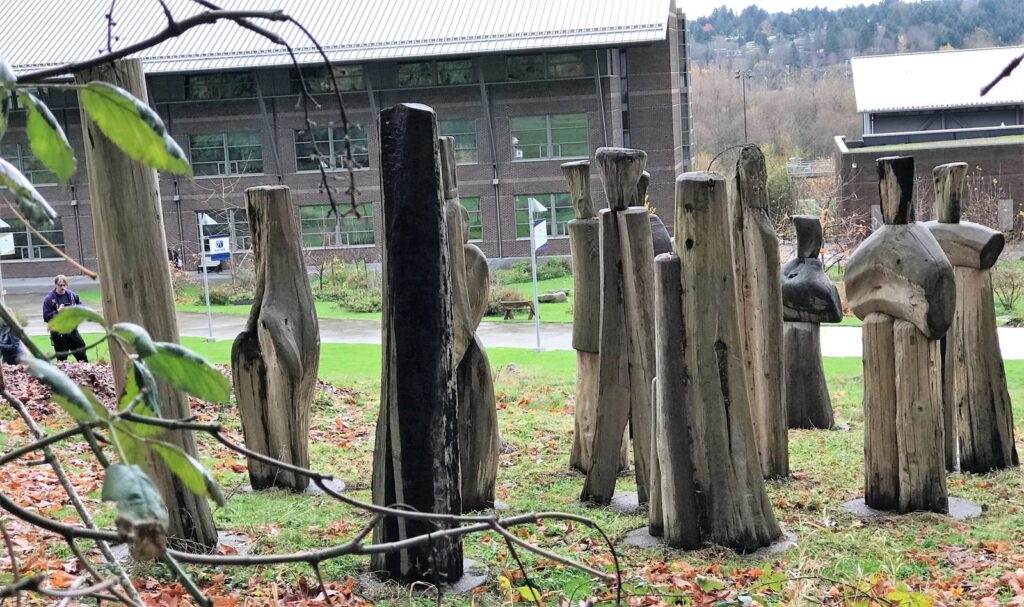 The Washington State Arts Commission (ArtsWa) installed the Art in Public Places sculpture in 2000, in partnership with the University of Washington and Cascadia College. Dennis, who lives on Denman Island in British Columbia, carves salvaged cedar into monumental figures that evoke the human form. Among other places, his sculptures also have been installed at the University of British Columbia, Simon Fraser University and Olympic College-Poulsbo.
Kemper, the grounds supervisor, said the sculpture serves as a transition from a stand of trees to the college buildings. He also thinks it represents a relationship with nature that is emblematic of the campus itself. "It's a really effective piece of landscape art," he said.
"As you're walking down the Promenade — the core of campus — you look up and you see them, and they're looking down at us. It's always been a reminder of that connection between us and the wild place that was before us," Kemper said.
When first-year student Quyen Le first saw Ancestors, it reminded her of Stonehenge and made her think of the land. "I don't know why, kind of claiming your land, I guess, and supporting and worshipping your spirits," Le said.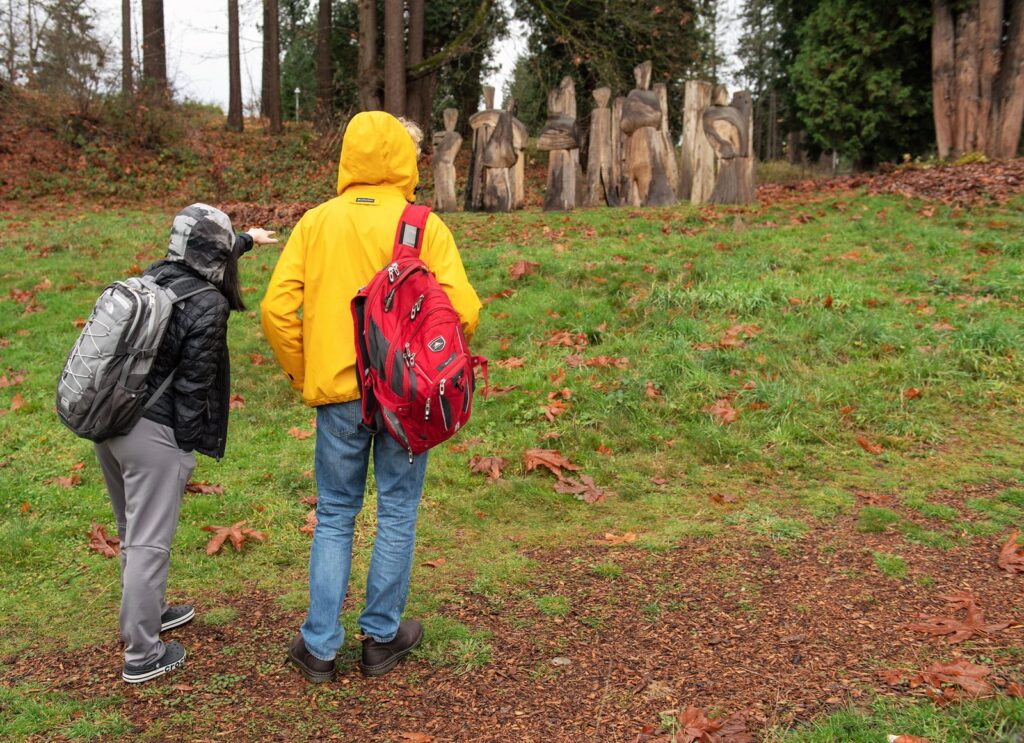 Visitors to campus are encouraged to walk within the sculpture and feel the space, Kemper said. Crews maintain a wood-chip trail for access and respectfully trim the grass and clear the leaves from the site. In 2015, workers with ArtsWA cleaned the sculpture and treated the wood with a preservative that Kemper made sure was the least toxic possible.
Students also interact with the Ancestors in playful ways, Kemper said. When the weather cools, the figures may sport scarves. In a prank one year, the Ancestors were decorated in a Hawaiian theme — hula skirts and coconut-shell bras.
Newman heard about offerings to the Ancestors when she arrived on campus three years ago. She heard that students offered coins or food such as ramen and granola bars for good luck on a final exam. Orientation tour leaders pass down the lore as a "fun fact" for incoming students, Newman said.
Newman contacted Dennis to ask if offerings respect his intention for the sculpture. They do.
"I am pleased to hear that my Ancestors are appreciated by the students at UW Bothell. The fact that they build stories around them and interact with them is an indication of that appreciation," Dennis said by email. "When I put them out there in the world, people can interact with them as they choose. They are no longer mine to set rules around."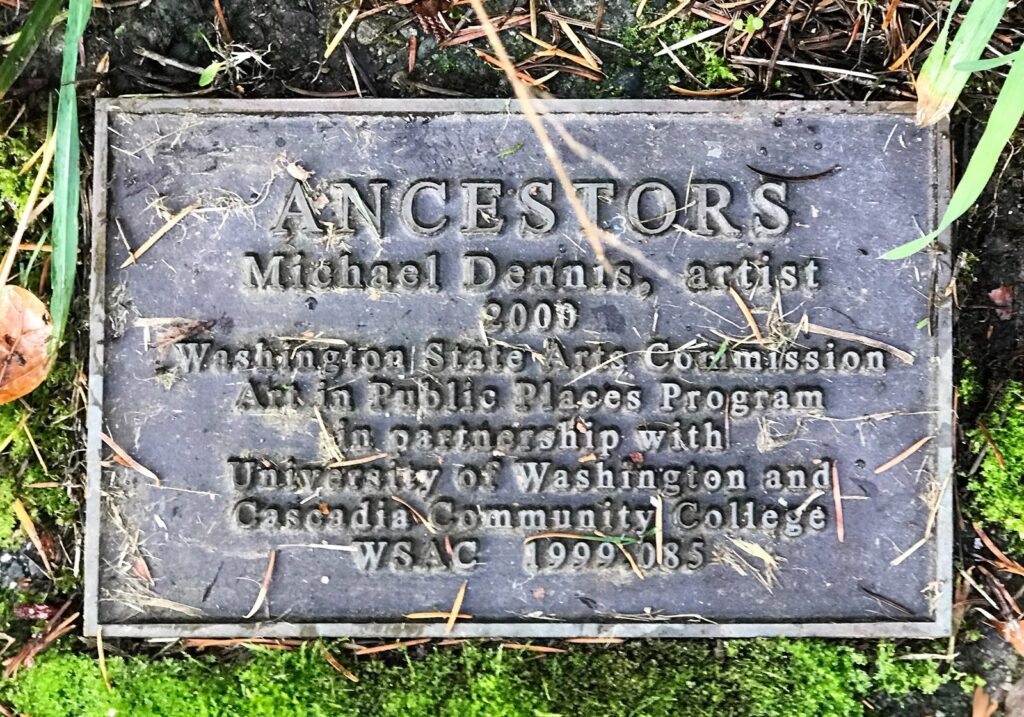 Dennis said the pieces are intentionally evocative, without gender or ethnicity.
"This is so that the viewer is free to see whomever they want, perhaps a beloved grandmother or an old uncle, without dictating anything. They are just ancestors. Each can make up a story in what they see," Dennis said.
"We all have ancestors, and for me they are bigger and wiser than we are," he said. "One of the things that I learned from my ancestors was to work hard and to study well. I love that the students are interacting with my art. That shows respect! May they have good luck."